For me, one of the best bits about the Christmas season is hearing a favourite Christmas songs on the radio or while out shopping. Together with the gradual appearance of trees and lights, Christmas music acts as an indicator that we are now safely allowed to think about – and get excited about – festivities to come.
Everyone has their own taste when it comes to Christmas music, but what is the UK's favourite Christmas song? Most attempts to answer this question are completely subjective, but here we aim to introduce some objectivity by using UK chart data. This chart data allows to compare songs in terms of how often they were bought and streamed during the Christmas period.
Downloads were first incorporated into to the UK Official Singles Chart in 2005, but to begin with only songs which were also physically on sale were included. This restriction was lifted at the start of 2007, opening up the festive charts to floods (or is that blizzards?) of Christmas tracks each year. Streaming was also introduced in 2014, which means that listens on iTunes, Spotify, Google Play Music and similar services also count towards chart performances. We can therefore identify the nation's most popular Christmas songs by looking at their performance in the UK charts between 2007 and 2016.
Although the shops have their decorations and TV adverts out earlier and earlier each year, we're going restrict our chart analysis to the five weeks leading up to Christmas each year. Any song containing the word "Christmas", or with any vague notion of "Christmasness" to it was eligible for inclusion. Using data from the Official UK Charts Company website, we can identify which Christmas songs appeared in the charts, how often they appeared and how high they placed.
The table below shows the 20 Christmas songs which spent the most weeks in the charts between 2007 to 2016. It displays their release date, highest chart placing and also the number of weeks they spent in the Top 10, Top 20, Top 40 and Top 100. To ensure that newer songs are not discriminated against, we make an adjustment to account for post-2007 release dates. A simple mathematical adjustment was made to account for new songs which were released after 2007. Songs released after that date had their totals scaled up based on the number of available chart weeks.
In order to make an objective comparison of these songs, we devise a simple points system. A song gets ten points for every week it spends in the Top 10, five points for every additional week in the Top 20, two points for each additional week in the Top 40 and one point for each additional week in the Top 100. This allows us to rank the songs from first to 20th. Where there was a tie in the number of points, the song which reached the highest chart position was placed highest. This points total is included in the final column of our table.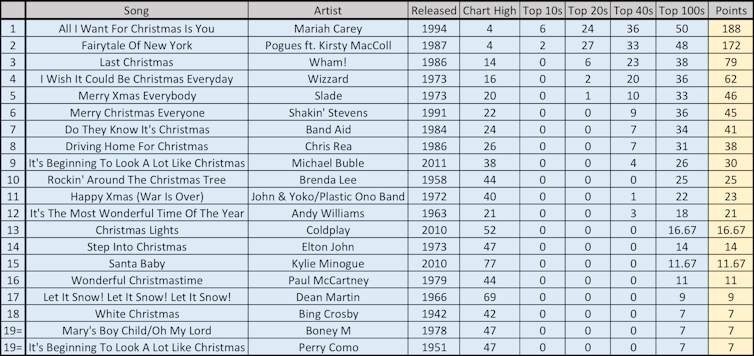 Based on our points system, we can see that Mariah Carey's All I Want For Christmas is You is the UK's favourite Christmas song, narrowly pipping Fairytale of New York by The Pogues and Kirsty MacColl. Both of these songs are way out in front of everything else; they both made it as high as Number 4 in the charts, while none of the rest cracked the Top 10. Amazingly, Carey's track appeared in the UK Top 100 in every single week that we studied, while The Pogues were in there in all but two weeks. Ultimately, Carey came top on account of spending more weeks in the Top 10 than the Pogues did.
Further down the list, we see timeless classics from Wham!, Wizzard and Slade making up the rest of the top five. All of these songs had at least one appearance in the Top 20 at some point over the past decade and cracked the Top 40 on more than ten occasions.
It's notable that all but three of the tracks in the Top 20 were released more than 20 years ago. The highest placed new song on the list was Michael Buble's It's Beginning To Look A Lot Like Christmas, which placed in ninth – and even that is a cover of an older song. The first brand new song is Coldplay's Christmas Lights, which placed 13th on our list. When Slade sang: "Does your granny always tell you, that the old songs are the best?", it seems as though she was right.
Now, when the inevitable debate about festive songs starts while you're rocking around the Christmas tree or driving home for Christmas, you can add some facts and figures to the discussion. In the meantime, if the weather outside gets frightful, feel free to listen to our Top 20 Christmas songs playlist and enjoy the most wonderful time of the year.