Jean Sibelius has proved to be one of the must enduring icons of Finnish cultural life. The image of the composer peers out from the 100 markka note, and Finlandia, his so-called "patriotic tone poem" of 1899, is widely recognised as the unofficial national anthem. He even has his own dedicated page on Finland's Official Travel Guide, which states:
There has perhaps never been another composer who has so vividly and veraciously been able to capture the nature, history and myths of his own people in notes.
But his nationalist associations are just one aspect of this notoriously complex composer. Even in his own lifetime, Sibelius was concerned that his reputation was dominated by nationalist rhetoric, writing in his diary in 1910: "Am I really only a "nationalistic" curiosity?" This label has haunted him ever since. Some of his most exciting works have been sidelined because they do not fit a nationalist narrative.
Turning 150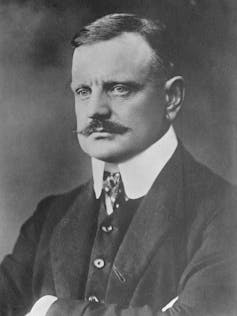 So in his 150th anniversary year it seems appropriate that Sibelius and his reception receive a critical re-evaluation. Anniversaries are both blessing and curse for musical institutions. On the one hand, they offer the opportunity to air less familiar works by celebrated composers – and large audiences are always expected for birthday concerts.
But on the other, it compounds a process of canonisation in deciding whose anniversaries are worth celebrating. Composers such as Beethoven are guaranteed exposure, but personalities such as Paul Hindemith have been less fortunate – the 50th anniversary of his death came and went without a single one of his works being performed at the BBC Proms. Concert halls run the risk of becoming a conveyor belt of birthday and deathday events for the already famous, seeking the lucrative sales that accompany such occasions.
Undoubtedly, this year has seen a plethora of Sibelius symphony cycles, such as that at the Royal Festival Hall under the baton of Simon Rattle. These have also been accompanied by welcome performances of Sibelius's more marginalised works – the Proms opened to the sounds of Belshazzar's Feast, a suite derived from a theatre score composed in 1906. And classical music label Naxos has run a "Journey Beyond the Symphonies" project to record Sibelius's lesser known orchestral scores.
A modern Sibelius
These pieces offer new perspectives on the composer and his cultural environment. Scores such as those for Svanehvit ("Swanwhite", a fairy tale play by the Swedish playwright August Strindberg) show Sibelius to have been actively engaging with [symbolism](https://en.wikipedia.org/wiki/Symbolism_(arts), the artistic movement taking Finland by storm at the turn of the century. Sibelius recycled material from Svanehvit in his Fifth Symphony, closely interweaving the two compositions and their aesthetic concerns. The result is an almost pantheistic stance that suggests a confluence of God, nature and the erotic.
Explorations of the erotic also take centre stage in many of his songs, and in his only pantomime, Scaramouche. The politics of gender dynamics and sexual identity were widespread topics of debate in Sibelius's lifetime, and yet this aspect of his life and work has only recently started to gain attention.
His was an era which saw the birth of both sexology and psychotherapy. There was also the publication of Otto Weininger's wildly popular treatise Sex and Character (arguing that women were mere empty vessels who leeched off men), and women's fight for the vote in Europe and the Nordic countries. Sibelius actively participated in this social environment with songs such as "Teodora" (1908), an explicit, nocturnal paean to the Byzantine Empress of the same name. The sexually charged soundworld of "Teodora" could not be further from the patriotic tone of Finlandia.
Scaramouche, meanwhile, confronts fragile masculine identities and the idea of the artist as outsider, topics that were close to Sibelius's heart. He often referred to himself as a persecuted artist in his diary, misunderstood by those he referred to as "Philistines". Although the genesis of Scaramouche was plagued by setbacks and misunderstandings, the subject matter seems to have held sufficient importance for him to spend over a year on the score, producing some of his most astonishing and enigmatic music.
Intriguingly, contemporaneous reception of this particular work offers a direct counterpart to the idea of Sibelius as nationalist. An article published in the newspaper Stockholms Tidning in 1924 noted that the "Scaramouche music sounds unexpectedly cosmopolitan". This, and the perspectives discussed above, are just some of the many ways of thinking about Sibelius.
Categorising a composer as a particular "-ist" or "-ism" runs the risk of losing sight of the multi-faceted individual behind the label. Sibelius may be both (and neither) national or cosmopolitan, but this anniversary has shown that he is far more than a "nationalistic curiosity".