Even though only about one in 50 Americans is Jewish, U.S. Jews donate at high levels, both as individuals and as a community.
As a scholar who studies community philanthropy, I am doing research to discover what accounts for this outsized generosity and why Jews play such a big role in American philanthropy.
While mapping where these donated dollars go, I'm finding that the many reasons why this penchant for giving arose can help explain the strength of support among American Jews for non-Jewish causes.
By any measure
Most Jews, regardless of their economic status, heed their religious and cultural obligations to give. In fact, 60 percent of Jewish households earning less than US$50,000 a year donate, compared with 46 percent of non-Jewish households in that income bracket.
The average annual Jewish household donates $2,526 to charity yearly, far more than the $1,749 their Protestant counterparts give or the $1,142 for Catholics, according to data from Giving USA.
And a larger percentage of Jews give to charitable causes than households of other faiths, according to Connected to Give, a joint effort by foundations to measure religious giving trends. Some 76 percent of American Jews gave to charity in 2012, compared with 63 percent of Americans who observe other religions or are not religious.
Interestingly, the same study also found that Jews, black Protestants, Evangelical Protestants, mainline Protestants and Roman Catholics give at similar levels to congregations and to other causes. However, Jews give relatively less to congregations and more to other causes.
North American twist
So what's behind this extremely charitable behavior?
Two explanations involve education and wealth, traits strongly correlated with philanthropy.
The Jewish community is among the nation's most educated and wealthy demographic groups. American Jews have an average of 13 years of schooling, the highest for a major U.S. religious community. And 44 percent belong to households with annual incomes of $100,000 or more, the most for any major ethno-religious community.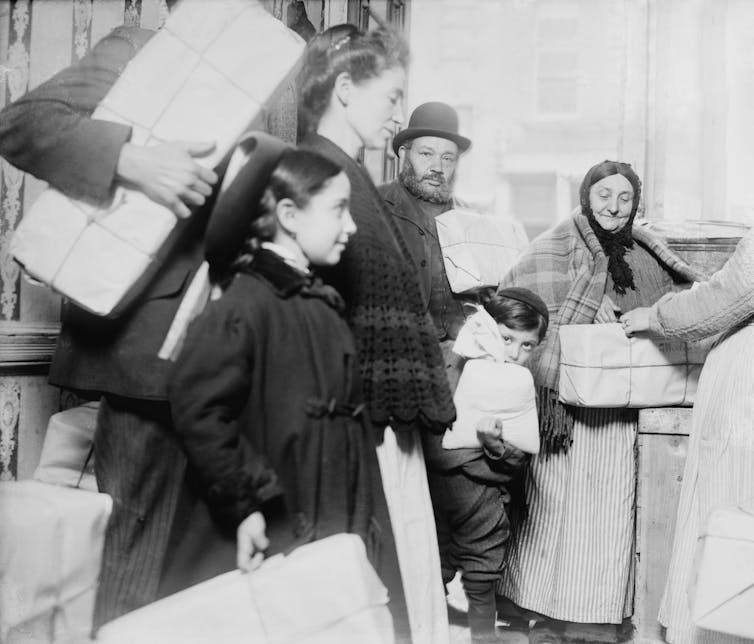 As education enhances charitable giving at all income levels, it is one key to understanding Jewish generosity. And donors of all faiths, regardless of their religious practices and identities, tend to give more money when their income rises.
Many wealthy Jews, including former New York mayor Michael Bloomberg, hedge fund investor George Soros and homebuilder Eli Broad, regularly make the Chronicle of Philanthropy's list of the nation's 50 biggest donors.
Theological foundations
And naturally, another reason for Jews' charitable tendencies is their faith, regardless of how religious they are. There is a strong theological foundation for the Jewish community's robust giving, just as is the case with other religions.
Expressed in Hebrew, the Jewish concepts of tzedakah (charitable giving), tzedek (justice) and chesed (mercy or kindness) instruct and compel all Jews to give to charity and treat people who are less fortunate with compassion.
Even today, many Jews embrace a concept known as the "eight degrees" of charitable giving first articulated by Moses Ben Maimon, a 12th-century intellectual who was born in Spain and later resided in Morocco and Egypt.
Known as Maimonides or Rambam, he created a metaphor of an eight-rung ladder that donors can ascend to get closer to heaven. At the lowest level, donors give grudgingly. At the highest, they help people in need become self-sustaining.
And while Jewish charity has theological roots, many Jews who aren't religious give generously. One prominent example is Facebook founder Mark Zuckerberg, who runs a massive charitable initiative with his wife Priscilla Chan.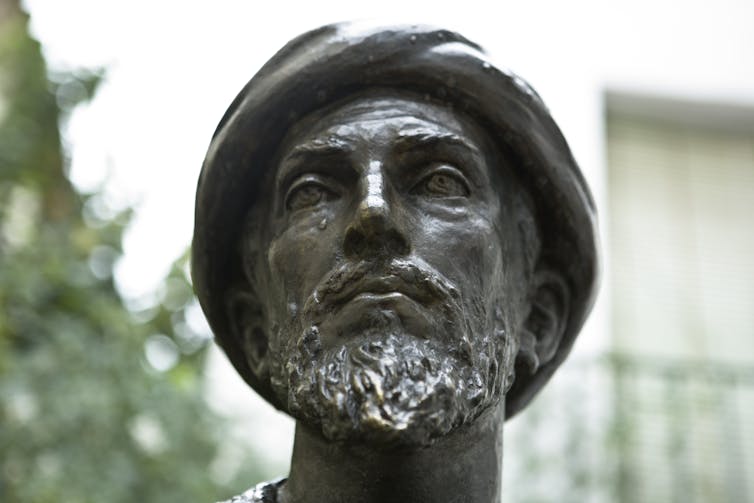 Community philanthropy
The U.S. Jewish community not only gives more than other religious groups, it gives differently. Jews have developed unique patterns of charitable giving and philanthropic behavior as a central way to express Jewish identity.
Traditionally U.S. Jewish philanthropy has been embedded in central Jewish communal organizations such as Jewish federations, regional organizations that give collectively to causes in the U.S. and abroad.
These unique organizations exemplify the ethnic, nonreligious expressions of Judaism. They also demonstrate the Jewish community's tradition of charitable giving as a group effort.
Thus, many Jewish philanthropic institutions in North America take a largely nonreligious approach to Jewish social action.
Making grants
Beyond identifying what drives Jewish giving, I wanted to explore who benefits most from their generosity.
For the past year and a half, I have been studying the giving patterns of North American Jewish grant-making institutions.
These include nearly 150 Jewish federations. There are also thousands of Jewish community foundations, family and corporate foundations and donor-advised funds, such as the Jewish Communal Fund, which pools giving by about 6,000 affluent people.
I found that many of these U.S. and Canadian institutions actually give more to non-Jewish causes than to Jewish ones. In fact, my preliminary findings suggest that despite differences between distinct categories of grant-makers, at most an average of 25 percent of this money backs Jewish causes.
All told, based on my research at the Cohen Center for Modern Jewish Studies at Brandeis University, I estimate that these various philanthropic efforts give more than $9 billion every year to charitable causes.
Most of these funds flow to social, welfare, educational, health, research, science, advocacy, art, cultural and environmental causes. Donations support tens of thousands of local and international nonprofits serving a wide range of ethnic and religious communities in the U.S., Israel and elsewhere.
Mega-donors
Separately, I also analyzed the giving patterns of the 33 Jews who made the 2016 Forbes 400 list of the richest Americans. From what I found, an average of only 11 percent of the giving through their foundations backs exclusively Jewish causes.
Their contributions mainly support secular causes, such as the $142 million gift George Kaiser – the entrepreneurial son of Holocaust refugees who settled in Oklahoma – gave the Tulsa River Parks Authority in 2014.
Additional research indicates that only 9.6 percent of gifts from so-called "Jewish mega-donors" between 1995 and 2000 that totaled $10 million or more funded Jewish causes. Nearly half of them supported higher education and none supported religious causes or annual appeals to give to and through Jewish federations.
Billionaire Stephen Schwarzman's $150 million gift to Yale University in 2015 is one example of Jewish support for non-Jewish causes. On the other hand, some of these major gifts support largely Jewish universities, such as the $400 million the estate of Howard and Lottie Marcus bequeathed to Ben-Gurion University of the Negev in Israel.
Charitable traditions
One reason for this tendency is that Jewish charitable traditions support giving to Jewish and non-Jewish causes alike. Many Jews perceive donations supporting social service providers and social justice advocates as a way to follow Jewish religious laws, even when their gifts benefit other religious and ethnic communities.
And since many Americans Jews emigrated to the U.S. to escape persecution and discrimination elsewhere, mostly in Europe and the Middle East, I believe this history makes it natural for them to identify with and support groups that are currently suffering or even oppressed, whether they are Jewish or not.
I have also seen that over time, Jewish communal philanthropy is becoming less centralized as new kinds of giving institutions and practices emerge. In addition, priorities are changing: Philanthropy serving the Jewish community is becoming less dominant than charity serving other communities.