"There he is!" A text came to me, from the 12-year-old daughter of good friends. It was accompanied by a photo of Pope Francis as he stepped onto Irish soil, for the second time in his life. In 1980, the year after John Paul II's visit 39 years ago, Jorge Bergoglio – the pontiff's name before he became Pope – had spent a few weeks here studying English. Now Pope Francis had come to a changed Ireland, where some would say the Catholic Church is on the way out.
This Ireland is a vastly different country from that visited by Pope John Paul. After the rise of Ireland's economy as the Celtic Tiger, some of us are wealthier, and fewer of us go to Sunday mass. However, a significant majority – 78.3% in 2016 – still declare as Catholic, and have contact with church, even if only at funerals, weddings, Christmas or Easter. In a way, the Catholic Church community is healthier. Today we have fewer merely "cultural" Catholics. People practice their faith because they choose to, not due to societal pressure.
A student of theology recently told me: "It is radical to be Catholic in Ireland today." But in response to much press about a dying Catholic Church, a friend texted me from Knock, the pilgrim site where Francis held 45,000 people in silent prayer: "It is a very healthy looking corpse."
I had similar thoughts when I prayed the mass in Phoenix Park in Dublin on the Sunday of the Pope's visit alongside 200,000 or 300,000 people – the numbers are disputed, but don't really matter. We were all ages and sizes. We would have been many more except for security announcements that prohibited transport anywhere near the park, warned of long walks, hours of standing, and to bring no chairs. One woman summed it up for me: "Tis great to be here after all the negativity on the media. It gives you great hope. He is a great man and I want to support him."
Mounting crises
The Pope and his church are facing a clamour of crises. A report into decades of sexual abuse by priests, and its cover up, in the US state of Pennsylvania brought them to the forefront, just before the Pope's visit.
In Ireland too, there has been the crime of clerical sexual abuse, and its cover up. It seems the institution was deemed more important than the people. Then we have the dreadful stories of abuse at mother and child homes and industrial schools. And the horrific discovery of 796 bodies of children and babies buried in a mass grave at Tuam, County Galway. Ireland is still far from knowing the truth of what happened there.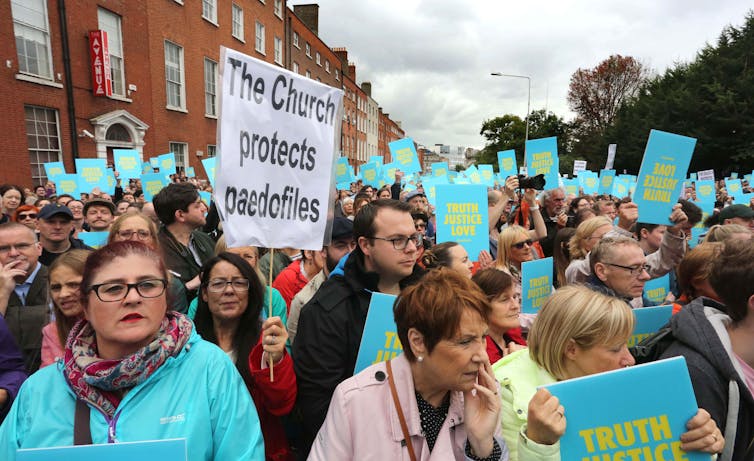 The Taoiseach, Leo Varadkar, Ireland's prime minister, gave an excellent address to Pope Francis on behalf of the Irish people. He acknowledged the state's, and society's, complicity in the poor, at times dreadful, treatment of women and children. He also acknowledged that at the birth of the Irish Free State in 1922, Ireland was happy to leave education and health in the hands of the religious. One less responsibility for a new country.
The issue is how to respond. The church's response to clerical sexual abuse has, albeit too late for many children, resulted in the setting up of an excellent child protection system in Ireland today. There are no more mother and baby homes, no more industrial schools. But there are many homeless children, many abused mothers and children in homes in Ireland, as there are around the world.
In search for forgiveness
One response was Pope Francis's prayer for forgiveness at the mass in Phoenix Park. This was likely to have been a direct response to the listening Francis had done the previous evening to a number of Irish survivors. I know some were pleased this happened. Others keep saying that it is not enough, and demand action.
At the mass, Pope Francis spoke in the plural, for all of us Catholics. We are all sisters and brothers in Christ, together we beseech God for forgiveness for the Church, the people of God, and especially for its leaders. To beseech God, to seek to be forgiven by God, is for a Catholic to ask of God that I, that we, might be changed, transformed. The seeking of forgiveness is an activity at once humble, and terrifying. Who knows how the church might yet be transformed and freed from the deep-seated patriarchy that Catholics term clericalism.
Remember, Francis was in Ireland in August for the World Meeting of Families. His advice focused on teaching children to pray, first to make the sign of the cross. Christianity is founded on the story of cross and resurrection. The cross is where, at the moment of the most dreadful crime, the crucifixion of an innocent man, the son of God, Christians witness the greatest act of forgiveness.
This is perhaps the Irish people's greatest challenge in the aftermath of Pope Francis' visit: can we ensure that the demand for justice coincides with the forgiveness gifted from Christ on the cross? This would empower us all to work together, with renewed creativity, to face myriad issues and problems in Irish society, so that in another 39 years time we will not be looking back on horrors that remain unattended to.