Today we published our first story from The Conversation's investigative unit, a significant expansion of our mission to ensure expert knowledge reaches the widest public audience possible.
Our incredible editorial team already works with academics every day to publish research news and explanatory journalism. These stories cover topics from space to politics to the economy to the environment. And because our content is free for all to read and republish, it reaches about 18 million people each month thanks to our partnerships with hundreds of news outlets.
But two things have happened since The Conversation started in the U.S. over eight years ago. First, our editing team has taken stock of the deep investigative research so many academics do. Often those research projects are in the public interest – but never reach a broad audience. Second, investigative journalism across the country has declined precipitously as news outlets consolidate, close and lay off experienced – and expensive – watchdog reporters.
Academics have deep knowledge of complex topics. They bring rigorous methodologies and peer-reviewed research to their specialties that even the best reporters at most media outlets do not possess. They're focused on a wide range of topics that today's smaller newsrooms are not staffed to cover and may not even be aware of.
Journalists know how to find a narrative and ethically talk to real people, and they have the platform and editing ability to reach the public at large. Bringing academics and journalists together can help stem the decline of important beat and investigative journalism nationally – but also locally. This is particularly true in specialized beats like genetics and business that increasingly intersect with people's lives but have scant attention from the media.
Certainly, this is not a brand-new idea. Top-rate news outlets have sometimes used academics in more rigorous ways than merely quoting them in stories. Yet those efforts have mostly been one-offs and not scaled, because it would take a bridge between academia and journalism to make it happen. We believe The Conversation is that bridge.
Thanks to support from Arnold Ventures, we have been able to make this a reality. We have hired Kurt Eichenwald as our inaugural senior investigative editor. Kurt is a New York Times bestselling author of six nonfiction books and a longtime investigative reporter at The New York Times and several other national outlets.
Here is what Kurt wrote about how our first investigation was conducted:
The investigation Heists Worth Billions is a collaboration between The Conversation U.S. and Georgia State University's Evidence-Based Cybersecurity Research Group, directed by professor David Maimon.
The research group develops techniques to improve cybersecurity by studying online criminal networks and observing underground markets. Two years ago, Maimon and his team saw a large number of stolen checks flooding those markets. They then noticed the marketing of drop accounts – bank accounts created by using fictitious identities that money is "dropped" into – that can be used for check fraud. Criminals rapidly figured out that an array of frauds could be facilitated by drop accounts, and markets exploded with the necessary tools and instructions to perpetrate those scams.
Building on the research group's work, The Conversation investigated gangs who relied on, purchased or sold drop accounts, identities, checks and other materials to perpetrate their criminal activities. We reviewed thousands of pages of court records and government documents, obtained transcripts of wiretaps and other official investigative material, bank documents, and online communications between co-conspirators. In addition, we interviewed officials in law enforcement, government and the banking industry. And, to better understand how these crimes were committed, we also spoke with reformed fraudsters and hackers who had previously participated in drop account schemes.
The investigation by Maimon's group and The Conversation provides an unprecedented look into a vast, secret enterprise that has long stayed hidden in the darkest reaches of the internet, and it exposed the huge scale of financial losses suffered by the public because of this crime wave.
Expanding our partnerships with academics to include investigative topics is a natural evolution for The Conversation and a way for us to have a deeper impact than through the daily journalism we excel at.
And we want ideas. If you are an academic with an idea, please email investigations@theconversation.com. If you are a journalist with an idea that would benefit from data sets or deep academic knowledge, drop us a line.
This effort is new and experimental, and it comes with challenges. But given the deep knowledge locked in academia – and the talent of journalists to humanize data and research – I am convinced that the public will benefit from these collaborations.
We'd love to hear from you.
---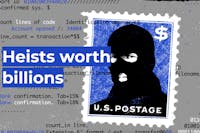 This article relates to Heists Worth Billions, an investigation from The Conversation that found criminal gangs using sham bank accounts and secret online marketplaces to steal from almost anyone – and uncovered just how little being done to combat the fraud.
• How to protect yourself from drop account fraud – tips from our investigative unit.