In this episode of The Anthill podcast, we're talking about sex. It dominates the media we consume and our thoughts. But is technology changing sex? And how is the social role of sex evolving? We talked to a futurologist, a sex robot expert, sex researchers, historians and some criminologists.
New technologies are often quickly deployed to serve our human need for love, sex and intimacy. But will robots become a normal part of people's sex lives? Michael Parker takes a look at where advances in computing and artificial intelligence might lead us in our search for love. He spoke to Kate Devlin, a senior lecturer in computing and sex robot researcher at Goldsmiths, University of London and Trudy Barber from the University of Portsmouth who researches cybersexuality and digital culture.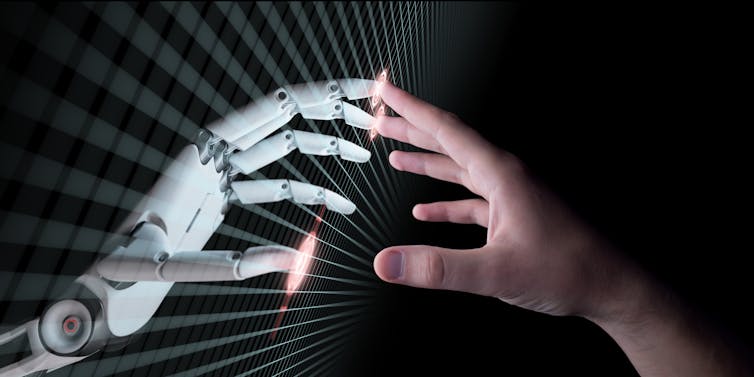 Today, there are dozens of academic journals publishing research about sex. But where did the field of sexology begin? Josephine Lethbridge asked Jana Funke, senior lecturer in medical humanities and Kate Fisher, professor in history, both at the University of Exeter, who are rethinking the history of sexual science. And she spoke to Cynthia Graham, professor in sexual and reproductive health at the University of Southampton, and the current editor of the Journal of Sex Research, to find out how the field has changed in the last decade – and what topics are still taboo for sex researchers.
Another industry that has changed hugely in the last decade, as a result of the internet, is sex work. It's now the largest sector of the UK sex industry – with far more people working in it than on the street or brothels. To find out more about the large number of people that have taken up this flexible work in recent years, via online platforms, Annabel Bligh spoke to Teela Sanders, professor in criminology at the University of Leicester. Her new research project, Beyond the Gaze, is the biggest study to date of internet based sex work in the UK. And Helen Rand, who's doing a PhD at the University of Essex on the industry of indirect sex services such as webcamming, explained some of the motivations and fears that come with the job.
---
The Anthill theme music is by Alex Grey for Melody Loops. Music in the sex research segment is On the Cool Side by Kevin MacLeod for incompetech.com and Struggle and Love, by De Yan-Key.
Click here to listen to more episodes of The Anthill, on themes including Growing Up, Myths, and Pain.
Thank you to City, University of London's Department of Journalism for letting us use their studios to record The Anthill.