Many young people are open to the idea of undertaking an apprenticeship rather than going to university, according to a new study published by the Sutton Trust charity and education company Pearson. But it reports that a big problem remains: there are not enough high-level apprenticeships available to meet this level of interest.
At the same time, there is an ongoing major programme of reform of the apprenticeship system, including changes to funding arrangements. This is important because employers' training decisions are influenced by costs. Our research on employers has indicated that their reactions to changes in apprenticeship funding depend on their degree of attachment to this form of training. Employers' willingness to take on apprentices in the future also depends on how much they will be required to invest in apprenticeships, alongside government funding.
In one of the new surveys, carried out by Ipsos MORI for the Sutton Trust and Pearson, one third of 16 to 75-year-olds said that a degree-level apprenticeship would be a better career choice than a university degree. Another third thought the two were of equal value. In a further survey of 11 to 16-year-olds, 55% expressed interest in an apprenticeship as an alternative to university.
While young people may have significant interest in apprenticeships, the problem – which has been a longstanding one – is that of persuading a sufficiently large number of employers to offer them.
Lack of employer demand
Historically, a small portion of the school leaving cohort in England entered apprenticeships. Even though the employer and the apprentice were seen to benefit from investing in an apprenticeship, levels of engagement were relatively low. From the mid-1960s to mid-1970s, only about 110,000 young people (mostly boys) became apprentices out of a cohort of around 750,000 school leavers.
The establishment of publicly funded apprenticeships in 1994 sought to tackle this issue. By meeting a substantial share of the overall cost of training an apprentice, the state removed one of the barriers to more employers providing places.
The number of apprenticeship starts of learners of all ages and at all levels increased from 167,700 in 2002-3 to 457,000 in 2010-11, as the graph below shows. The substantial increase between 2008-9 and 2010-11 coincided with the launch of the National Apprenticeship Service in 2009 and a keen focus on promoting apprenticeships and increasing participation of learners and employers.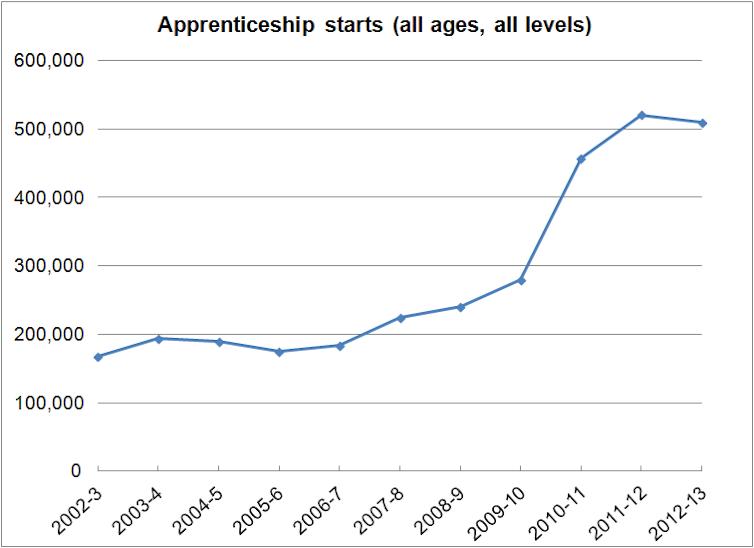 Our programme of research on employer investment in apprenticeships and other training demonstrates that the costs of apprenticeships to employers are significant. Even with substantial financial support from the government, a series of studies undertaken with our colleagues at the Institute for Employment Research at Warwick has demonstrated that many employers were concerned about the cost of delivering an apprenticeship.
The latest study in the series in 2012 found that employers who produce relatively low-cost products or services in sectors with relatively high labour turnover, such as retail or hospitality, tend to be reluctant to invest in apprenticeships. They are concerned that they may derive relatively little benefit from the investment because the apprentice is likely to leave after completing their training.
This barrier was effectively overcome through the employer ensuring that they recouped the cost of delivering the apprenticeship by the end of the training period, or soon after. In sectors such as retailing, for instance, much training is undertaken on-the-job and the apprentice is productive while training – resulting in a lower net cost to the employer. This model should not be dismissed out of hand as it potentially provided employer and apprentice with positive outcomes.
In industries such as engineering, where employers are confident they will retain their apprentices beyond the end of the training period, our research has found that employers are much more willing to make substantial investments in their apprenticeship programmes. This can then generate relatively high returns to the employer and the former apprentice.
But the cost of providing apprenticeships in sectors such as engineering or construction is relatively large. Employers therefore tend to be risk averse in making that investment. They need to be sure that the apprentices they train will be required by the business in three to four years' time.
Another recent study commissioned by the government in which we were involved, looked at employer demand for these relatively high-cost, high-skill apprenticeships. Employers were unwilling to invest in training apprentices in excess of their own projected demand. But we noted that if demand for their products or services were to suddenly increase, then employers could quickly face skill shortages.
Changes to who pays
Policies on employer ownership of skills and apprenticeships are focused on ensuring that apprenticeship training meets employers' needs. Building upon previous reviews, the recommendations in the 2012 Richard Review of apprenticeships have resulted in the development of a number of reforms that intend to provide employers with: "stronger incentives to demand relevant, high-quality training of good value".
Richard's recommendations, the principles of which have been accepted by government, include giving employers purchasing power for apprenticeship training by routing government funding through the employer. Employers are also to be required to further co-invest in apprenticeships by making a direct financial contribution to meet some of their training providers' fees. The full details of the reforms to funding are still under development.
Our research into the response of employers to upcoming funding reforms found that their willingness to co-invest depended upon their attachment to apprenticeships.
Recurrent recruiters of apprentices who use the programme to meet core skills needs were less sensitive to potential funding reforms. But for those employers looking to quickly recover the costs of apprenticeship, co-investment along the lines envisaged by government could have a more negative impact on their participation levels. It is worth pointing out that these findings are based on a relatively small number of observations (interviews with 39 employers) and so should be regarded as indicative.
Clearly there is a need to ensure that public investment in apprenticeships maximises the return to the tax-payer. But as the evidence demonstrates, increasing employer demand for those types of apprenticeships which deliver relatively high returns is a formidable challenge.