As Archbishop Desmond Mpilo Tutu celebrates his 90th birthday, it's fitting to reflect on the moral values he has promoted and held dear throughout his life. It is his steadfast adherence to these values, his courage, activism and integrity that have set him apart from others in leadership in South Africa today.
The hallmark of his inspiring leadership philosophy is the unwavering consistency with which he has rejected abuses of power - both during apartheid as well as in post-apartheid South Africa. At the height of apartheid, he was pivotal in encouraging economic sanctions against South Africa, which contributed significantly to the transfer of power to a majority government.
Archbishop Tutu's fight for peace was relentless, earning him the prestigious Nobel Peace Prize in 1984 – a full decade before the new dispensation of a democratic South Africa. In his acceptance speech Tutu eloquently declared:
There is no peace in South Africa. There is no peace because there is no justice… When there is injustice, invariably, peace becomes a casualty.
Consistency and authenticity
Archbishop Tutu's role in the Truth and Reconciliation Commission (TRC) Hearings in 1995 reflected his authentic desire to help innocent victims of apartheid abuse and torture, and to start the healing process. As chair of the commission, he enunciated the role of forgiveness in healing.
More recently his principled stance against corruption and abuse of power by a majority black government in South Africa has added credence to his authentic opposition to oppression and exploitation – by all and in all forms. Vices and virtues flourish equally in all cultures and socio-economic groups globally. South Africa has had a black majority government for the past 23 years, yet there is still no peace because injustice continues to reign supreme.
The Archbishop has taught the world to embrace the concepts of "human invaluableness" and interdependence inherent in the phrase "Umuntu ngamuntu ngabantu" – we derive our humanity by virtue of being members of the human tribe.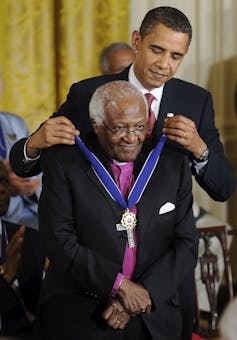 Given his passion for world peace, it's unsurprising that Tutu has been a co-founder of The Elders – an independent group of global leaders working together in support of peace and human rights. Although the idea was originally suggested by billionaire philanthropist Richard Branson and musician, Peter Gabriel, to Nelson Mandela, Archbishop Desmond Tutu and others ensured that the group was formally launched in Johannesburg in 2007. Tutu served as chair from 2007 to 2013. Kofi Annan is the current chair, continuing to drive the global peace agenda of the group.
Champion for global peace
Tutu continues to add his voice to global crises where human rights violations are involved. Only recently, in response to the violent persecution of Myanmar's 1.3m ethnic Rohingya Muslims by the country's military, he offered this leadership advice to fellow Nobel laureate and Myanmar leader Aung San Suu Kyi:
If the political price of your ascension to the highest office in Myanmar is silence, the price is surely too steep.
The Archbishop's global respect for human life is also reflected in his views on gender preferences and sexual orientation. Despite the views of the Anglican Church, Tutu has promoted a non-judgmental approach to same sex relationships including that of his own daughter.
Over the past few years, Tutu has expressed views on the ethical dilemmas that arise at the end of a person's life. Influenced in no small part by the last months of Mandela's life, the Archbishop has spoken out in strong support of autonomous decision making in ending one's life, including the option of assisted dying.
In refusing dying people the right to die with dignity, we fail to demonstrate the compassion that lies at the heart of Christian values.
A life well lived
Tutu embraces everything noble in Aristotelian virtue ethics and African philosophical systems. Aristotelian ethics would argue that a person who possesses character excellence knows what the right thing to do is, how to do it and when to do it. African philosophy embraces humanism and interdependence which typify Tutu.
The consistency and integrity he has displayed in all facets of his life, including his relationships with his children and grandchildren, has earned him the iconic stature, respect and admiration he so richly deserves. It's not surprising that Mandela described him as "the voice of the voiceless".
But Tutu himself will be the first to acknowledge that he too has an Achilles heel like anybody else. As humans we all have our share of positive and negative traits – both creating challenges and opportunities in life that require balancing. Clearly, the Archbishop has been successful at achieving this delicate balance.