If you are among the approximately 1.4m children and adults in the UK born with a learning disability, it's likely that through no fault of your own you will experience a number of injustices in your life. From feeling largely invisible and isolated to being excluded from many of the activities that make life worth living – friendship, love, employment, leisure and further education – the chance of you living the kind of life you want to is vastly reduced if you have a learning disability.
As a society that claims to be progressive, we should be worried by this. On a personal and professional level I have been involved in building a better understanding of attitudes towards people with a learning disability for many years, but I recently realised that more action is needed. Understanding isn't enough.
That is why my colleague Shirli Werner and I changed direction, and shifted our focus to tackling negative attitudes. We found a real lack of understanding and knowledge when it comes to learning disability in the UK and elsewhere. A lack of thorough research in this area means that tackling these negative attitudes is even more difficult. Confusion is rife, and our profound lack of knowledge about what works and what doesn't is having a very damaging impact on people's lives.
A 2008 survey by Mencap revealed 73% of people were unable to give an accurate example of a "learning disability" when asked. In our own research, only around a third of adults in the UK when presented with a case example recognised that the person presented might have a learning disability. The "knowledge" and "understanding" that does exist can often enforce negative stereotypes and make life even harder for people with a learning disability. Even today, some people in rural Africa think that someone's learning disability is caused by witchcraft – and in the UK the majority of people with a learning disability say that they have been the victim of bullying.
Changing Attitudes to learning disability, a new review I produced for publication by Mencap, points to a double standard in public attitudes towards people with a learning disability. The British Social Attitudes Survey in 2009 found that just 41% of parents would feel very comfortable if their child had a classmate with a learning disability, compared to 76% for physical and sensory disabilities. This highlights a key problem: on the whole people say that those with a learning disability should be treated equally, but at the same time many behave in subtly prejudiced ways which in fact reinforce negative stereotypes.
A lack of familiarity and insecurity around learning disability appears to be causing hostility. Yet I can point to three things we could do right now that could shift things for people with a learning disability.
Hear from those in the know
The increasingly loud voice of self-advocates is improving things. But we need to see and hear many more people with a learning disability in the public arena and for others to support them in speaking up.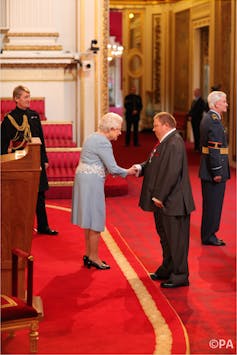 Whether it is in the media, teaching at workshops or conferences, it is generally the voice of people with a learning disability that is the most powerful and produces the greatest positive shift in people's thinking. We need a few high profile figures to lend a voice to this cause and support self-advocates in raising awareness of learning disability and challenge the negative attitudes that persist.
Harness the potential in young people
Much has been made of findings that a lot of abuse and harassment against people with a learning disability is perpetrated by young people. We need to harness the huge potential for shifts in social attitudes that lies with young people.
These days many secondary schools I visit have got large boards up with Stonewall and LGBT campaigns prominently displayed. Our struggle has more in common with these seismic shifts in public attitudes than we may think.
There's no reason why that same prominence can't be given to messages that focus on respect for people with a disability, and against disability hate crime, ensuring that people with a learning disability are explicitly included in positive messages.
Increase employment
The fact that according to figures by IHAL, the NHS funded Learning Disability Health Observatory, only around 7% of people with a learning disability in the UK are in any form of employment is not only shocking but also points to a vastly untapped route to improving the lives of people with a learning disability at the same time as improving attitudes. Contact is the prime avenue for raising awareness and improving attitudes. If more people with a learning disability were employed, this would hugely increase opportunities for improving attitudes.
In some senses, our evidence review paints a pretty bleak picture of the lives of people with a learning disability in the UK today. But there is plenty of room to be positive. Over the past 50 years we have seen huge strides forward in how we view disability. Our new evidence review is a first step in kick-starting a debate around why these attitudes exist, and how we can best begin really shifting the way that our society views learning disability.