Listening to the world pouring out its heart today, mourning and celebrating Aretha's remarkable life, I wonder just how much my words could possibly add anything of substance to all of this.
Aretha was a church girl, first and foremost. A mum, a grandmum, a family person. Her family roots were long and deep, in the church, which birthed not only her musical talent but the community, ethic and culture that underpinned her, sustained her, rescued her and has always celebrated her.
Her career spanned generations and transcended time in many ways. Her music crosses many boundaries and presents in each generation quite distinctly.
---
Read more: Aretha Franklin: sublime soul diva whose voice inspired the civil rights movement
---
African Americans "sing their theology". I'd like to take credit for that quote, but it was Dr Anthony Campbell who coined it first. Professor of homiletics at Boston University, a preacher (and son of one), and musician at C.L. Franklin's neighbouring church – Russell Street Baptist – in Detroit, he introduced me to his family and community, including Aretha, some 25 years ago.
Aretha and her community opened their doors and their hearts to me, an insignificant white church-boy from Rosebery, Tasmania. I knew something of this community through their music, but sharing my life with them, and they with me, continues to be life-changing.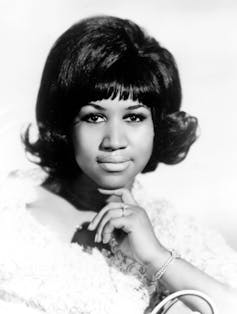 I worked with Aretha through the Gospel Music Workshop of America. She and Stevie Wonder were on the bill one year, fronting one of the many choirs drawn from across the US that I had been "guested in" to play for on piano. Her voice lifted everything into another dimension. Including me.
As the tradition demands, the solo gospel voice largely dictates the shape of the music, the form, the intensity, the emotion – everything. Conductors often despair as they lose all control of the music under the power of the gospel soloist. I know that feeling a little myself, but voices like Aretha engendered complete trust and security in the musicians and singers around her. Where she went was the only place to go.
You certainly feel like you are hanging on for dear life, as this all happens in real time, live, and direct to the recording equipment! Change the tempo, change the melody, change the lyrics, change the mood, change the song and change your life – it's all possible, seamlessly, powerfully, scarily (!) and magnificently under the command of the gospel singer.
And Aretha was the master, an emotional and spiritual powerhouse, leading from within and from out front. Musically, I'd follow her anywhere, anytime, anyplace: total trust, complete security. Abandon yourself to the spirit, and this would lead where the music, and you, needed to go.
Aretha stood in a long line of African American gospel singers, where the gospel "voice" is both improvisatory mastery and firebrand southern African American preacher-reflector of the heart of its community. This "voice" is the heart and soul of an oppressed and persecuted people, which preaches hope in affliction and love in the face of violence with an unassailable spirit, strength and demand for respect.
Aretha was "taught" a great deal by her father, C.L. Franklin: music, technique and the capacity to "move a house" through language and the use of the voice. But more than that, she was nurtured and grown, musically and spiritually, by the same whole community that gave us gospel musicians Mahalia Jackson, Roberta Martin and Sister Rosetta Tharpe. Sitting at the feet of these greats, perhaps not so internationally as influential now as Aretha, the classroom that taught Aretha was anything but conventional.
Ultimately, Aretha was a product of her community, and through her powerful voice she continued all her life to sing her community's theology – crushed but never defeated, enslaved and yet completely free.
Aretha continues to inspire singers to reach for meaning. In a musical world so often characterised by explosive and distracting displays of technical mastery – "lighting and thunder" – Aretha's legacy demands something deeper of performers, something meaningful, something that can move the house.
It's an old African American church expression – to move a house – the house being a church congregation. To "move it" means as it sounds – to be so powerful and engaging in your spoken or sung word, that every member of the congregation becomes as one with you, united by what you say, but more viscerally, too, by the spirit of unity as the whole congregation says, "Yes, we give assent to what you say."
It seems very dry when I describe it here. It certainly isn't in the flesh! And it is this capacity to brings one's voice "out" of the community, to preach to it and then to take them with you that underpins Aretha's music across all its genres and multifaceted forms.
She sang blues. She is called the Queen of Soul. She sang rock and roll. She sang opera. She sang pop. And yet within each song, every genre, across many generations, she is still one voice, of one people, of one gospel heart.
Aretha's spirit, one powerful voice of her community, demands our attention. It demands recognition of and restitution for the evils of slavery and continued oppression. It is like a voice sometimes crying in the wilderness, but one that will not be silenced and that will not go quietly into the night.
Her voice continues to move the house. It continues to move our hearts, at the one time indomitably human and completely spiritual. She reaches into our hearts, demands respect and reminds us of our common humanity.
Long may Aretha's music, and the power, heart and spirit of her community, reach into the whole world and into every heart and soul – until justice rolls down like water, and righteousness like a mighty stream.