The United States is the world's largest producer of nuclear power, but the country's fleet of nearly 100 reactors is showing its age.
On November 2, the owner of a nuclear power station in New York said it will shut the plant down, which follows announcements of plant closures in Massachusetts, California, Florida and Wisconsin. This raises important questions for the US energy sector. The retirements reflect a set of economic challenges for nuclear power plants across the United States, and have important implications for climate change, energy costs and the reliability of the power grid.
Nuclear provides nearly 20% of the electricity in the United States, but the average plant is about 34 years old, and prospects for the future of many of these plants are murky, at best. While five new reactors are currently under construction in the US, the World Nuclear Association estimates that more than 10 older ones are currently at risk of closure.
The explanation for these retirements and the limited amount of new construction is simple: cost.
Abundant and cheap natural gas coupled with the rapid expansion of wind power has limited increases in electricity prices, making it harder for some nuclear operators to justify continued operations or make expensive repairs. By 2020, the US Energy Information Administration estimates that the cost of bringing new nuclear online will be about 25% more expensive than natural gas or wind.
But nuclear power is by far the most important source of non-CO2-emitting electricity in the United States. And while renewables like wind and solar have grown rapidly, they respectively accounted for just 4% and 0.4% of US electricity generation in 2014.
So as the existing nuclear fleet ages and eventually retires, what will happen to domestic CO2 emissions?
Regional picture
If nuclear power were somehow replaced entirely by wind and solar, emissions would remain flat – a best-case scenario.
The US electricity system produces about 500 tons of CO2 for every gigawatt-hour of power generated, and if all of today's nuclear power were replaced by natural gas, total power sector CO2 emissions would grow by roughly 15%.
Take as an example Japan, which after the 2011 meltdown at Fukushima-Daiichi ordered all nuclear units closed. Nuclear power was replaced by coal, oil and gas-fired generation (the country also adopted increased energy-conservation measures). Most reactors are still offline, and Japanese CO2 emissions in 2014 were roughly 20% higher than they were in 2010, the year before the earthquake.
But the story in the United States is more complicated; the effect on CO2 emissions when a nuclear plant closes varies substantially based on which part of the country you're looking at.
That's because some regions, notably California and nine northeastern states, produce and consume electricity under a cap-and-trade program (a federal cap-and-trade bill died in the Senate in 2009). These programs cap the amount of CO2 that can be emitted from power plants each year (California's program also covers other energy sources like transportation fuels), charging emitters a price for each ton of CO2 they produce.
So when a nuclear plant shuts down in California or Massachusetts, the market finds a way to stay under the emissions cap by reducing demand, increasing efficiency, and adding new carbon-free sources like wind and solar. These measures require new investment, and raise the price of electricity.
But when a nuclear plant goes offline in Wisconsin or Florida, where there is no cap, there is no requirement for power producers to find a way to hold emissions steady. Instead, the electricity will be replaced by a combination of sources that is cheapest for that region, and because that cheapest option is often natural gas, CO2 emissions will rise.
Wind and solar to rescue?
Some will argue that nuclear power can be replaced quickly with wind and solar.
Indeed, these sources are growing rapidly in the United States, and in some places, they are competitive with other fuels like natural gas. But wind and solar power do not provide the type of steady, reliable base load that nuclear (and coal and gas) can.
Wind and solar produce power when the wind blows or the sun shines, and need to be backed up by a rock-solid "baseload" source of power, such as natural gas. Policies in some parts of the country have introduced additional incentives for providing reliable power, but these incentives have not been enough to ward off retirement for a number of aging nuclear plants.
The federal government has for decades supported nuclear power with the Price-Anderson Act, which limits operator's liability in case of accidents, and newer policies that provide a tax credit for new nuclear plants, loan guarantees for new construction and more.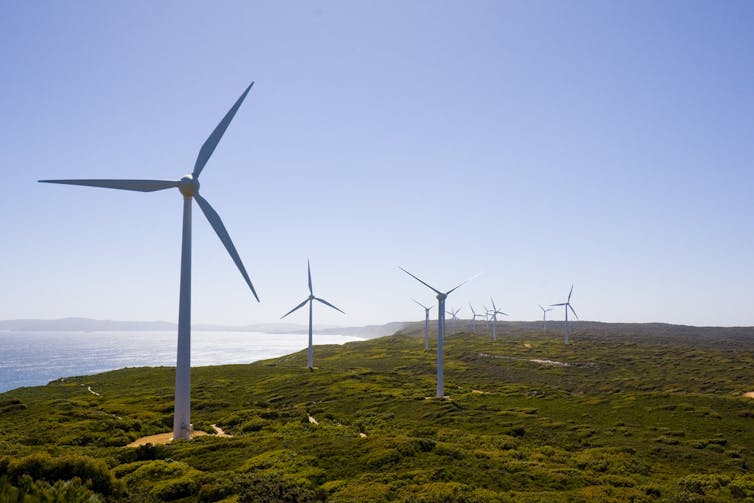 The Obama administration's recently finalized Clean Power Plan requires utilities to lower their overall emissions through efficiency or using less polluting sources of power but it does little to create incentives to keep older reactors producing.
Absent a substantial change in policy, nuclear technology, or electricity prices, nuclear power plants will continue to face substantial economic challenges in the United States.
In the meantime, the location of retiring plants matters a great deal for CO2 emissions. In regions with cap-and-trade, nuclear retirements will likely raise power prices, but have little short-term effect on emissions, while regions without cap-and-trade are likely to see their CO2 emissions rise if and when plants close.
Looking forward, a better approach to limiting CO2 emissions would bring together the entire country, rather than leaving cap-and-trade programs to be implemented in some states but not others.
Analysts have known for years that this type of nationwide carbon pricing needs to be the lynchpin of any economically sound climate policy.
The struggles of nuclear power will make it harder for the US to achieve its long-term climate goals, even though the falling costs of wind and solar power will provide a boost.
But without nationwide carbon pricing, there is no clear path toward the levels of emissions reductions we need to prevent the worst impacts of climate change.