Our Audience
Readership
The monthly audience to The Conversation Australia is 6.6 million unique users onsite, and 18.3 million through republication.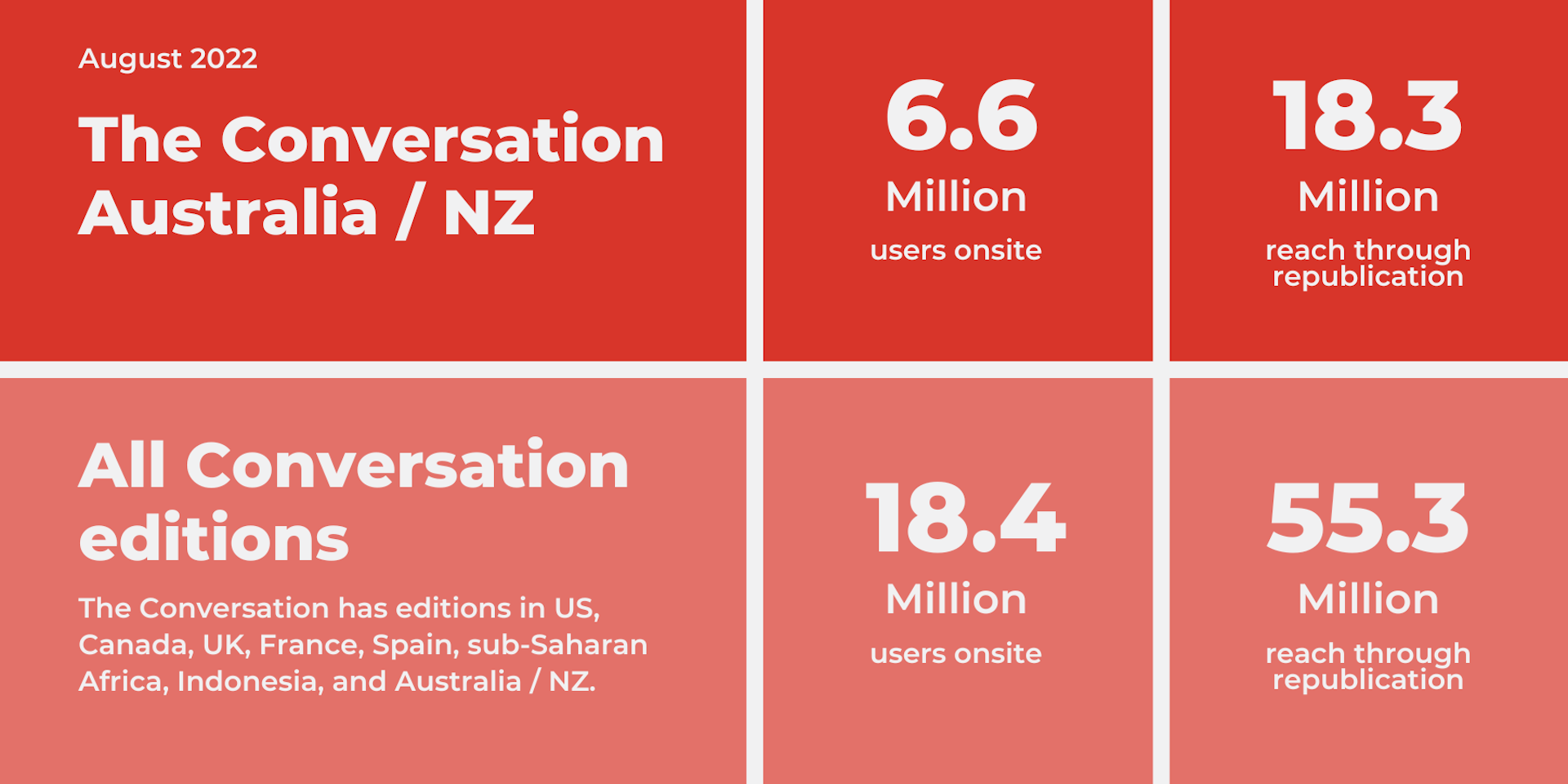 The monthly audience across all Conversation editions is 18.4 million unique users onsite, and 55.3 million through republication.
Our readers are an even split between male (47%) and female (53%). The age of readers skews young, with 61% of readers under 44 years old. 91% of readers would recommend The Conversation.
85% of readers are non-academic which supports our vision of sharing academic knowledge direct with the public. The other main sectors represented in readership are teachers (13%), healthcare/medical (10%), and government / policy (13%).
An engaged audience
We aim to democratise knowledge and work with academic experts to inject evidence into public debate. The Conversation articles are influential in changing behaviour and attitudes. They are frequently used as a source for evidence-based information in classrooms, the workplace and political sphere.
Why readers choose The Conversation
Most of our readers come to us for information they can trust and value information from experts.
Author impact and engagement
More than 17,200 academics have published articles on The Conversation Australia/New Zealand, and there are more than 111,600 academics registered globally.
After publishing with us, 68% of authors are contacted by media for follow up, including interviews on TV, radio, online, print or elsewhere.
Other ways that our authors have impact include being contacted by government (10%), invited to speak at conferences (13%), contacted for research collaboration (20%) or approached for business consultation (14%).
Publication at The Conversation also led to discussions with students (33%) and colleagues, friends and the general public (76%).
Sources: Google Analytics and Reader + author survey 2019, 2020.