Myanmar has taken a potentially momentous step away from dictatorship and towards democracy. More than 6,000 candidates from 91 political parties competed for the votes of 33m registered voters on November 8 in the country's first credible elections since 1960.
The precise outcome won't be known for days, but Aung San Suu Kyi's National League for Democracy (NLD) is claiming to have gained at least 70% of the votes cast. Senior figures in the ruling party are conceding defeat.
No one should underestimate the significance of power changing hands in Myanmar via the ballot box. However, this will only finally occur in March 2016, when the newly-elected MPs vote for a new president and a new government will be formed.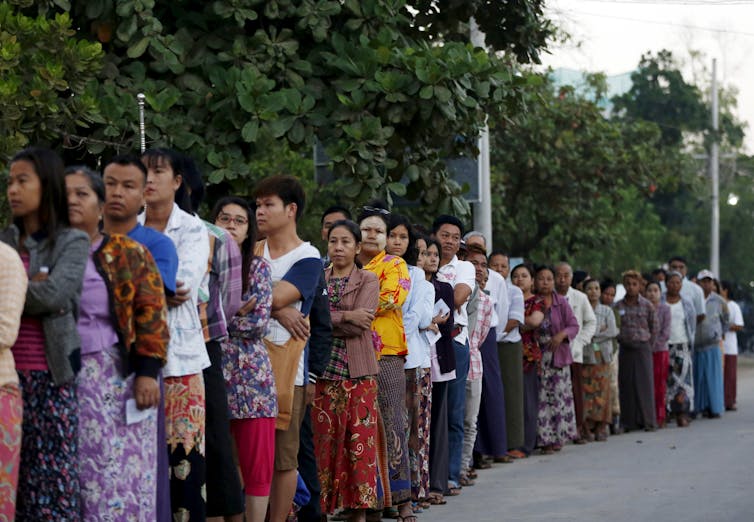 It seems inevitable that the next president will be a representative of the NLD, but it will not be Aung San Suu Kyi. The constitution bars individuals with the kind of foreign connections she has by virtue of her two sons' British citizenship.
During campaigning, however, she alluded to her intention to amend the constitution. She also referred to taking up a constitutionally undefined position "above" the president in the new government. In any event, Aung San Suu Kyi will not be denied the political power she has sought since the annulled elections of 1990.
The question is, once she has that power, what does she intend to do it with it? The new government's legitimacy will heavily depend on its commitment to human rights, which have been central to many peoples' hopes for Myanmar's reform process.
Long road to democracy
During 15 years of house arrest, Aung San Suu Kyi became an icon for the global human rights cause. It has been consistently argued on the international stage that the credibility of reform in Myanmar is conditional upon respect for human rights. And indeed, many players in Myanmar's opposition movement have sought to build political platforms around the principle of respect for human rights. The depth and breadth of the NLD's commitment to human rights is, however, questionable.
One obstacle is the military (the Tatmadaw). In government, the NLD will have to work with, rather than against, the people who have run the country for so many years. The Tatmadaw will continue to hold 25% of parliamentary seats thanks to a constitutional rule guaranteeing its representation. It retains significant informal influence, too.
An NLD government will also have to begin to seriously address the ethnic and religious divisions that plague Myanmar. These reach deep into the prejudices and fears of many who voted in Sunday's election.
Many were prevented from voting in this historic election because of their ethnic and religious identities. More than 760,000 Rohingya were denied a right to vote because Myanmar continues to deny their existence as a distinct ethnic group. Citizens' entitlement to legal recognition in Myanmar is based upon belonging to a legally-recognised national or ethnic community. The Rohingya are not one of the 135 officially-recognised communities and thus are effectively stateless.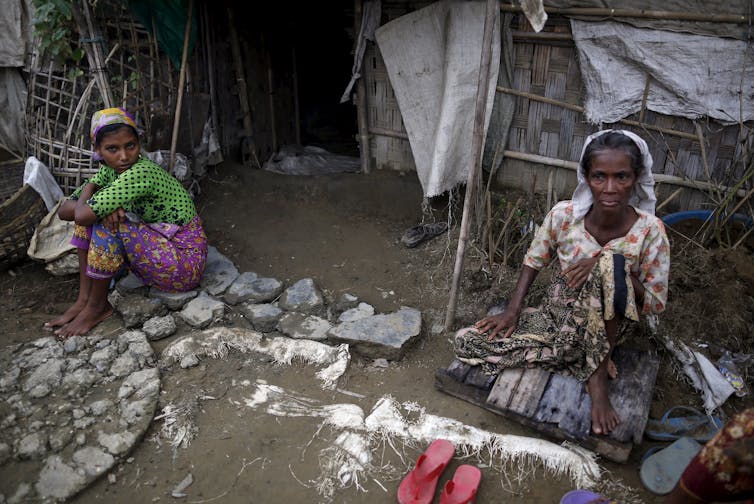 The ethnic Rohingya are mostly Muslim. What began as a form of systematic persecution based upon ethnicity has now spread to affect other Muslims across the country. Although a numerically small minority in a predominantly Buddhist country, Muslims have been the target of verbal and physical attacks from many quarters, particularly from followers of the Ma Ba Tha ultra-nationalist Buddhist movement. They have been largely prevented from participating in this election.
Ready for change?
It is tempting to view ethnic and religious persecution in Myanmar as a symptom of the old, despotic order, which will be overcome as the country continues on its road to a better future.
However, it isn't at all clear that what appears to be the new government is as fully committed to overcoming these human rights violations as it ought to be.
Aung San Suu Kyi stated just days before the election that the new government will be a government of national unity and reconciliation. This may be a politically expedient gesture, but it raises concerns over precisely which compromises she will be prepared to make to those within the unity government who do not embrace the principles of human rights.
The NLD's commitment to genuinely respecting the rights of ethnic and religious minorities can also be questioned. Not a single one of the NLD's parliamentary candidates was Muslim. Aung San Suu Kyi herself has consistently avoided specifically defending the fundamental human rights of the Rohingya. Many of the election's 91 political parties campaigned on a primarily ethnic platform precisely because the NLD is widely considered to be biased in favour of the majority Bamar community within Myanmar.
This is an undoubtedly historic moment of democratic opportunity for Myanmar. Let us all hope that once in power the NLD will place human rights at the very heart of its programme.