The New York Times' global push for subscribers, supported by the opening of a small bureau in Australia, is likely to cause a few more worried faces in the already fractured local news market. But more worrying for supporters of democracy in Australia is the pulling power of the US publication (and its innovative agenda) critically underlines the need for Australia to have access to strong local news which can give an Australian "take" on local and world events.
The Australian bureau is just one part of The New York Times' US$50 million, three-year drive to expand globally and to grow its paying subscriber base outside the United States. Employees were told in a memo reported in the Times:
Because our digital report is still designed and produced mainly for a US audience, we have not come close to realizing our potential to attract readers outside our home market… We are confident this will be a down payment on a new era of international growth for our company.
The New York Times already has a sizeable audience in Australia. It ranked as the 17th most-read site in Australia in the December Nielsen ratings with a unique audience of 1.27 million.
Damien Cave, the newly announced Bureau Chief, says the company plans to grow by serving the needs of Australians who are interested in the world, and meeting the needs for readers who are interested in Australia. He has already started to engage readers by launching a newsletter calling for help with an "experiment in journalism and community".
Significantly, Cave told ABC Radio National The New York Times is not planning to compete on local coverage, but to do the kind of in-depth reportage of issues that the New York Times does well. The reporters will be focusing on stories around immigration, multiculturalism, climate change and nature, popularism, global trade, arts and culture.
Innovation in storytelling in all its forms is certainly the New York Times' strength, and the reason why so many Australians will be willing to pay for it. For the past year a team of Times' journalists has been compiling a 2020 Report that discusses the need to further change in the way they produce stories to better meet the changed needs of digital readers.
The Times wants to produce stories that can't be found elsewhere online for free. Times columnist David Leonhardt used a lengthy podcast posted on the Times' site to discuss the need to engage more with readers. He proposes doing this by putting greater emphasis on visual and other non-text based forms of journalism, as well as hiring more reporters of diverse background and better supporting parents to remain in newsroom jobs.
The New York Times will have only a small number of staff in its Sydney-based bureau. The company already has a strong local correspondent, Michelle Innis, and draws on a pool of talented freelancers.
Apart from Cave, it has now added investigative journalist Jacqueline Williams and has advertised for a multimedia editor, another reporter and editorial assistant. That is not a huge team compared to other new players in the Australian market. The UK-based Guardian, for example, lists over 40 journalists located in capital cities across Australia for its local edition.
Few pay for news in Australia
Australia is considered a tough market for newspaper owners who are already fighting a difficult battle to keep paying readers and advertisers.
The latest Reuters Digital News Report declared that Australian publishers had "struggled to increase the number of digital subscribers beyond loyal users" and that just 10% of Australians paid for news online. More specifically the report points to rising digital subscriptions for The Herald Sun and The Australian, while Fairfax publications the SMH and The Age, faced a small downturn after earlier increases.
Newspaper advertising dollars are also increasingly difficult to find. It's not just because of competition from new foreign players in the Australian market, such as The Guardian and The Daily Mail.
Search engines like Google and Bing are taking massive amounts of advertising dollars away from the local mastheads. Last year PricewaterhouseCoopers predicted the newspaper advertising market in Australia will continue to drop sharply, that by 2020, advertising revenue will have more than halved in a decade.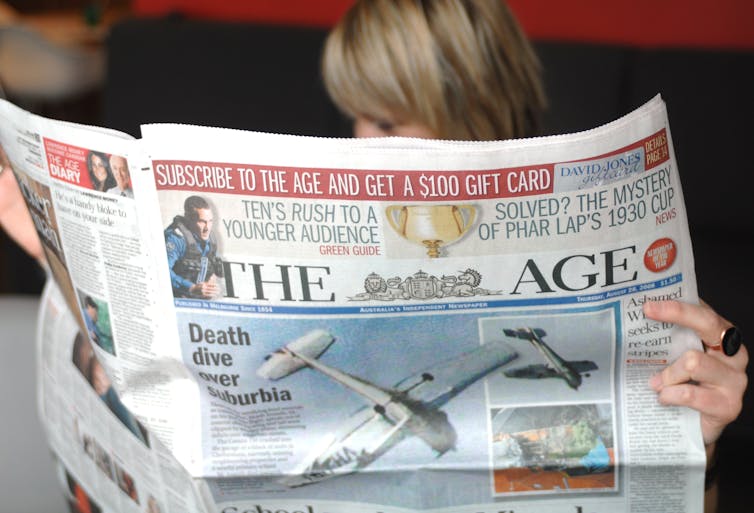 Global media super brands
Although putting Australia more at the centre of The New York Times' global coverage will yield some interesting perspectives for Australian readers, the long-term impact of the New York Times' aggressive subscription push may be detrimental to local news outlets. There is, after all, only so much money that people have to buy or subscribe to news outlets.
It's important to remember that the New York Times, for all its storytelling strengths, is not an Australian voice. It also supports a particular east coast progressive view of the United States and, as the world read with the election of President Donald Trump, it can misread the mood of its own country.
It's almost ironic that the New York Times' subscription push may well quicken the demise of Fairfax, which has to date in some ways represented the small-l liberal concerns of Australian audiences.
It makes it even more important to support quality private journalism by paying for the service, and to also support the publicly funded – but independent – national broadcasters, the ABC and SBS. The current underfunding of our national broadcasters, and some of the operational changes by the new managing director of the ABC Michelle Guthrie, are reducing the capacity of all Australians, to have access to independent news, regardless of where they live, how much they earn, or how they vote.
If the New York Times hastens the demise of Fairfax and other Australian news outlets in its race for global dominance of quality and innovative storytelling, and the Australian government further nobbles the publicly funded broadcaster the ABC, we will be left with fewer news options, and that's a bad thing for democracy in Australia.