The new Australian film Tanna (2015), which won two awards at Venice Film Festival in September, is a sad romance of ill-fated island love. Romeo and Juliet in Vanuatu, with the twist that Juliet (Wawa) falls in love with Romeo (Dain) just as her family decides to give her to another boy, hoping to settle a long-standing feud between two communities.
Tanna is also a tale of globalisation. The modern expectation that marriage should hinge on shared spousal passion is transported around the world by cinema, popular music, and crafty commercial advertisement. Young people in Vanuatu see these depictions of "companionate" marriage and decide to choose their own partners, upending the careful marital arrangements their parents have made.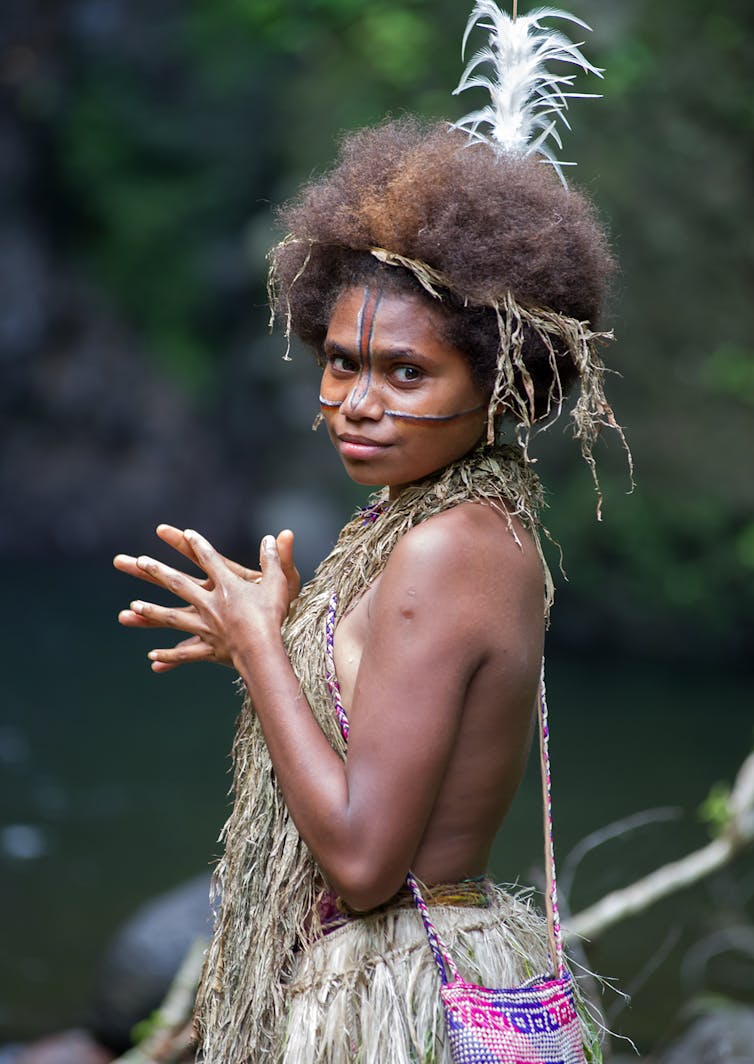 I have lived off and on Tanna, an island in Tafea Province of Vanuatu, since 1978, working with local communities on a series of ethnographic, linguistic, and historical projects. Over those years I have watched parents working hard to arrange appropriate marriages for their children, and seen them struggle with offspring who resist tradition. As such, I watched the film with particular interest.
Island custom demands what anthropologists call "sister-exchange" marriage. A boy can marry only if his family can convince one of his sisters, or some other likely girl, to marry a boy from the girl's family, ideally one of her brothers. Three or four families may chain together in a circle, each passing a girl along to the next. Or if girls are scarce, a groom may promise to give back a future daughter.
Love complicates the difficult and complex marriage deals that parents arrange, as do elopements such as the one staged between Dain and Wawa in the film.
It is no surprise, then, that island languages have modest romantic lexicons. The word "to love" also means "to like, enjoy, appreciate", or merely "to require". Until recent years, few on Tanna expected husbands and wives could be, or should be, "soul mates".
Island parents say that girls have the right to refuse to marry but they can put considerable pressure on them to accept a spouse, as Wawa's family does. Only a girl's attempted suicide (jumping from a tree, typically) may convince parents of her resolve. Tannese boys who face unwanted marriage deals are far less likey to kill themselves but Dain and Wawa, in good Shakespearean fashion, together swallow poisonous fungi.
Tanna features actors from in and around Yakel village. The camera looks down into a luscious world of brown skin and green nature, of smiles and song, of wise elders and mischievous children. A freelance photojournalist in the early 1970s convinced people from this community to take off their clothes to boost the appeal of his photographs. Ever since, men here (especially when paying tourists come around) sport traditional penis wrappers, and women wear bark skirts.
Community leaders continue to boast that they alone protect and preserve island custom, even though most everyone on Tanna remains committed to ancestral tradition. Certainly photogenic, local actors Mungau Dain, Marie Wawa, and Marceline Rofit (Wawa's mischievous little sister) ably carry the story.
Co-directors Bentley Dean and Martin Butler are romantics themselves, echoing Jean-Jacques Rousseau's fantasies of noble Tahitians against which he could project the squalor of 18th century France. Elderly island wisdom and doomed love, in the end, win out over bloody feuds.
Apart from romantic love, the filmmakers have meticulously scrubbed away other signs of global modernity. Only a tobacco pipe, a bush knife, and some dubious island Christians (who look to be followers of Tanna's Prophet Fred, among whom Dain and Wawa seek shelter, signal our contemporaneity).
In real life, Yakel is a popular tourist site, located only a few kilometres up the hill from Lenakel, Tanna's main town centre. Local people travel widely along the island's traditional and modern road systems, shopping in trade stores along the way.
Most everyone on Tanna, young and old alike (including folks in Yakel), carries mobile telephones these days.
Tanna is flooded with international tourists, and people constantly travel up to Port Vila (Vanuatu's capital town) seeking paid employment.
Interestingly, the filmmakers have excised almost all Bislama (Vanuatu's lingua franca) terms from their actors' lines (which mostly flow in southwest Tanna's Navhal language, with a few minutes of Nafe language from the southeast). This must have been a difficult task. Nowadays, people freely code-mix Bislama words into everyday conversation.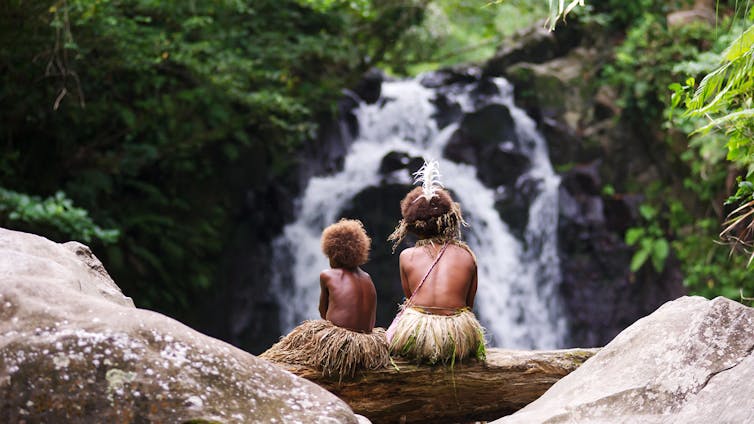 And those penis-wrapper-wearing Yakel men are the island's outstanding global travellers. They have starred in a variety of reality television series that have brought them to the UK, France, USA, and Australia. Viewers may miss the local history when Wawa's grandfather shows her a picture of himself standing with Prince Philip of Great Britain (he's trying to convince her that arranged marriage is a good thing; just look at Queen Elizabeth and Philip's).
Despite their commitment to island custom, these are the people who in the 1970s cooked up a political devotion to Prince Philip as a brother islander.
The film opened in a Port Vila theater in late October to much local interest. Kids squealed in delight at the "public displays of affection" between Dain and Wawa – most un-Tanna-like, where men hold hands only with men.
There's an expectation that screenings will prompt a spike in tourism; Tanna's main source of income derives from tourists and local entrepreneurs will be delighted if the film boosts visitor numbers.
An entrepreneurial island friend's pre-dawn call woke me last week; I've just wired him money to help build a tourist bungalow, adding to the rash of these that already freckle the island.
That said, the Tannese are extremely savvy about the West's romanticism for "ancient cultures" and cannily position themselves within the international tourism marketplace accordingly. If visitors tire of Yakel's natural wonders, they can walk the "cannibal" trail –created specifically for their enjoyment – near Port Resolution, east of the volcano.
Tourism brings resources to the island but sometimes also trouble. The making of the film sparked resentment in neighbouring villages, while acting out the romantic fantasies of Western audiences has also had a disconcerting effect on islanders themselves.
Regardless, Tanna culture remains strong and visitors can learn much if they look beyond and behind the romance (some, though, may be surprised that Tanna's famous volcano – on which much of the story revolves – is 12 kilometres from Yakel across the central mountains). It's a place you can easily fall in love with.

Tanna is currently screening in limited release.