The history of zoos is eccentric, erratic; spotted with the spectacular as well as the cruel. But one of the more interesting beginnings of a zoo has to be that of Chester Zoo. And this is the story that the BBC's latest drama, Our Zoo, is setting out to narrate. In 1930, with a family and a few animals, George Mottershead bought Oakfield Manor and some land. The zoo opened in 1931, and by the time he died in 1978, aged 84, George's dream of a "zoo without bars" was flourishing.
The BBC's dramatisation of his story is especially interesting because it has an incredibly human angle. A World War I veteran, it quickly becomes apparent to us that George needs just as much saving as any of the animals comes across.
In the first episode we learn that George suffers from shell shock, a hangover from World War I. This results not just from seeing traumatic events but the accompanying sense of helplessness, an utter lack of control. By 1918 the British Army had dealt with over 80,000 cases of shell shock, and this was certainly only a small percentage of the total number. By the 20s and 30s, in the lull after the horrors of the trenches, the affliction was often seen as indicating a lack of character, even by the victim's family.
In the village where I lived as a child lived a World War I veteran. I used to take him his fish and chips every Saturday for lunch. He told me about fighting in the Great War as he ate, but the stories of his treatment for shell shock were considered too traumatic for the ears of a teenager.
It is this sense of trauma that comes through in the programme. Despite the war having been over for 12 years, George still has no control over his life and this no doubt contributes to his slow recovery. He lives in his parent's house, with his wife and children, and depends on them for employment. Then by chance he obtains a squirrel, monkey and a parrot from a dockyard and then a camel from a circus, much to the chagrin of his family, who see this as further proof of his "lack of character".
George has recovered from the wounds that left him in a wheelchair for two years but is still psychologically suffering, and he sees a similar affliction in the animals he adopts. Initially, he wishes to fix them physically but then sees the need to rehabilitate them psychologically. And this care helps him to overcome his own demons.
Animals have long helped people suffering from mental illness. The York Retreat, which opened in 1796, used animals in its treatment of people, rather than the cruel treatments that were prevalent in British asylums of the time. Now companion animals such as cats and dogs are frequently employed in this manner in hospitals and old people's homes to improve human well-being.
And research shows that pet owners are less prone to mental and physical illnesses than those without animals. Perhaps this is why it's often said among biologists that when a person retires, we should give them a dog rather than a clock.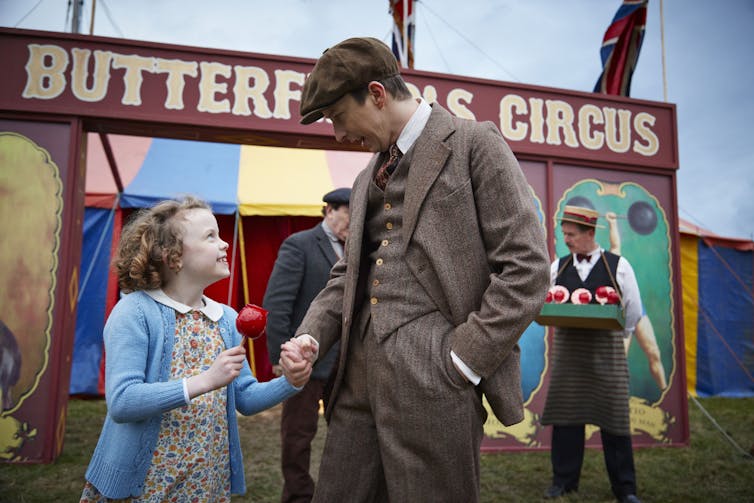 It is this sense of therapy that really comes through in the BBC's dramatisation. George connects with the animals; he has great empathy for the powerless beasts he collects. And although he does not consciously realise it, these animals will be his mental and, eventual, financial salvation.
To start with, George keeps the animals in the small backyard of his parents' two-up two-down house. But this is evidently unsustainable, and he needs to find a way to continue this care for animals – the animals which are effectively acting as his medication. This is how the plan to open a zoo is hatched.
But this will not be like the zoos that he saw as a child; this will be a zoo without bars. As George has escaped from the war, so have his animals from circuses, cages. He wants something better for them, better for society.
Zoos have been created for many reasons during their history. Animal collections were originally used to flaunt the power and fortunes of their owners – such as in the case of the wild animals housed in the Tower of London by British monarchs from the 11th century onwards. Then there were the zoos that functioned as scientific collections to provide facilities for scientists such as Darwin to conduct their research, which was the case of London Zoo.
Chester Zoo, and its lack of bars, was born out its founder's need for therapy, and his perception that this therapy could benefit society and animals. It's not often that we hear of zoos in terms of healing. And so this series takes a very welcome angle. Watch it.
Episode one of Our Zoo airs on BBC One on September 3 at 21.00 BST.