Anheuser-Busch InBev, brewer of Budweiser, Stella Artois and more than 200 other brands, is already the largest beer maker in the world, controlling more than 20% of global sales. It may soon get a lot bigger: this week it reportedly plans to bid for its closest rival, SABMiller, in a deal that could create a company worth some US$275 billion.
If this transaction were to occur without either party being forced to sell off too many assets to meet the demands of government regulators – not a sure thing – it could create one of the world's ten largest companies by market value. The resulting "MegaBrew," a term coined by Sanford Bernstein analyst Trevor Stirling, would control as much as 30% of total beer sales.
The planned acquisition continues a dramatic trend of fewer and larger brewers dominating the beer industry. Back in 2000, there were 22 major beer makers. A series of mergers, takeovers, joint ventures and majority purchases whittled that down to just four in 2012. These four giants, which also include Heineken and Carlsberg, are all headquartered in Western Europe and currently account for more than three-quarters of US beer sales.
And soon that could be just three giants.
So what's driving this intense consolidation in the beer industry? How are these behemoths handling the rapid rise of craft brewing? And what does it all mean for consumers?
The answers to these questions, as I've learned over my 17 years exploring food system trends – particularly industry consolidation – and their impact on sustainability, can be as complex as a hoppy IPA.
The battle for growth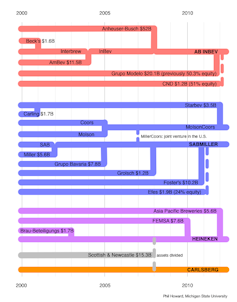 AB InBev, which has been rumored to be hunting SABMiller for years, is expected to offer $106 billion to buy the maker of Peroni and Grolsch. It would combine AB InBev's strength in Latin America with SABMiller's in Africa, where it controls 90% of the market.
Heineken rejected a bid from SABMiller one year ago, a combination that had the potential to stave off acquisition attempts from AB InBev, at least for the near future.
Although all four of the top companies are extremely profitable, they are experiencing flat or declining sales in many of their largest national markets. That has left acquisitions – both of each other and smaller regional breweries – as one of the few options available to continue the rapid rates of growth demanded by their shareholders.
Their other main options for increasing profits include cutting costs and raising prices. And that's where we get to consolidation's negative impact on consumers.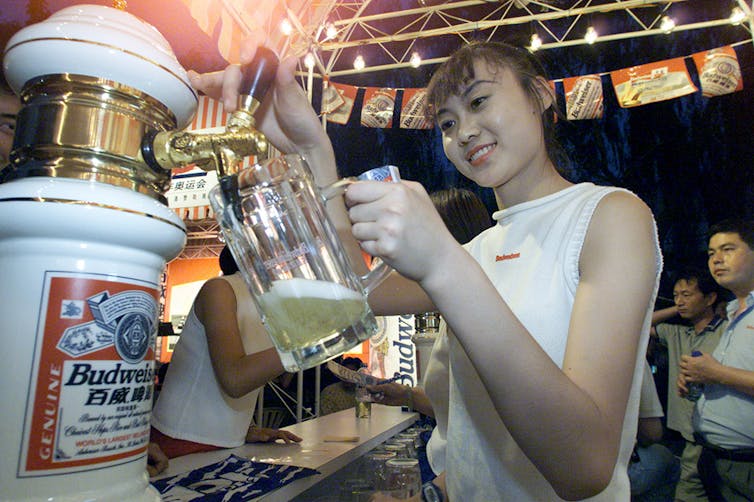 Price fixing and signaling
In recent years, the prices for beer have increased much faster than those for wine and spirits, coinciding with the greater market power of the big four brewers.
In Europe, price fixing has often been to blame, while in the US the tactics have been more subtle, though the the result has been the same.
In 2007, for example, Heineken, Grolsch and Bavaria were accused of holding secret meetings in the 1990s to divvy up markets and fix prices in the Netherlands, leading to $370 million in fines by European Union regulators.
In the US, no such meetings were even needed. In a classic example of "price signaling," AB InBev, which controls about half the beer market, would regularly lift its prices, and SABMiller and other brewers quickly matched those increases.
This behavior got the attention of officials at the Department of Justice, which took the rare action of blocking AB InBev's bid in 2013 to take full control of Mexican brewer Modelo, maker of Corona and Pacifico. A deal later emerged that allowed the acquisition to go through, but Modelo's business interests in the US had to be sold to a rival company to prevent AB InBev, which reported $47 billion in sales last year, from having even more market power to control prices.
Most analysts expect that if the AB InBev-SABMiller deal goes through, regulators in the US and possibly China will require similar selloffs to dilute the combined company's market dominance. SABMiller controls about a quarter of the US market.
Regardless, the economic power of AB InBev will increase substantially on a global level.
One example of this increased power is the ability to dominate shelf space at retailers. Many retail chains give either AB InBev or SABMiller direct control over the placement of all the beer they sell, including competitors' products. This gives them to power to place their own brands in the most visible locations, and allot them the most space.
This strategy is aided by offering numerous slightly different versions of the same product, such as the dizzying number of varieties of Bud Light that fill the refrigerator cases. The acquisition could leave AB InBev as the only "category captain" left. And that means your impulse choices would be strongly steered toward this firm.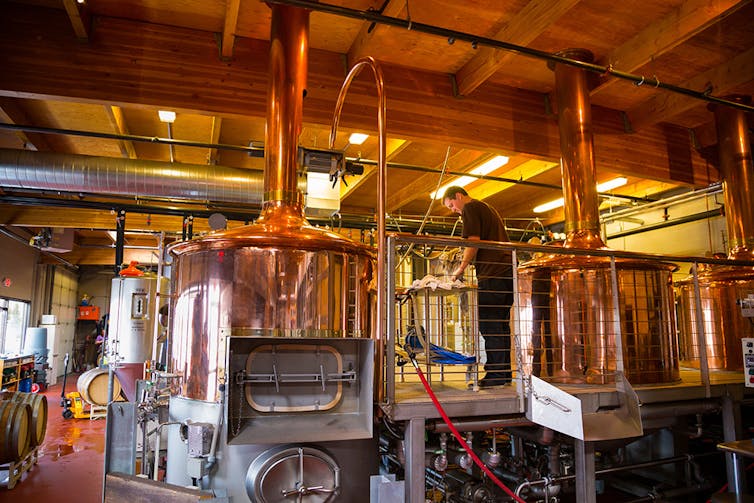 The counter-trend of craft brewing
While the big brewers consolidate, a countervailing trend is happening on the other end of the spectrum and shaking up the beer industry.
Although overall beer sales are leveling off in most industrialized countries, double-digit growth has occurred in the craft segment in recent years. To be considered craft, annual production must be six million barrels or fewer, less than a quarter can be controlled by a non-craft brewer and most of its beer must derive from traditional and innovative flavors and ingredients.
US sales of craft brews surged 22% in 2014, compared with about 1% for the overall market, according to the Brewers Association. As a result, craft beer's market share doubled to 19% last year from 9% just three years earlier.
This means that as ownership has concentrated at one end of the supermarket beer aisle, it has diversified at the other end. Although the prices of craft brews tend to be higher, the number of options for beer drinkers has never been greater. At the end of 2014, there were 3,418 craft brewing companies, up 42% since 2012.
The big brewers respond
Big brewers have responded to the fast growth of craft with two strategies. The first is their conventional tack of acquiring selected craft brewers to offset the falling interest in their own top brands, such as Budweiser. The other involves imitating their smaller rivals' consumer-winning styles with "crafty" beers that hide their corporate parentage.
Just this month, for example, AB InBev purchased Los Angeles-area brewer Golden Road (news you won't find on the company's website), and SABMiller acquired a majority interest in San Diego-based Saint Archer Brewing Company.
AB InBev has also created less mainstream brands that include Shock Top, Landshark and Wild Blue, while SABMiller developed Blue Moon, Batch 19 and Third Shift. Even the firm Blue Ribbon Intermediate Holdings, which has a "virtual monopoly on American heritage brands," such as Pabst, Schlitz, Stroh's, Old Milwaukee and Heileman's Old Style, outsources most of the brewing to SABMiller.
An unstoppable trend?
AB InBev and SABMiller have found some success with these strategies, but they have so far failed to compensate for declining sales of their more mainstream brands.
The growth in craft and independent brews – and their multitude of distinct flavors and styles – shows no signs of slowing down. Each year, for example, the Great American Beer Festival adds to the number of styles that are judged in its competition – currently 92 plus a number of subcategories.
This trend, toward local and independent and away from mass-produced products, is a challenge the dominant players are facing in other industries as well, such as fast food, groceries and soft drinks. Although these huge companies are unlikely to disappear in the near future, the challenge of continuing to satisfy investors as well as consumers has encouraged defensive strategies that could be viewed as either bold or desperate.
Acquisitions are a temporary means of maintaining growth rates, but the success of smaller firms suggests that the bigger "MegaBrew" gets, the harder it may fall in the future.