Russian writer Mikhail Bulgakov's cult novel The Master and Margarita has inspired many artists.
Mick Jagger drew on the novel when penning the lyrics for Sympathy for the Devil. Salman Rushdie did something similar when writing The Satanic Verses. Baz Luhrmann bought the film rights for Bulgakov's book back in 2019. Federico Fellini and Terry Gilliam are two other noted filmmakers who have expressed an interest in adapting the novel.
If and when he does film The Master and Margarita, Luhrmann would do well to refer to Eamon Flack's riotous new stage interpretation.
Literary legend
A physician by trade, Bulgakov, who was born in Kyiv in 1891 and died in Moscow in 1940, turned his hand to writing in the 1910s. During his lifetime, he was best known as a playwright. Bulgakov's biggest success was the 1925 play The Days of the Turbins, a theatrical adaptation of his novel The White Guard, also published in 1925.
The theme of that play was the bloody and savage Russian Civil War. Despite being highly critical of Lenin and his band of Communists, Bulgakov's play was much admired by the brutal dictator Joseph Stalin, who reportedly watched it at least 15 times.
Like The Days of the Turbins, The Master and Margarita – best thought of as a supernatural satire – was scathing when it came to the excesses and repressions associated with Soviet Communism.
The fraught and protracted compositional history of the novel is the stuff of literary legend. Written between 1928 and 1940, Bulgakov's novel was drafted in secret and subject to censorship at the hands of the Soviet state, and was not published in full until 1967.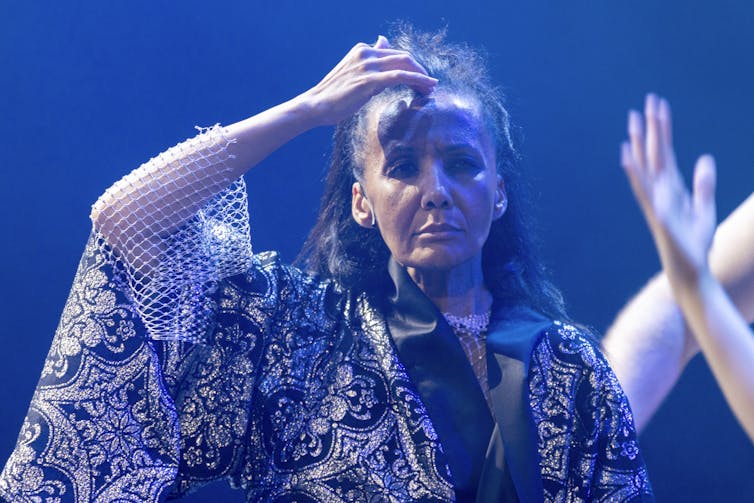 The plot of the epic novel, now regarded as a masterpiece of 20th-century literature, revolves around a visit by the devil and their entourage to Moscow. The devil (in a nod to Goethe's Faust) assumes the guise of a certain Professor Woland, and sets about challenging state-sponsored beliefs about religion and personal conduct. Chaos ensues.
In his directorial notes, Flack, who worked on the adaptation with Tom Wright as dramaturg, describes being drawn to the novel's "magical ability to outwit and outlive dogma, authoritarianism, repression and fear".
By and large, Flack's play, which places great emphasis on spectacle (if sometimes at the expense of the original's satire), is a resounding success. While some of the critiques of contemporary Australian life in the play are at times a touch jarring, the company's steadfast commitment to theatrical risk-taking and innovation is admirable.
I was particularly taken with the cast and artistic team's compelling use of stage magic, speaking to the magical realist strands found in Bulgakov's novel, while generating a series of genuinely beautiful tableaux.
Astonishingly ambitious
When we enter the theatre, the stage is almost completely bare and the walls have been painted black. Three members of the ensemble enter. Matilda Ridgway, excellent as the play's narrator, picks up a battered paperback copy of Bulgakov's novel, left in the middle of the otherwise empty stage. The trio then start to read aloud, and the stage begins to turn.
Following this introductory act of incantation, the devil – portrayed with aplomb by Paula Arundell – makes their entrance. So, too, does the devil's entourage, which includes, memorably, a big black talking cat called Behemoth (played with great comedic brio by Josh Price).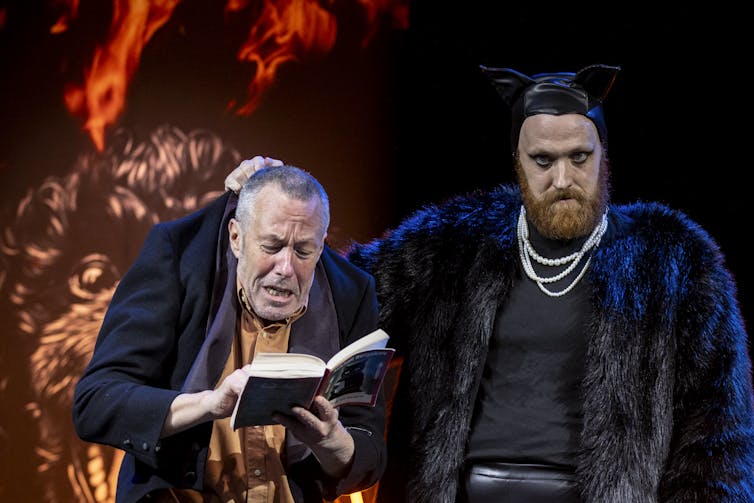 We are then introduced to a host of historically and geographically disparate characters, including the Master (Mark Leonard Winter) and his beloved Margarita (a standout performance by Anna Sansom), along with a wandering philosopher by the name of Yeshua (Winter), interrogated at the hands of Pontius Pilate (Marco Chiappi).
From here, we follow our characters through time and space as narratives unfold, supported by remarkable use of the revolving stage by cast and crew.
What we have here is an astonishingly ambitious – and physically demanding – work of adaptation, which runs for almost three hours.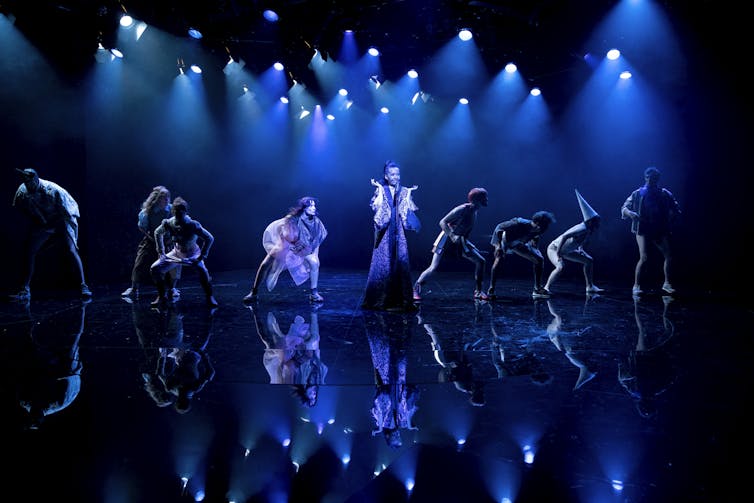 Despite its lengthy running time, the play never lags. The uniformly excellent ensemble, who make good use of music and physical comedy, succeed in capturing and then holding our attention. This, to my mind, is a measure of the play's success. It also demonstrates that there is a real desire for fresh and creative approaches to contemporary theatre.
Speaking to the Sydney Morning Herald, Flack spoke to precisely this point. Part of Bulgakov's enduring appeal, for Flack, has to do with the fact that "you can just begin by thinking differently and imagining differently".
Flack started work on this adaptation during lockdowns, working with actors to devise scenes based on the novel. It was a collaborative process that would stretch out over two years – much longer than the standard development time for a new Australian play.
Flack concedes this "new way of working that we've been trying out might bomb badly, but it might break through into something. And that's what the arts should be."
Were he alive today, I imagine Mikhail Bulgakov would wholeheartedly approve of this adaptation.
The Master and Margarita is at Belvoir, Sydney, until December 10.
---
Read more: Australian theatre companies are shunning Shakespeare. A much-needed break, or a mistake?
---