Art practice occurs within a range of art circles: avant-garde, amateur, contemporary, political, commercial, mainstream or underground. It all depends on what media you use, your stylistic preference, where you studied (and when) but most importantly … who you know.
Given the marginalisation of asylum seekers in Australia, how do artists from refugee communities gain access to creative arts communities?
Twentieth century refugee artists such as Yosl Bergner, Desiderus Orban and Judy Cassab had a significant impact on Australian art, bringing the influence of European modernism to an emerging and provincial local milieu.
A number of contemporary Australian artists such as Myle Thi, Khaled Sabsabi and Savandhdary Vongpoothorn have refugee backgrounds, while a number of prominent local artists with similar cultural backgrounds to local refugee communities, such as Guan Wei, Hossien Valmanesh and Juan Davila, have made work concerning the current plight of asylum seekers in Australia.
In Melbourne and Sydney two art projects involve working with refugee communities to help their artists gain better recognition within Australia's commercial art world.
The Ownership Project
The Ownership Project was set up in Fitzroy, Melbourne, in 2011 with the aim of assisting members of culturally diverse communities find their voice through art. The not-for-profit organisation serves as both a hub for artists to work at as well as a support network. Most of their funding comes from local council grants.
They specialise in the expensive and time-consuming production area of printmaking which, due to the costs of paper, ink, equipment and specialised presses, is generally highly inaccessible for many communities. They have worked with Aboriginal, Torres Strait Islander, South American, East-African and Pacific Islander communities over the past three years.
They both help non-artists get involved, getting their work shown at "community art" events and they also assist more established artists apply for grants and prizes.
Melbourne-based journalist Jarni Blakkarly talked to Kylie Blackley from The Ownership Project recently who said their organisations' relations with the art world have been largely positive:
The art community is quite multifaceted and while I see challenges in un-labelling community art, allowing it not to be separate from the rest of art, my experience has been that the art community is supportive.


I feel like the mainstream art world is very competitive and exclusive in many ways. Visually there is often no difference between the art that is imbued with cultures separate to mainstream art references, and the art that functions as mainstream contemporary art.


The hard competition within this industry can lead to selling by points of difference, creating a separate tier for community art.

She also said that while community art workers who often liaise between artists and the commercial art world are helpful, they must be weary of removing the artist's direct communication with essential commercial contacts.
The Refugee Art Project
Some projects involve artists who are working from within immigration detention centres.
The Refugee Art Project started in 2010 in Sydney and originally consisted of artists and academics running art classes while visiting refugees in Villawood detention centre.
Since 2010 the project has hosted eight exhibitions in Sydney and Melbourne including the current exhibition Still Alive held at Stanley Street Gallery in Darlinghurst, Sydney. Commercial gallery shows increase the exposure of art-buying audiences to work made by refugee artists and allow the artists to participate in a formal exhibition setting.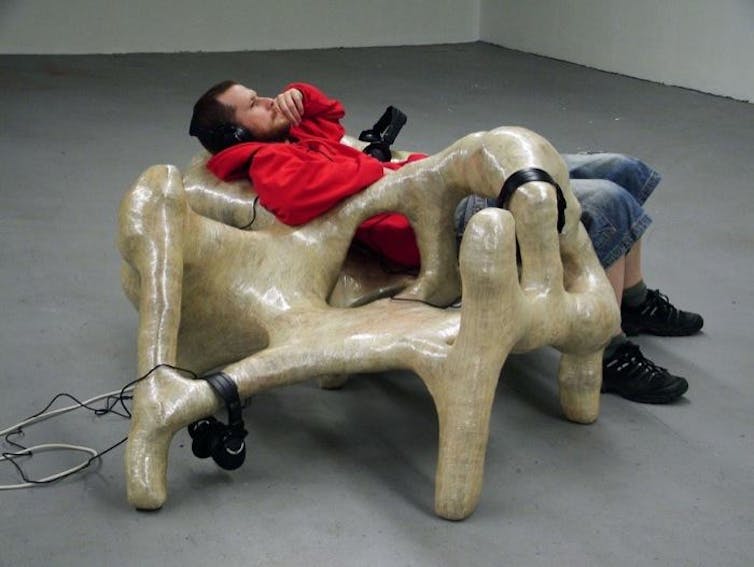 Most recently the Refugee Art Project collaborated with European artists Libia Castro and Ólafur Ólafsson as part of the 19th Biennale of Sydney (BOS). Bosbolobosboco #6 (Departure–Transit–Arrival) (2014) was a late entry to the BOS, developed in response to the artists protests against the major Biennale sponsor Transfield, and its involvement in constructing offshore detention centres.
Located on Cockatoo Island, Bosbolobosboco #6, consisted of a discomforting double seat where sounds projected the voices attesting to the micro-political experience of departure, transit and arrival into detention.
The scope of the Refugee Art Project involves working with a broad variety of institutions and groups connected with art practice in order to support the work of refugee artists, and to increase the awareness of refugee issues among the broader arts communities.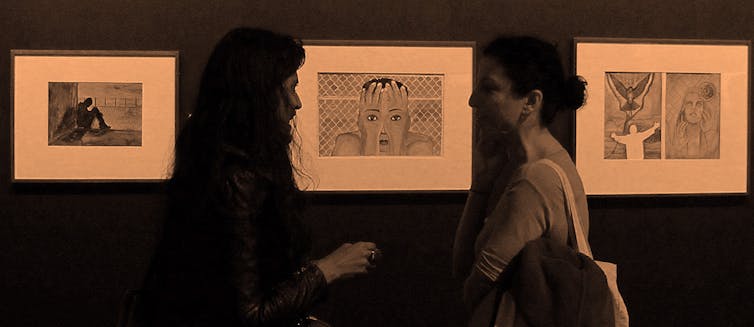 In addition to hosting exhibitions in art galleries and public exhibition spaces, the Refugee Art Project makes zines (small-circulation, self-published magazines) based on comic art workshops inside the centre and coordinated collaborations between refugee artists and refugee storytellers and Australian artists and illustrators.
Projects such as The Ownership Project and the Refugee Art Project effectively challenge the invisible barriers between differing art worlds. Rather than only providing an outlet for creative expression, they facilitate the creative development of refugee artists, and their connection to a variety of art worlds.
Both projects encourage the self determination of silenced and marginalised groups to articulate the conditions of their own lived realities in innovative ways. This is essential in creating and developing an art community that is both inclusive and respectful.
By encouraging refugee artists, Australian artists are not only promoting voices that are marginalised in mainstream politics, they are promoting innovative, relevant and creative responses to the contemporary challenges of globalisation.