Regulations prohibiting gambling on social media in Australia are being increasingly challenged by the popularity of casino apps for iPhones and Androids, as well as loopholes exploited by offerings on Facebook.
The ban on social media gambling was legislated in 2001, through the Interactive Gambling Act and reaffirmed through a departmental reviewed released in 2013. The act made it illegal for Australian companies to offer real-money online wagering.
But new poker and slot apps available on mobile devices are not considered gambling because they don't allow players to directly wager or win real cash.
Known collectively as "social casino games", they simulate real life wagering and keep users playing, sharing, and using real money to purchase in-game currency, extra credits, expansions and gifts.
Much like other social games including Candy Crush, Words with Friends or Angry Birds, these games increase their reach via the user's own social networks, as they constantly ask the player to invite their contacts to play.
When signing in, players are asked to accept Terms and Conditions that allow for this form of promotion. The sign-in page of the slots app House of Fun, for example, says: "This app may post on your behalf, including your high scores, games you played and more".
Even though there is no conclusive evidence that social casino apps lead to gambling addiction, they do aid in the cultural normalisation of gambling.
DoubleDown Casino, Slotomania, Zynga Poker, Betting Billionaire and MyVegas are but a few of a myriad of gambling-like apps on Facebook that are becoming increasingly popular. Slotomania was the most downloaded app on the iTunes Store in 2012.
And industry reports reveal that the worldwide social gambling market far exceeds real money online gambling with 170 million users per month versus 50 million users per month.
But there is still a mammoth discrepancy in terms of revenue: social gambling generates $2 billion per month, while online gambling produces $36 billion.
Perth's newest casino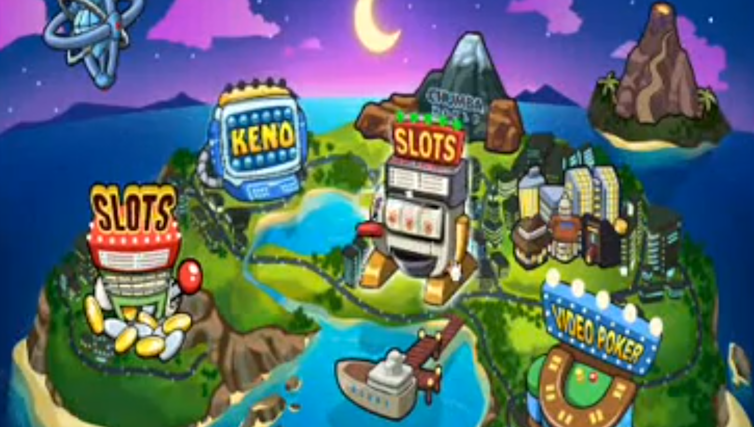 Although in the strictest sense it is not yet possible to gamble through these apps, some developers are finding ways to monetise gambling-like play. Virtual Gaming Worlds, a start-up based in Perth that operates the largely popular Facebook app Chumba Casino, bases its business model on sweepstakes.
This strategy profits from a loophole in Facebook's policies, as some jurisdictions, such as the United States, don't consider sweepstakes to be gambling. This loophole could be an entry into the Australian market if regulations loosen up.
And there seems to be a move towards real-life benefits derived from wins in virtual gambling. This pushes the limits of gaming further into the realm of real money wagering.
The Facebook slot app myVegas, developed by PlayStudios for the MGM Grand – one of the biggest casinos in Las Vegas – allows players to cash-in their winnings in selected establishments for prizes that range from free meals to tickets for shows or swimming with dolphins.
Some of the slots available in myVegas are extensions of the casino's branding strategies, with titles such as New York New York, Excalibur and Mirage. These use cartoonish designs that echo popular social gaming titles like Farmville and constantly invite you to add your Facebook friends to the player roster.
Other gambling-themed apps present inspirational narratives of personal achievement while interacting with the real world. Betting Billionaire promises a "chance to live the millionaire lifestyle you always dreamed of and try to become a Billionaire".
Players achieves this by using "your knowledge of sporting events to bet big on Football, Tennis, Horse Racing, Basketball and more" and competing "against your friends to see who knows their stuff". In the gameplay you can "Spend your winnings on the latest bling from cool cars to luxury homes".
Like Chumba Casino, Betting Billionaire could very well benefit from the loopholes in Facebook's policies concerning sweepstakes and profit from a large pool of would-be-gamblers.
The popularity of these apps has cultural and ethical implications in a country like Australia with a high incidence of problem gambling. And these are evident in the merging of the gambling and gaming industries.
The consolidation of the social casino industry has involved key industry players such as slot machine manufacturer IGT, which bought Double Down Interactive; WMS, which launched Lucky Cruise Social Casino, a social casino that operates on Facebook; and pokie machine giant Aristocrat, which acquired Product Madness, a top five operator of slot games on Facebook, with more than 500,000 daily active users.
Social responsibility: coming soon
The perceived risks of social casino games have raised concerns about public welfare.
Just a few days ago the South Australian premier Jay Weatherill called for new regulations on social casino products, seeking the cooperation of Apple to make it illegal to supply social gambling apps to minors. Other politicians, including senator Nick Xenophon, share the notion that social casino apps are breeding new problem gamblers.
Will Facebook become a theme park of risk? Given recent developments it is certainly a real possibility.