Coinbase, one of the largest companies involved with Bitcoin, has expanded its operations to launch in the United Kingdom. Coinbase is adding the pound alongside the US dollar as a currency for buying and selling the cryptocurrency. Co-founder Fred Ehrsam has spoken about the favourable regulatory environment in the UK and the interest of companies such as Dell UK – one of the largest companies to accept payments in the currency. To hear Ehrsam talk about the business, you would be forgiven for thinking that Bitcoin's future was bright and filled with the endless possibilities that this type of currency has continued to promise, but so far, failed to deliver.
Indeed, if Coinbase's move had come even a year ago, Ehrsam's optimism may not have seemed out of place. Since then of course, Bitcoin has lost 30% of its value and the news about Bitcoin has been largely concerned with its continued association with hackers and drug markets of the Dark Web.
More worrying for those believing that Bitcoin could eventually be the default Internet currency driving all e-commerce, has been the slump in take up of the currency more generally by the average consumer and businesses that do business with them. In a new report from Bitcoin news site CoinDesk, the number of new businesses accepting Bitcoin has continued to slow dramatically with a large fall in the first quarter of 2015.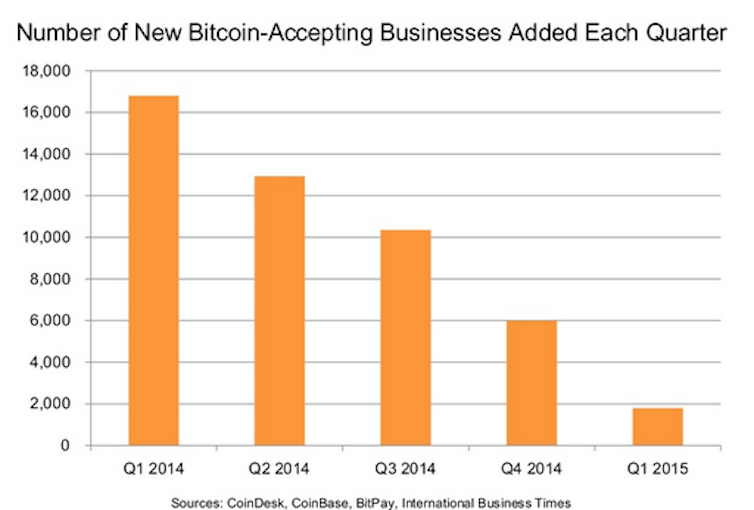 Also showing little signs of growth has been the total trading volume of Bitcoin which has has been relatively flat over the past six months. This has been in spite of a large amount of interest from venture capitalists investing in Bitcoin startups, such as the Winkelvoss twins' Bitcoin exchange Gemini. Coinbase itself has received $75 million in investment from organisations including the NewYork Stock Exchange valuing the company at $400 million.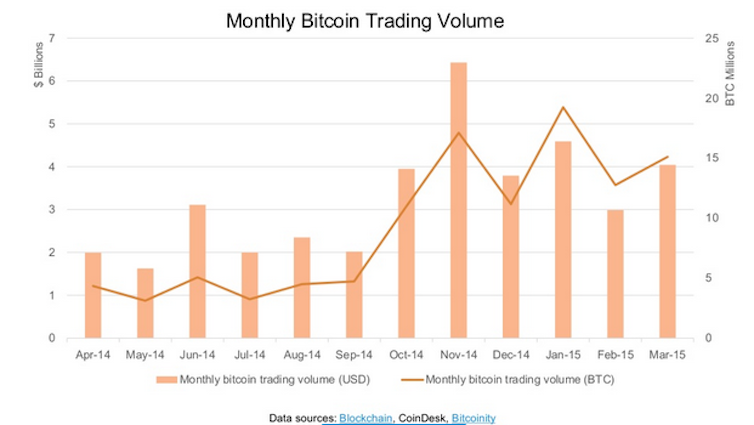 What CoinDesk's report mainly shows however, is that the Bitcoin ecosystem continues to operate for a reasonably large group of people who have specific interests in Bitcoin either because of the technology or for Bitcoin as an investment or trading instrument. The group that has shown very little interest in Bitcoin, has been the mainstream public. One of the main factors around this lack of interest with the average consumer has continued to be the lack of a real reason to use it instead of a more traditional payment mechanism. Bitcoin's key advantage is its ability to be used to help protect anonymity. This really only becomes useful when buying goods and services for which there is a real incentive to protect anonymity. One such scenario is for movie and TV downloaders who are increasingly using VPN technology to hide their identities. An added layer of anonymity could be bought by paying for the service using Bitcoin. Bitcoin will continue to be also central to those wanting to buy drugs on the Internet.
For the mainstream consumers, a fundamental problem with Bitcoin is their general perception of the technology. A large number of people still "distrust" Bitcoin, although for what reasons, is not clear. In a survey of the US public 47% of those asked said that they distrusted or strongly distrusted Bitcoin. This figure didn't seem to vary between those that had, and those that hadn't, used the currency.
Given public perceptions of Bitcoin, it is hard to see a driving reason for merchants to move actively to accept, or promote, the currency, at least for mainstream retail goods. If the price of Bitcoin stabilises at the current levels, it is also hard to see continued interest by the investment community either.