It only took 30 minutes. Thirty minutes to plunge Toronto's queer community into a Queer Civil War.
Last July, Black Lives Matter Toronto (BLM-TO) held up the Toronto Pride Parade for 30 minutes. BLM-TO made a number of demands of Pride Toronto in order for the parade to get moving again. Among them was a ban on police forces marching in uniform or full regalia and carrying guns at the parade. All of BLM-TO demands were agreed to and later endorsed by Pride's membership and board. But since then, Toronto's queer community has been in a raging civil war.
The war rages between those who believe all gay rights are now secure and those who understand that rights are parsed out according to privileged identities.
On the one side, many are white male queers, and on the other side many are Black, Indigenous and bisexual people of colour (BIPOC), including poor queers, sex workers and people with disabilities. Those in the second group are still collectively fighting for fully accorded rights to be their full queer selves; to them, the police still represent a clear and present danger.
BLM-TO has emerged as the leading activist voice on anti-Black policing in North America. As a result of their work, Pride marches across Canada and the United States are being forced to have difficult conversations about how police participation represents a fundamental political contradiction. Just this week, the New York City chapter of BLM stated their full solidarity with the Toronto chapter and called for the removal of uniformed police from the NYC Pride Parade.
The vicious debate
The debate has been vicious: racist, transphobic and anti-sex worker. The mainstream queer community has been brutal in its insistence that police marching in the parade represents progress and change that should be welcomed by all queers.
BLM-TO and other activist groups from Boston to Washington to Winnipeg to Vancouver offer a different perspective. These activists have long worked against policing abuses and other state interventions into their lives; they refuse to concede to business as usual.
The organization understands the importance of intersectionality as the philosophical and practical foundation of its organizing. They work together with queers, trans people and sex workers, people with mental health issues, poor people and people who are marginalized in a white capitalist heteropatriarchal society. These are also the people that modern policing most often subject to its brutal mechanisms of control, arrest and incarceration.
Within these groups, there is no debate about ongoing police discrimination and brutality. These constituencies have made clear to the queer communities of which they are a part that police and policing represents a clear and present danger for them and that police participation in parades contravenes their full participation as queer community members.
It is with these issues in mind that BLM-TO engaged in the direct action of July 2016 that resulted in a ban on police marching in uniforms in the Pride parade.
A new direction in contemporary politics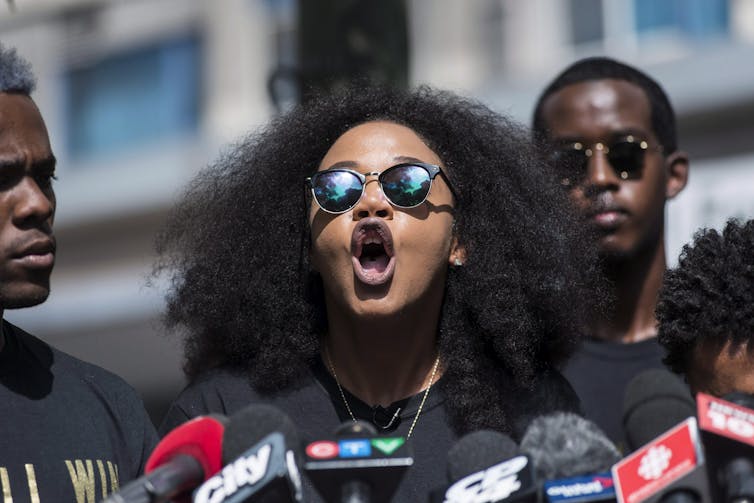 I participated in the sit-down protest last July. Invited as an OG (BLM-TO's word for older Black queers), I did not know their plans for action, but I knew that I would support whatever they did. I knew I would because since 2014, BLM-TO has demonstrated in no uncertain terms that political organizing, direct action and community building could be immediately complex, queer-centred, trans-centered, sex-work positive and hold all these together without privileging one over the other.
BLM-TO began and retains an honest and complex rendering of the Black community and beyond. It began in recognizing that colonization is land theft, (near) genocide and stolen bodies from Africa simultaneously. BLM-TO began in a place that many Black and Indigenous activists had long worked for.
Last year, on the streets of Toronto as we approached the main intersection of College and Yonge, BLM-TO slowed us down so that the Indigenous drummers could come forward, form a circle and lead us into a sit-down protest. I was there for all of it.
The co-ordination between BLM-TO and the Indigenous community signalled a different relationship to contemporary politics. It signalled that Black and Indigenous activists and thinkers are seeking ways to work together that bridge white liberal divides that seek to separate us. And what more powerful way to demonstrate that bridge than to come together around policing at Pride? The power of the continuous Indigenous drumming kept us centered in the righteousness of demands within our sit-down protest.
Policing continues to have a significant impact on the lives of Black and Indigenous peoples across Canada. It would be insincere to believe that those impacted by the brutalities of policing are not Black queer and Indigenous Two-Spirit peoples, because they are. As I write, Indigenous peoples in Thunder Bay are revealing the significant stories of police brutality that shapes their lives. And the Andrew Loku inquest continues in Toronto.
The queer civil war happening now is about Black, Indigenous, trans people and sex workers insisting that what we bring to queer communities is valuable, necessary and worth protecting. That some "mainstream" white queers and others want to insist that police marching in uniforms represents a progressive change is a repudiation of our very lives.
Police marching in Pride parades represents — both symbolically and otherwise — the ongoing colonial project of violently interdicting into the lives of Black and Indigenous peoples by making us less than human.
What BLM-TO started last July — and continued this June by refusing to register as a float but taking up space to march nonetheless — is a powerful movement. It is a statement that says: sub-human existence will no longer be tolerated by those of us most marginalized for the price of entry into something that will not have us anyway.