Just 1.5% of all offers from Oxford and Cambridge universities went to black British A-level students in 2015, recent data obtained by Labour MP David Lammy revealed. The majority of places went to students in the south-east of England with professional parents.
This has sparked extensive debate about the accessibility of elite higher education institutions for the socioeconomically disadvantaged and black, Asian and minority ethnic students. It has also led to calls for elite institutions to do more to improve their widening participation schemes and offer more places to students from different backgrounds.
In response to these debates, the Oxford African and Caribbean Society explained:
It is true that the data reveals significant issues of institutionalised cultural and economic bias at Oxford; however it is also true that Oxford is a microcosm of the deep structural issues embedded in the British education system.
The Oxbridge battle
Our recent research focuses on understanding the experiences of ten students who are attending Oxford through an innovative widening participation approach. Of these students, six are also black, Asian or minority ethnic, while the other four are white.
In our research, the students described making the decision to apply to Oxford as a "fight" or a "battle". They felt they had to overcome their educational backgrounds, particularly the limitations imposed on them by their state schools. These had given them the impression that Oxford was an unrealistic option.
The students felt there was an assumption by some school teachers that with their backgrounds, they would not want to, or be able to successfully apply to Oxford and would not "fit in". As one student explained:
It's not even asked or pushed for, it's just assumed that no one is applying to Oxbridge."
A recent report by the Sutton Trust similarly found 43% of state school teachers would rarely or never advise their bright pupils to apply to Oxbridge. And in our research, some students felt their teachers were also limited by the wider education system. Time limitations meant they had to focus on maximising the number of passing grades in exams – at the expense of students who could achieve top marks.
Strong self-belief needed
The students we spoke to viewed their successes as being "in spite of" their schooling – rather than because of it. For many of these students, to actually apply to Oxford meant they had to overcome both a lack of support from their teachers as well as cultures that sometimes limited high academic attainment.
This meant that students required an enormous amount of self-belief to "fight" against these structural limitations. They described how this self-belief – often supported by family and friends outside school – was essential. It was vital to their desire to apply to Oxford.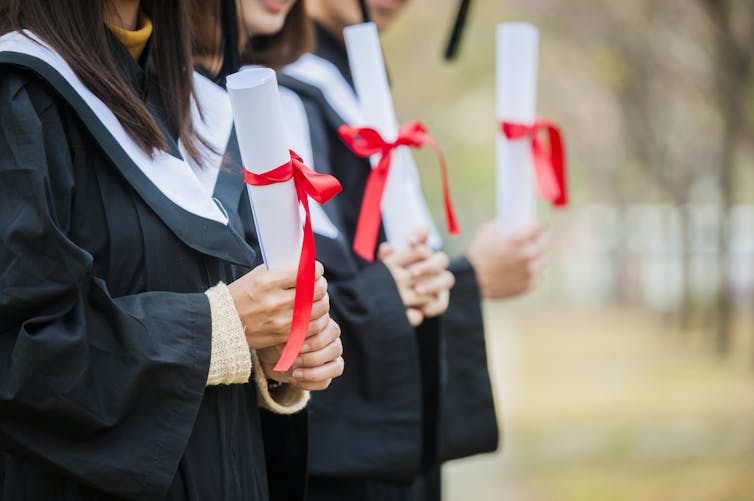 In this way, our research highlights the impact schooling has on student aspiration. It shows that there is a need for deeper partnerships between schools and elite universities to support these students and encourage them to apply.
This would help to challenge negative perceptions of elite institutions as well as helping to diversify the student population at these universities. This is important because as these institutions becomes more diverse and welcoming, they will become places where all students feel valued – and negative perceptions will eventually recede.
Our research emphasises the need for elite institutions to take a more radical approach to their admissions processes and entry criteria. And although this is a microcosm of the deep structural limitations that exist within the education system as a whole, these institutions should engage with those wider limitations. This should be done by modelling real change and working with schools to support all students' aspirations and attainment – not just those students from the wealthiest backgrounds.