As a scholar of African-American and Southern politics for the last 25 years, I've witnessed a lot of election upsets and surprises. None has been more interesting than the Democrat Doug Jones' election to the U.S. Senate in a Dec. 12 special election against Republican Roy Moore.
I'm not talking here about the controversy surrounding Moore's sexual history. No, for me this race was fascinating because America now has black voters to thank for helping Alabama send a Democratic senator to Washington for the first time in 25 years.
According to exit polls, 30 percent of the over 1 million people who participated in this election were black, and 96 percent of black voters supported Jones. In short, in an election where Jones' margin of victory was less than 2 percent, Alabama's near-unanimous black voters were the deciding factor.
Now that black Alabamians have accomplished their goal of electing their preferred representative, the big question is: What will they get in return?
Voter concerns
Black voters in the South, especially black female voters, are historically the most loyal supporters of the Democratic Party and Democratic candidates. They are a force powerful enough to sway the outcomes of elections in red states.
Having done so, black voters may reasonably expect Democrats to thank them by actually tackling the issues that disproportionately affect their communities.
Poverty is probably top on that list of concerns. Alabama is the sixth poorest state in the nation, with a poverty rate of 18.5 percent. In some counties more than 40 percent of people live in poverty. Alabama's rural areas have been said to show "the worst poverty in the developed world."
Most of those areas are in the state's so-called "Black Belt." In Wilcox County, for example, the white poverty rate is 8.8 percent, but the black poverty rate is 50.2 percent. Nearby Lowndes County has the lowest white poverty rate in the state – 4.1 percent – but almost 35 percent of black people there live in poverty.
Other Black Belt counties show similar wealth disparities, with black households three to four times more likely to live in poverty than their white neighbors. Democrats have talked a lot about poor whites since the 2016 election. It's useful to remember that black people, particularly in the rural South, still face stunningly high rates of economic exclusion.
Entrenched poverty means that health care access for black Alabamians is also dismal. The Black Belt region has fewer primary care physicians, dentists, mental health providers, and hospitals than other parts of the state. It has a much higher rate of uninsured people than other regions. In most of its counties, more than 25 percent of residents lack access to health care – and that's with the Affordable Care Act in place.
I believe Jones will also be expected to address Alabama's educational achievement gap. The state has 20 to 30 percent differences between the reading levels of black and white students, a discrepancy that results from such factors as a student's family income, residential segregation and school resources – or the lack thereof.
Finally, black Alabama voters have expressed concern about crime and punishment in the state. Just 26 percent of Alabama's population is black, yet more than half its prison population is, according to the Sentencing Project.
At the same time, in 2016, Alabama also had the third-highest homicide rate in the U.S., after Louisiana and Missouri, data from the Death Penalty Information Center shows. More than 71 percent of homicide victims were African-American.
A real Alabama Democrat
Black voters voted for Jones, rather than just against Moore, because they expect Jones care about issues like these. His campaign centered on liberal causes like abortion access, support for the Affordable Care Act, LGBTQ rights and immigration reform and he has an extensive civil rights background.
In 2002, as a U.S. Attorney in Alabama, Jones prosecuted two members of the Ku Klux Klan for their roles in the 1963 bombing of the 16th Street Baptist Church, which killed four African-American girls. Both men were later sentenced to life in prison.
In 2007, Jones also testified before the House Judiciary Committee in favor of re-examining crimes that took place during the Civil Rights Era. Jones said that he believed civil rights activists could have been wrongly prosecuted, while hate crimes went unpunished.
Jones additionally campaigned heavily in predominantly black areas of Alabama and benefited from an effective get-out-the-vote effort. African-American celebrities and politicians – including NBA legend and Alabama native Charles Barkley, Sen. Cory Booker of New Jersey, and U.S. Rep. John Lewis of Georgia – descended on the state to stump for Jones.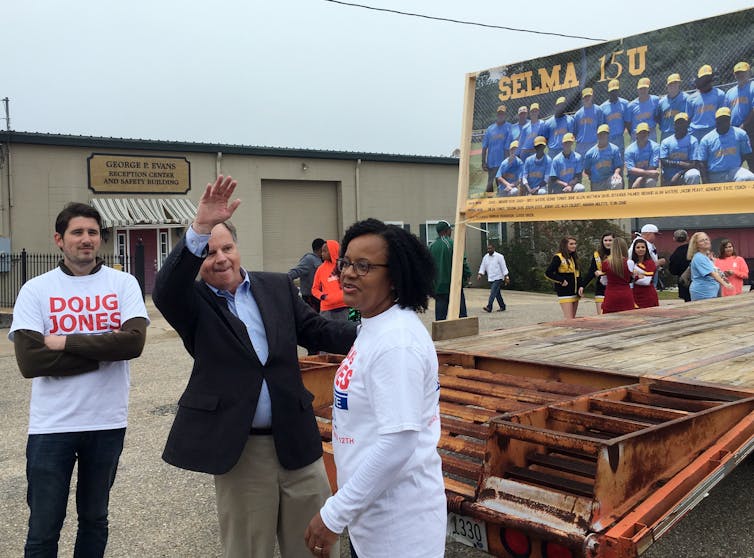 On election day in Alabama, numerous reports surfaced of voter suppression in predominantly black precincts. Even so, black voter turnout in this special election may have surpassed levels of the 2008 and 2012 general elections, when Barack Obama was on the ballot.
A Republican birther
Contrast this record with that of his competitor Roy Moore, the former Chief Justice of the Alabama Supreme Court, who was publicly endorsed by President Donald Trump.
During the campaign, Moore was credibly accused of romantically pursuing girls as young as 14 years of age when he was in his 30s. He has also made a number of homophobic and Islamaphobic comments.
Moore also has ties to white nationalist groups. In September, he averred that he thought that America had been "great" during slavery, saying that "at the time … families were united – even though we had slavery …. our country had a direction."
Nor did Moore's early leadership in the birther movement – which erroneously alleges that former President Barack Obama was not born in the United States – endear him to African-Americans, in Alabama or elsewhere.
All of this helps explain why Democratic turnout was far higher than white Republican turnout in Alabama's special election. That should send a strong message to the Republican Party about the power of black voices.
But, critically, it should also send a message to Democrats. For years, black Democrats have warned that the party takes their votes for granted. If Jones is to stand a chance at re-election, he'd do well to represent the base that sent him to Washington just as soon as he gets there.