Boothby, the most marginal Liberal-held seat in this election, is a demographically solid part of middle-class Australia. Held by the Liberal Party since 1949, it is only since 2004 that Boothby has slipped to marginal status and been accordingly viewed by Labor as a winnable seat.
Located across Adelaide's inner southern suburbs, the electorate also includes town booths in the Adelaide Hills where, in a number of instances, the Greens attracted support from a quarter of voters in 2010.
The incumbent, Andrew Southcott, has seen his first preference support slowly and fairly consistently erode since he first won the seat in 1996. This is likely to be what encouraged Labor candidate Annabel Digance to make a second attempt at breaking the Liberal Party's decades-long grip on Boothby.
Southcott currently defends a narrow 0.6% two party preferred margin. It was 0.75% after the 2010 election, but a boundary change swept a couple of Labor-oriented suburbs into Boothby.
With the support of Green preferences - and they ran at 90% in Labor's favour in 2010 - Digance is hopeful and can claim to have built a reasonable local profile after running in 2010 with a positive 1.6% swing compared to Labor's statewide negative 2.4% swing.
However, former prime minister Julia Gillard's childhood links to Boothby - and the resultant frequent prime ministerial visits during last campaign - no doubt played a part in lifting Labor's vote.
Digance is backed by the Labor Unity faction, and is in many respects an ideal candidate for a marginal seat. A midwife by profession, she has worked in a family business with her husband, has three daughters and is clearly very committed to serving the public. This was evident when we discussed the trials and tribulations of campaigning.
Like many candidates, they enjoy happy working and family lives and can well do without the hard slog of campaigning.
Southcott gave up a career in medicine when he defeated then-senator Robert Hill for preselection in 1994 in what was a typically acrimonious South Australian Liberal factional battle. Apparently, it was his brilliant speech to party faithful that won the day. It transpired that Hill would go on to serve in senior Howard government ministries, while the exceptionally well-educated Southcott (MD, MBA and BEc) was overlooked.
Southcott has previously faced criticism that his campaign required bailing out in 2010 because his fundraising efforts were considered poor. This prompted a preselection challenge in February 2012 where he managed to defeat former Liberal state branch president Chris Moriarty 195 votes to 35.
In 2004, Labor candidate and current state MP Chloe Fox managed to gain close to a 10% swing on first preferences, and so began Labor's commitment to winning Boothby. Labor believes Southcott is vulnerable because he does not work hard enough in the electorate and they view his declining vote as evidence.
Confident in their judgement, the state Labor Unity faction - led by senator Don Farrell and former state treasurer Kevin Foley - selected a quasi-celebrity candidate, Nicole Cornes, to run against Southcott in 2007. This venture came awfully unstuck. Ultimately, one could only feel sorry for Cornes who, while working hard as the candidate, faced a very hostile local media and little prior coaching from those who figured she would make an ideal candidate.
Southcott concedes in conversation that given the national mood for change in 2007, a stronger Labor candidate may well have seen him seeking new employment. But he is also keen to note the comparative point highlighted in the chart below.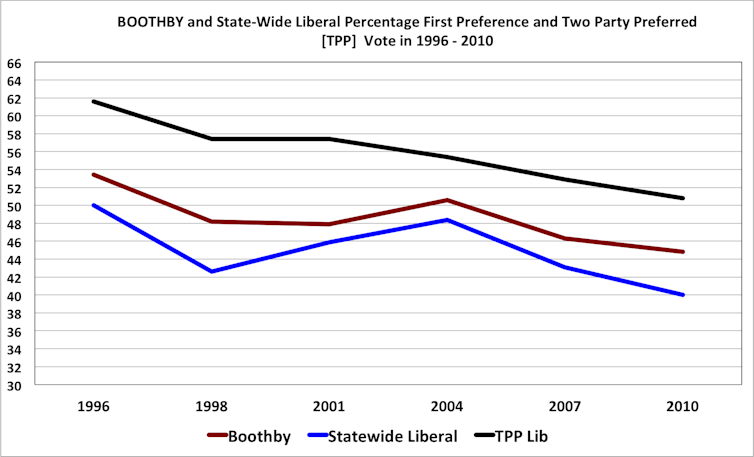 Liberal first preferences in Boothby have declined steadily, but so too did the statewide Liberal vote. This looks set to reverse in 2013 due to the national mood against Labor which, if the most recent Newspoll ends up being reflected on polling day, indicates that South Australian swinging voters are rather keen to elect a Coalition government.
It is worth noting an interesting development concerning social media and how it may impact on campaigning. Digance has a loyal and enthusiastic band of volunteers whose job it is to demonise and smear the opposition, as it is in all close-fought campaigns. However, problems arise when this bubbles up into the tweet and, all of a sudden, an emotive outburst makes the headlines and subsequently derails the campaign.
When news broke that Digance's deputy campaign manager Tim Picton - whose day job is working as a ministerial advisor - tweeted a journalist with "the rumour" that Southcott was holidaying in Fiji, one feels for a candidate who has given up so much in pursuit of a dream.
It cannot be determined whether or not this was a deliberate ploy or a silly lapse in judgement. Digance says she did not approve it and premier Jay Weatherill offered an awkward apology which essentially said it was not acceptable, but all parties do it.
Southcott was understandably angry but says he will not take advantage of his opponent's embarrassment. Clearly, this is something that reflects his confidence in being returned for a sixth term.