Earlier this month, Selfridges, one of London's oldest and best-loved department stores, found itself embroiled in a political tangle over accusations of cultural appropriation.
Braid Bar, part of the store's Beauty Workshop, released its summer campaign, featuring Lila Grace Moss and Stella Jones – the daughters of supermodel Kate Moss and Clash guitarist Mick Jones respectively. With their hair styled in multiple braids with colourful extensions, the famous offspring were promoting the latest trends in festival fashion and beat-the-heat summer hair.
At first glance, such an enterprise might appear just to be fun, even frivolous. But fashion and beauty are never as superficial as they seem. Upon the release of the ad campaign, the Braid Bar found itself dealing with a knotty dilemma.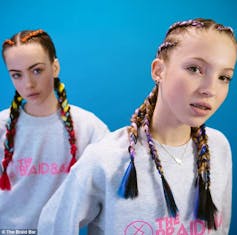 With white British models Moss and Jones as the faces of the ad campaign, Selfridges' Braid Bar has been accused of endorsing a white standard of beauty. Across social media, critics are calling out this lack of diversity while crucially noting Selfridges' additional miscalculation: the appropriation of black culture. The point being that this style of hair braiding is central to black female identity.
A sorry tale
Following the outcry, the Braid Bar released an apology:
It has come to our attention that we have not given enough consideration to the cultures that we have drawn from in creating The Braid Bar, particularly black culture. Having been naive, our eyes are now open to the issues… We would like to reach out and apologise to all of those who have been offended by our lack of cultural sensitivity… The Braid Bar is a welcoming and fun place for people of all races, ethnicities, genders, and ages; an environment that is all-inclusive and accessible to everyone. We are going to ensure that this ethos is reflected in everything we do and post from now on. We understand that it is our responsibility, as a company with a broad social media following, to teach and spread the knowledge of where these ideas, practices and skills originally come from and the stories that come with them.
The Braid Bar Instagram account was swiftly updated to include a photo of Janet Jackson in box braids (ironically, perhaps, from the 1993 film Poetic Justice), and several more photos of braid-sporting black women. Adding to the irony, the account also showcases a poster that states "never apologise for being who you are".
The Selfridges' Braid Bar controversy has not been confined to social media. Nor is it a one-off. Last year, the clothing brand Free People got into trouble for its Native American-inspired designs. Additionally, High School Musical actress Vanessa Hudgens recently came under scrutiny for wearing box braids as well.
Prompted by the buzz online, BBC Radio 4's Today programme hosted a short debate between Afua Hirsch and Tiffany Jenkins. Hirsch, a writer, broadcaster and barrister of Ghanaian Ashanti and English heritage, argued that cultural appropriation occurs when objects or practices of one culture are taken up by a different culture without acknowledgement of their source – or of their history. She suggested that this can lead to invisibility or financial exploitation.
In contrast, Jenkins, a British white writer and sociologist, argued that cultures borrow from one another out of respect and curiosity, and that to imply otherwise can lead to anxiety about everyday cultural exchange.
When taken up in mainstream media circles, the debate around cultural appropriation is often reduced to the following question: is cultural appropriation really just another name for cultural appreciation? Unfortunately, this is often where the discussion stops. Before we tease out the social and political implications of cultural appropriation, we need to take a look at the issues involved.
Cultural cannibalism
Critics of cultural appropriation are not denying cultural exchange. Nor are we suggesting that differences should not be celebrated. Cultures are in constant dialogue, and there is always exchange that ensures an abundance of variety and fluidity in language, food, dance, music, fashion, and so on. This is inevitable. And, of course, diversity ought to be appreciated.
But what should we make of it when this type of exchange happens on an un-level playing field? With a history of racism, discrimination and empire that has a legacy in present day society, cultural appreciation starts to look more like what feminist scholar, bell hooks, author of Ain't I a woman?: Black women and feminism and Black Looks calls "cultural cannibalism".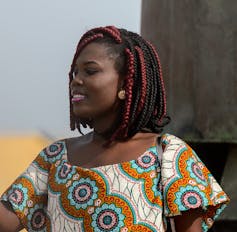 That is, when there is a lack of racial equality in a society, romanticising a marginalised group's objects, practices and modes of expression doesn't go both ways. The cultural, historical, religious or political significance of objects, practices and modes of expression gets lost or obscured; meaning is not what tends to matter here. This not only leads to cultural invisibility, but can also promote further marginalisation and oppression.
Within a week of the Braid Bar summer ad campaign, two African American sisters in Malden, Massachusetts, faced detention and suspension from their high school for wearing box braids. One was banned from attending the school prom, while the other was removed from the school track and field team.
So, when a hairstyle like box braids or cornrows becomes trendy for mainstream white consumers only because a white model or celebrity wearing it makes it acceptably fashionable, then such a practice erases the cultural and historical origins of that style. It trivialises that culture and reduces it to a fashion fad.
As the ever-insightful Teen Vogue notes: "When Kylie sports cornrows at Coachella, it's considered 'edgy' and 'cool'. When black people wear cornrows, they get passed over for jobs and are asked to leave their classrooms."
That, in a nutshell, sums up the essential problem that cultural appropriation throws up, and why we need an honest, critical and high-profile discussion about it. Few would argue there is anything wrong with cultural exchange. What is wrong is when that exchange makes no reference, credit or acknowledgement to the culture it is borrowing from.