Argentineans have invaded Brazil during the World Cup. While Brazilians have had (and will continue to have) plenty of political, economic and social issues to deal with as a consequence of the tournament, their South Americans rivals were just happy to go to Brazil and celebrate their team and football culture in Brazilian cities.
Hundreds of thousands of Argentineans have crossed Brazilian southern borders, even without money to buy a ticket for a match or just to pay for accommodation. They wanted to be part of the party, and they could sleep on Rio de Janeiro's beaches.
Argentina making it to the World Cup final at the Maracanã, after Germany's crushing defeat of Brazil's Seleção, has also added a nice flavour to the Argentinean invasion, and boosted their well-known arrogance. Their chants on the Rio de Janeiro and Sao Paulo streets provocatively note how they feel superior over their traditional local rivals.
The Brazil and Argentina rivalry goes beyond the football pitch. The quest for political and cultural supremacy in South America has a long history that starts in the colonial times. In the time of the great maritime European explorers, Portugal and Spain split the South American continent between them. But the fighting for pieces of land continued for centuries.
For instance, Uruguay has been one of the most contested spaces in South America. It was claimed by both Spanish and Portuguese empires before becoming independent as a result of the Cisplatina war of the beginning of the 19th century between the Portuguese empire (Brazil, Portugal and Algarves) and the United Provinces of the Plata River – led by Argentina. In Argentinean historiography, this war is known as "war against the Brazilian Empire".
After that, and in the past 200 years, the relationship between Argentina and Brazil has seen many changes in accordance with each country's aspirations of regional leadership and their connections with global powers such as England and the US. Generically, we may say that if the 19th century was marked by a great rivalry between the countries, the first half of the 20th century appears to be a period of a larger integration which has looked for mutual collaboration – with a few moments of staunch rivalry.
However, if since the 1980s there has been a growing economic and political co-operation between both countries, the 1960s and 1970s were remarkably unfriendly. Both countries were under military dictatorship. But since the re-democratisation, both countries have each day more built more bridges for local co-operation.
The aforementioned war did not leave any profound or durable scars between Brazilians and Argentineans. Both peoples live together well. When the economic winds are in their favour, Argentineans go to Brazil, travel around, rent houses and buy everything. But when the wind turns, it's time for Brazilians to 'invade' Argentina.
Usually, Argentineans who can afford a reasonable holiday spend their summer in Brazil's southern beaches such as Florianopolis, where there are specialised services for them – stores and restaurants with Argentinean food, and even Spanish radio broadcasts.
There are many Brazilians living and working in Argentina, and the opposite is true as well. As Spanish speakers, Argentineans do not put much effort into learning Portuguese, as they can communicate well in Brazil. Interestingly, Brazilians can learn Spanish in an easier way. There are several Argentineans who live and work for their whole adult life in Brazil and do not speak Portuguese, but are perfectly adjusted.
Brazilian music is well-consumed in Argentina's nightlife, and the remarkable Argentinean ensemble Les Luthiers had huge success in Brazil during the 1970s, even when performing their songs full of ironies about Brazilian way of life, such as the Bossa Nostra.
In the past decade or so, however, Brazil has taken a prominent place not only in South America but also around the world. Brazil's rising economic power and growing international political presence has undermined Argentina's intentions of regional leadership.
Argentineans, meanwhile, have been suffering for years from prolonged economic and social crises. Buenos Aires, their federal capital that was once called 'the Paris of South America', has undergone an incredible decay, and Argentina's social issues have transformed that beautiful city into an unsafe place.
Yet cultural rivalries were always strongly accentuated between both countries, and the sports fields have been the perfect spot for these conflicts to emerge. Since Argentineans have historically seen themselves as 'Europeans', and therefore superior to other South Americans, they cultivated a stereotype of arrogance that has not disappeared throughout the years of social hardship.
Brazilian and Argentinean teams of any sport are always facing off against each other. In local South American tournaments or even playing for a spot in the Olympics or in international tournaments, a Brazil vs Argentina game is a battle where players always display extra energy. The rivalry is tremendous: one country may have a superior team, but the spirited fight is always there.
In the past few years, Argentineans have been better in sports such as basketball, while Brazil has dominated in volleyball. In women's sports, Brazilians have been beating the Argentineans quite easily in European Handball and football. For the men, both sports are very competitive.
In men's football, the rivalry is enormous. The Seleção has a clear advantage of World Cup titles over the Argentinean team: five vs two. On the other hand, Argentinean clubs have a better record in the Copa Libertadores da América (the South American version of the European Champions League). Argentina's two major team (Independiente and Boca Juniors) have 13 trophies between them, while the biggest Brazilian winners (Sao Paulo and Santos) have only six.
Even with this rivalry, it's common that Brazilian teams sign Argentinean players. Great names such as goalkeeper Jose Poy, who played for Sao Paulo in the 1950s and later became a coach on that team, or more recently, Carlos Tevez, are part of the Brazilian footballing world.
Argentineans have also made a contribution to other sports in Brazil. Currently, the male Brazilian basketball team is coached by Ruben Magnano, the Argentinean coach who won the gold medal with Argentina at the 2004 Athens Olympics.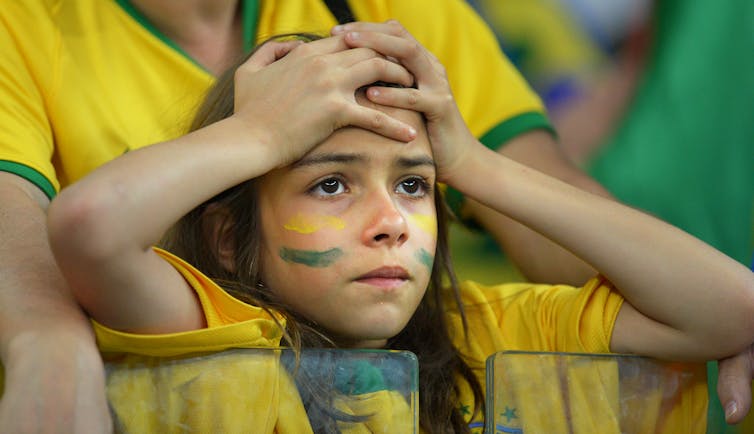 It is very hard to play an Argentinean team in their headquarters. They provoke; they insult. Their 'European' arrogance has a dark side, such as the racist insults that prevail in their newspapers' headlines as soon as a Brazilian football team lands in Buenos Aires. 'The monkeys arrive', they stamp on their covers.
On the other hand, Argentinean nationalism has built a very resilient people. Argentineans never give up. It is very impressive how they can win a game even if they have a much inferior team. Their players in any sport learn from a very young age that they have to put in everything. And they fight to their last drop of energy.
This ideology also applies for their supporters. Argentinean supporters never turn their back on their teams. It doesn't matter whether they are winning, drawing or far behind in the score: they cheer forever more. Argentineans are the loudest and most loyal supporters in the world. As supporters, they are far better than the Brazilians.
Brazilians easily turn their back on their teams. The Seleção has never received the type and level of support that the Argentinean team has. Despite loving their team, Brazilians are too critical and do not act as blinded supporters.
The different supporting styles have been very clear in this World Cup. While Argentineans have arrived with a range of football chants that they perform inside stadiums and also in the public transport and everywhere they party, Brazilian supporters have not provided a great deal of chanting: they sing their national anthem, but remain quiet for most of the match.
One explanation for this behaviour can be found in the divided social classes and their experience with football supporting. While the football supporting culture looks to be spread across all social classes in Argentina, and every Argentinean learns how to properly cheer on their team, this culture is not embedded amongst the Brazilians who can afford to attend the World Cup matches.
It seems that the ordinary and more popular Brazilian football supporter, the one who sings and support his team no-stop, has not found his way inside the World Cup stadiums, showing once more the great cultural barriers between Brazilian social classes.
I also enjoy the way that Argentinean players are involved with their political causes. While Brazilian players are yet to show their strong support for important political and social issues in their country, just before the World Cup, Lionel Messi publicly supported the 'Abuelas de Plaza de Mayo' ('The grandmothers of the May Park'), an NGO made by women who have been fighting for decades in order to know where their children who were kidnapped by the military during the dictatorship are.
The international press is already reviving the South American rivalry, saying that Brazilians will 'die' for the second time in this World Cup if Argentina win. This is too generic and far beyond my own experience. I have seen plenty of social media pictures with my fellow Brazilians wearing the Argentinean jersey. Many Brazilians also don't care too much about this game. Some will support Germany as they 'hate' Argentina, but many want their South American 'hermanos' (brothers) to win, so the trophy remains in South America.
I will support Argentina in the final. I have plenty of Argentinean friends, and I admire their country and the way they cheer on their teams. And if there is something that the Germans have stolen from Brazil in this World Cup it was the pleasure to see a final between the two South Americans powerhouses. It would have been epic, not only on the field, but most of all off the field.
I will also support Argentina because Germany has already won the World Cup three times – and if they win again, they will be dangerously close to Brazil. Argentina has only two titles, so it can win and still be in a respectful distance from Brazil.
So, arriba hermanos! I will be on your side, but do remember that Pele is greater than Maradona.
(This post is dedicated to Mafalda, Miguelito, Guille and Libertad - and to my parents who introduced me to the Argentinean culture)