Charles Darwin ate one on his trip to Brazil. Apparently it tasted more like pork than chicken. My nine-year-old, football-mad, half-Brazilian son could identify one on his World Cup merchandising and my Brazilian biologist wife knew it was some kind of armadillo, but not which species. It is of course Brazil's World Cup mascot, the three-banded armadillo, named Fuleco.
It was brave to choose such an obscure animal as an official mascot. The English used a lion when they started this tradition in 1966 and the South Africans used a leopard in 2010. It is refreshing to see such a non-emblematic species chosen – and one that is endangered and needs awareness of its existence to be raised. But I can't help but feel an opportunity has been lost when it comes to conservation in Brazil.
Missed goals
First the name of the mascot: Fuleco. Not even my football-mad son knew its name and my wife had no idea why it was called this. Fuleco is supposed to be a portmanteau of the Brazilian words for football (futebol) and ecology (ecologia), which suggests it should have been "Futeco". But as my wife pointed out, names beginning with "fut" do not sound good in most languages.
Three-banded armadillos hail from the dry tropical forest lands (the Caatinga) of Brazil's northeast and they are classified as vulnerable to extinction by the IUCN. In Portuguese they are appropriately called "tatu bola", which translates to "ball armadillo". Surely, this name or even "bola" (ball) could have been used to highlight the unique nature of this armadillo.
While this species is famous amongst Brazil's native population for rolling up into a ball to defend itself, the problem is that there are several other species of armadillo in Brazil that are also well known. So here is the first missed goal: the mascot species is not being properly identified and it's likely that the majority of the 200m Brazilians who affect its habitat and survival will remain ignorant of its plight.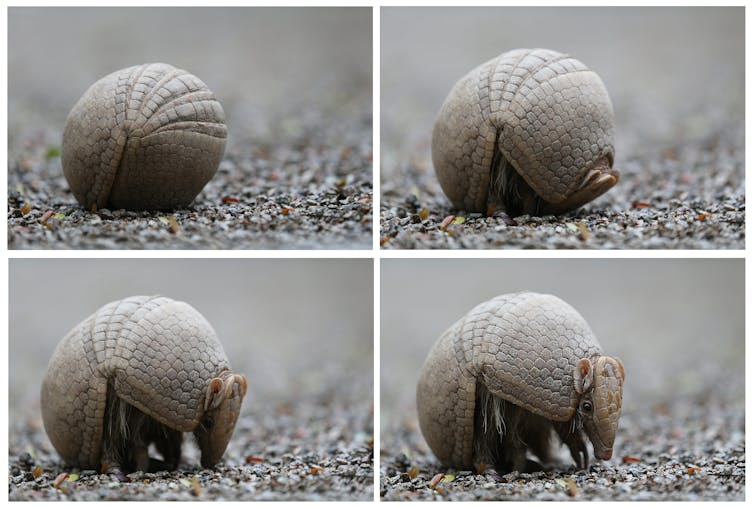 The second missed goal is not to take advantage of a wonderful Brazilian law that allows private companies or individuals to create nature reserves and then "donate" them to the country. Brazil has more than 1,000 of these Private Reserves to Protect Nature (RPPN). Brazilian law allows owners to retain ownership of the land once it has been declared a RPPN, but the land from this point in time onwards can only be a nature reserve, protecting it from environmentally unfriendly exploitation.
Here is the opportunity for a fantastic marketing win that would also score a goal for conservation. FIFA could buy an area of land important for the conservation of Fuleco's species, and call it the "FIFA World Cup Nature Reserve 2014" if they wished. Of course some endowment money would be needed to maintain the reserve but this would need to generate only a few tens of thousands of dollars per year. This would be a fantastic legacy for the people of Brazil and make a real long-term impact on this species' conservation. So far FIFA have spent only £27,000 on the three-banded armadillo's conservation.
Some Brazilian wildlife conservation researchers have suggested a green goals project. For every goal scored in the World Cup, 1,000 hectares of land would be bought and used to make a reserve. In the average World Cup there are 170 goals so 170,000 hectares would be protected. This is a good idea, but I think it should be a bonus on top of a base minimum reserve size. I would hate to be cheering for poor defences and bad goal keeping when watching the games with my family.
Own goals
The Brazilian government set aside US$275m for Wildlife Parks to be upgraded for world cup visitors, but less than 1% of this money has been spent. This is against the backdrop of new parliamentary affront in Brazil against the country's conservation areas and reserves for indigenous peoples: more than 200 politicians (40% of them) actually claim that the creation of conservation areas in Brazil has damaged the lives of many people.
It is true that often the paying out of land payments has progressed at a snail's pace, but this is the politicians' fault. And there are other motives at play, considering that many government wildlife reserves sit on top of valuable resources such as gold and diamonds. All this only leads us to ask: why hasn't the Brazilian government used some of this money to create a new national park to save the three-banded armadillo?
The final whistle has not blown on this game. There is still time for both FIFA and the Brazilian government to make a meaningful gesture towards the conservation of Fuleco's kind. FIFA should try to leave behind lasting legacies in World Cup host countries and this could well be a new National Park to save species from extinction. This would really be a golden goal that everyone can cheer for.