When it introduced legislation for shared parental leave in 2015, the UK was widely praised. The move allowed partners to split the entitlement to state financial support that is available to couples until their child's first birthday.
But two years later, uptake has been disappointing. Although there are no official figures, a 2016 survey of 1,000 human resource professionals found only a fifth of organisations had received requests from male staff about shared parental leave.
Financial cost, concerns over negative perception in the workplace, difficulty in understanding shared parental leave, and a lack of awareness have all been identified as reasons why parents are not taking up the entitlement.
Little, though, has been said about breastfeeding. But my ongoing research surveying mothers about shared parental leave has found that most breastfeeding mothers find the idea of going back to work while their partner takes leave impracticable.
Six months recommended
Breastfeeding has been described as one of the most important contributors to infant health and child well-being. The World Health Organisation recommends that mothers breastfeed their babies exclusively for the first six months because of the range of health benefits that it offers to both mother and child.
These include a reduced likelihood of mothers developing breast or ovarian cancer, and children's enhanced psychosocial and emotional development. In the UK, the government has offered mothers in some parts of the country a £200 voucher to encourage them to breastfeed until their baby turns six months old.
Barriers in the workplace have been identified as the biggest hindrance to breastfeeding mothers who choose to return to work early after childbirth. Returning to work often means mothers must constrain their breastfeeding, which can mean some giving it up altogether.
Research has shown that early return to work by breastfeeding mothers negatively affects the initiation, frequency and duration of breastfeeding. This explains the noted decline in the number of breastfeeding working mothers who returned to work early after childbirth. One US study also found that if a mother plans to return to work within three months, there is a 16-18% reduction in the probability she will start breastfeeding.
This means that if mothers want to breastfeed for longer, some choose to delay their return to work. Of course, it is possible for mothers to express breast milk at work and store it in the fridge or freezer, but there may be issues of hygiene in storing the milk to guarantee that it is safe for the child's consumption. Working breastfeeding mothers will often need to go to the breastfeeding room or toilet (if there is no designated room for breastfeeding mums) to express the milk to avoid engorgement, which is when the breast becomes overfull and painful.
What employers can do
There are facilities and policies that employers can put in place to support women who breastfeed at work. These include on-site child care and policies that allow mothers to leave work to go to the child, or to breastfeed in the office.
But employers should be doing more to encourage working mothers who wish to continue breastfeeding after returning to work to do so. One 2006 survey of 46 public sector employees in England investigated the support breastfeeding mothers experienced at work. It found that 90% of those surveyed were not aware of any support that their employer had put in place to encourage breastfeeding mothers returning to work.
Another 2007 study found that the longer a mother delayed her return to work after having a baby, the more likely she was to breastfeed for at least four months. The researchers argued that government policies to encourage mothers to return to work early after childbirth would not affect breastfeeding if the government also provided employers with increased financial support and incentives to support breastfeeding mothers in the workplace.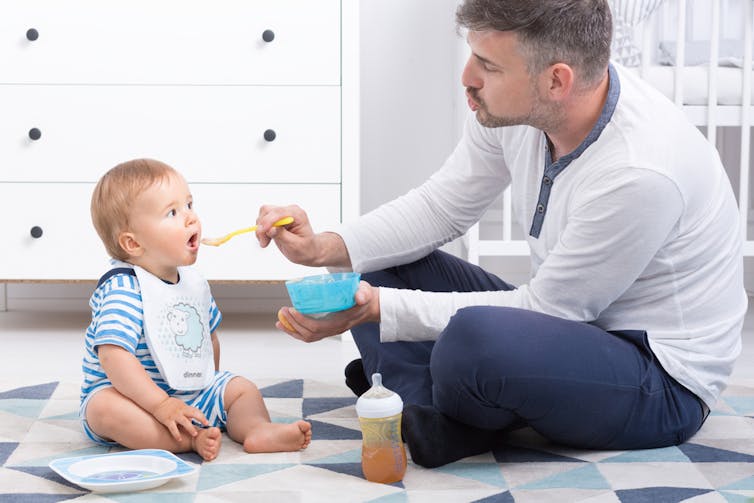 The importance of breastfeeding and the lack of adequate support at work for breastfeeding mothers pose a challenge to the effectiveness of the legislation on shared parental leave. There is currently no law which says that a mother has a right to breastfeed, or that employers must provide the relevant facilities at work. This means that for those couples who want to take shared parental leave, breastfeeding up to the recommended age of six months can be quite a challenge.
The UK has one of the lowest rates of breastfeeding in the world, and the numbers could further decline if more working mothers give up breastfeeding to return to work within six months. If mothers who want to breastfeed choose not to return to work soon after giving birth, this sadly renders legislation on shared parental leave ineffective.