This article is part of the Democracy Futures series, a joint global initiative with the Sydney Democracy Network. The project aims to stimulate fresh thinking about the many challenges facing democracies in the 21st century.
---
Last week's Brexit decision sent more than financial markets into a spin. Britain's historic referendum result prompted Prime Minister David Cameron's resignation, as millions of Britons began expressing their "Bregret" at voting to leave the European Union.
Echoing the International Monetary Fund's former chief economist Ken Rogoff, who said the referendum was little more than a game of "Russian roulette for republics", more than 3 million Brits quickly signed a petition calling for a second EU referendum.
Uninformed and ill-prepared
Speaking to ITV News the day afterwards, British student Mandy Suthi, a Leave voter, summed up the anxieties many felt:
I would go back to the polling station and vote to stay, simply because this morning the reality is actually hitting in and the regrets are filling in. I'm daunted that we have actually left the EU.
While many have attributed their Bregret to the lies fed to them by politicians such as UKIP's Nigel Farage, Google Trends data offer a slightly different take on why so many Brits are pushing for a do-over.
According to Google Trends, searches for "what is the EU?" and "what is Brexit?" began to surge across the UK only after polling stations had closed. On June 24, Google Trends tweeted:
This rather disconcerting revelation confirms something that many in Britain are now coming to grips with: too many citizens went to the polls not fully knowing what they were voting for.
Political leaders have been equally ill-prepared for the momentous referendum, and especially for what comes next.
Sky News political editor Faisal Islam has reported that a leading pro-Brexit Conservative MP, who wanted to remain anonymous, conceded to him that the Leave campaign "didn't have a plan" for Brexit, thinking that "Number 10 [Downing Street] should have had one".
According to Islam, when asked the question, "Can we see the Brexit plan now?", the MP's response was:
There is no plan. The Leave campaign don't have a post-Brexit plan.
Boris Johnson, potentially the successor to Cameron, has since revealed his vision for what comes next. But Brussels insiders have reiterated what critics within Britain have been saying – that the Brexit side had "no clue" and "no plan" for what lies ahead.
What has made the whole Brexit affair such a political and economic debacle, according to former British prime minister Tony Blair, is that:
The campaign made the word 'expert' virtually a term of abuse, and when experts warned of the economic harm that would follow Brexit, they were castigated as 'scaremongers'.
Echoing Blair's point, Guardian editor-at-large Gary Younge observed that the campaign was largely "tone-deaf to an insurrectionary mood that suffered fools more gladly than experts".
Taken hostage by populist movements of the far left and right, Britons' anxieties over Europe's immigration and financial problems were exploited by political forces peddling "simple, demagogic answers to complex problems", as Blair writes.
So what now?
For Blair, the answer is clear:
The centre must regain its political traction, rediscover its capacity to analyse the problems we all face and find solutions that rise above the populist anger.
He noted that:
If the people — usually a repository of common sense and practicality — do something that appears neither sensible nor practical, then it forces a period of long and hard reflection.
Blair is onto something important. Instead of rushing headlong into negotiations with Europe to expedite Britain's decision to leave the EU (as Cameron has signalled), the UK parliament needs to take stock of what has just happened. However unpopular political leaders may be at the moment, these inquiries and deliberations cannot occur without substantial input from the people's elected representatives, or qualified experts.
Yes, the people's views are important and, yes, they should be part of the conversation about what has happened and what should happen next. But as the past week has shown, there are times when governments also have to realise that there is no substitute for expertise and experience.
As the world becomes more interconnected and national politics more complex, informed decision-making – in the corridors of Westminster and elsewhere — has never been more necessary. Citizens require political leaders who can lead: individuals who understand the importance of thinking ahead, accountability, consultation, deliberation and making decisions that are right even when they are not popular.
That, according to Beijing-based political intellectual Daniel Bell, is the defining characteristic of political meritocracy, an ideal largely lacking in most electoral democracies.
In his recent book, The China Model: Political Meritocracy and the Limits of Democracy, Bell contends that Western nations might be better served if more top leaders were selected and promoted on the basis of intellectual "merit" rather than popularity.
There are some things that should be kept from the dictates of "one person, one vote". This may sound anti-democratic, but as scholars have already noted, referendums like the one held last week aren't perfectly democratic either.
Though the idea of political meritocracy is controversial and open to criticism, it might just become more appealing in the wake of events like Brexit.
Had more British politicians refused to sacralise the "will of the people" and been more willing to do what was right rather than what was popular, they might have prevented the destructive populist passions and uninformed decision-making of the past week, and the long-term instability that will likely result.
What can Australians learn from this?
Australians heading to the polls this Saturday can draw important lessons from the UK referendum.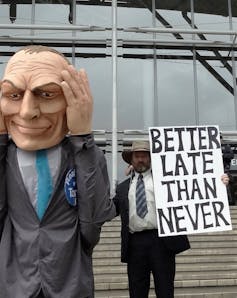 The first is that it's important to think seriously about one's own political position in relation to the policies of the respective parties, what they stand for and what their proven track record says about them before entering polling booths.
Too many Britons failed to do this. While an election is not a referendum, Australians want to make sure they don't repeat Britain's Bregret.
The second lesson is that strong, forward-looking leadership matters. In times of uncertainty, citizens need leaders with proven track records. This isn't an endorsement of any particular politician, nor is it intended to be a retreat to the status quo.
Yes, Malcolm Turnbull's support has risen since the Brexit decision, in part because many Australians have bought into his message about the need for stable government and economic foresight.
But tough times require leaders who can manufacture more than slogans. They call on leaders who can do what's right, even if that means sometimes defying the popular will of the moment. That's the kind of representative Australia needs.