Depending on the electoral arithmetic, the next 48 hours could be a real test of how broadcast journalists interpret public perceptions towards any post-election coalition deals. If, as polls continue to suggest, a hung parliament is imminent, the debate will almost exclusively focus on which party can (or should) lead a coalition government over the next five years.
Already, the question of forming a coalition is not just about which political party can gain a working majority in parliament, and successfully pass a new programme of laws in the Queen's speech. It's also about whether the combination of parties seeking power will be viewed as "legitimate" by voters.
As it stands, an ICM poll shows the public favour in almost equal measure either a Conservative/Liberal Democrat or a Labour/SNP coalition. But crucially, a fifth of people surveyed indicated that they didn't know which coalition to back.
Where does legitimacy come from?
The Cabinet Manual – written in 2010 after the last coalition negotiations – makes clear it is parliamentary legitimacy which is crucial in allowing a government to function. But whichever party leader attempts to form a government will also need to reflect on public support.
So how broadcast journalists interpret "public" legitimacy could be crucial in policing the boundaries of negotiations between parties, in the post-election period. Since most people have yet to cast their vote, at this point in time it is difficult to interpret where any "public" illegitimacy towards possible coalition deals is emanating from.
For example, it could be that broadcasters are responding to newspaper coverage of public perceptions, rather than relying on more reliable ways of assessing the public mood, such as opinion polls.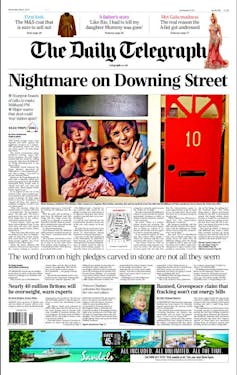 The right-wing press has already swung into action and sought to delegitimise any prospect of the Labour party winning the second largest number of seats and governing with the support of the SNP. A Daily Telegraph headline this week read: "Nightmare on Downing Street", with a picture of SNP leader Nicola Sturgeon prominently placed.
But the mood music of what constitutes an "acceptable" coalition government has been playing for some time among right wing papers. According to a search of the newspaper database Nexis, articles discussing "legitimacy" in the context of the general election have increased in recent weeks. Most of these encourage readers to think the largest seat-winning party should be the one entitled to govern.
A heated debate
Of course, the question of which parties will share power after the election is a legitimate point for debate. While partisan newspapers are free to pursue whatever editorial angle they please, broadcasters have strict impartiality requirements.
Our research shows the major evening bulletins – including Channel 5 at 5pm, Channel 4 at 7pm, and at 10pm on BBC, ITV and Sky News – have increased the amount of airtime spent discussing post-election deals. In the first and second week of the official campaign, total election airtime covering coalition deals amounted to 4.3% and 1.1%, respectively. From April 13 to May 1, however, it increased substantially to between 13.4% and 14.3% per week.
Despite Ed Miliband's regular insistence his party would not enter into a coalition alliance with the SNP – most memorably on the BBC leaders' question time debate – the overwhelming focus in TV coverage has been about a possible Labour and SNP coalition deal. Other parties have made the prospect of an SNP minority government central to their election campaigns; especially the Conservatives.
In more recent days, there has been some speculation about a possible deal between the Conservative party and the Liberal Democrats, UKIP or the DUP. But the role of the SNP as a potential kingmaker in the next government has clearly been the dominant coalition narrative over the election cycle in TV and print coverage, as well as being hotly debated on social media.
Broadcasters, beware
If the vote is as close as predicted, parties will inevitably squabble between themselves about who "won". But the public will rely on journalists to mediate. And since TV news remains by far the most widely used source of news for general and detailed information about the election, the impartiality of broadcast journalists will be put under the spotlight.
This puts a huge amount of responsibility on broadcast journalists interpreting the results as they come in, during the early hours of Friday morning. Tired but full of adrenaline, broadcast journalists may well be influenced by the pace of the news cycle and the pressure to call out a "winner". No doubt many of the partisan newspapers – most of whom have endorsed the Conservative party – will be seeking to sway readers in their Friday and Saturday editions.
As public attitudes are formed over the next 48 hours, broadcast journalists will therefore need to be careful in how they interpret the "public legitimacy" of the election results and any possible coalition deals, in light of their impartiality requirements.