Kanye West, the hip hop star married to Kim Kardashian, has come out in support of U.S. President Donald Trump.
That was bad enough for many Americans who abhor Trump, particularly following the president's defence of white supremacists in the aftermath of the violence last summer in Charlottesville, Va.
The Kanye ire is such that rapper and record producer Daz Dillinger called on The Crips, the infamous L.A.-based gang, to assault the rapper for his pro-Trump stance. Kanye is now surrounded by security guards for protection and has a restraining order against Dillinger.
Making matters worse? Kanye has also signalled his admiration for Jordan Peterson, the controversial University of Toronto professor who is the hero of those who have dubbed themselves lobsters — Peterson fans who believe, as he does, that political correctness has spiralled out of control.
It's all exploding into the perfect celebrity storm. The Apprentice: Existentialist Edition is now ready to launch.
And it's all over a simple idea, something called post-modernism. The call for violence against Kanye is the result of arguing about something that isn't even real.
---
Read more: Explainer: what is postmodernism?
---
How so? It's impossible to identify Kanye's "crime," or Peterson's, other than they reserve the right to offend. And apparently, offence is good enough reason to incite violence against someone.
Freedom of speech battle
All of this is about freedom of speech, but that prerogative seems to have been hijacked by the political right. For example, those on the extreme right want to deny Muslims entry into the United States and also want the freedom to slander them. This open door to inflammatory or even hate speech is hardly what lies at the heart of academic freedom.
---
Read more: University free speech debate is really about power
---
The problems arise due to the fact that white supremacists, including the Ku Klux Klan, have embraced Trump. At the same time, they've found a philosophy in Peterson's work that's compatible with Trump's anti-fact bias.
It's not that Peterson is against facts, it's that he appeals to people who do not require them to form an idea — including, apparently, Kanye West, who recently suggested that slavery was a choice.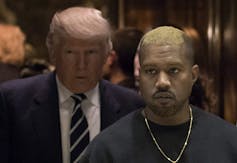 Peterson argues that we're all captives in a post-modern world, one in which nothing has more meaning that anything else. The issue is that his adherents are not informed enough to compare his philosophies with competing ideas.
There are other ways to frame our present social "philosophy." There is the work of Socrates on metanoia, which means changing your behaviour to be a better you. Aristotle taught us about eudaimonia, which is an ancient way of talking about flourishing in life. There are a host of frameworks in psychology that address personality theory and socially constructed reality in terms of our own symbolic meanings.
Those who disagree are wrong?
Peterson fans are called lobsters due to his comparison of people to crustaceans in his new book 12 Rules For Life. Lobsters identify others as friend or enemy, it's that simple, and Peterson argues that the left does exactly that. They view like-minded people as absolutely right and those who disagree with them as absolutely wrong, he says.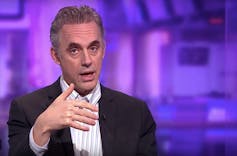 But Peterson's biggest problem is that he believes there's an identifiable entity called post-modernism. This kind of error in thinking is called reification in sociology. It is agreeing that something is real when it might not be. There is no basis to state that post-modernism is the root cause of our social ills.
To take these multiple social and psychological movements and combine them into one huge entity — a thought system, a shared philosophy — is what Peterson is literally doing when he points the finger at post-modernism, and that's a step too far.
Peterson argues that modern-day gender politics is based on a refusal to acknowledge biology, and he also states that a primarily Marxist, anti-capitalist socialism has taken over academia. But surely, transformative events such as the relatively sudden rise of women's economic power in the world shifts our thinking as much as anti-scientific and anti-corporate thinking.
Peterson's narrow views
Peterson would do well to study and discuss other great thinkers like Alan Watts, David Bohm and Ilya Prigogine, and spend less time trying to win the golden ticket to celebrity status.
These are all scholars who talk about reality from a more Eastern point of view. They argue that our reality itself, what we call the "world," is not what it seems. Their philosophies are an extension of critical thinking in the 1960s that embraced more mystical views of life, including self-actualization.
Peterson, on the other hand, is disturbingly narrow, non-mystical and heavily rationalist in his view of the world. Indeed, it's so narrow that it appeals to Klansmen and misogynists. Some of Peterson's actually nuanced arguments about the culture of victimhood have been lost in the Trump-aligned right.
If in fact they are flirting with a bromance, maybe both Kanye and Peterson would do well to get a makeover from the Kardashians' apparent fleet of makeup artists.
They could both use a fresh spring look that accentuates the positive rather than the relentlessly negative regard they seem to harbour for those who take issue with hatred.