John Crowley's adaptation of Colm Tóibín's Costa-winning novel Brooklyn is timely. As the centenary of 1916's Easter Rising approaches, the film's exploration of the emigrant experience in America plays into a wider interrogation of the Irish Republic's successes and failures.
Saoirse Ronan plays Eilis Lacey, a young woman from Tóibín's native Enniscorthy who emigrates to America in the early 1950s. Aided by her self-sacrificing sister Rose (Fiona Glascott) and sponsored by the avuncular Father Flood (Jim Broadbent), Eilis makes a fresh start at Bartocci & Company – like the real-life Macy's, a flagship department store on Fulton Street.
Her passage to New York isn't glamorised. Unlike in James Cameron's Titanic film, there's no joyous steerage céilí. Instead, we're offered a wry, claustrophobic and messy take on the discomforts of third-class travel.
Upon arrival, we witness Eilis's gradual adjustment to her new life. Meticulous art direction captures the allure of unfamiliar urban surroundings, from nylon stockings to pasta, candy floss to cat-eye sunglasses. Progressively brighter colours enter Eilis's wardrobe (a wine jacket, a floral print skirt, a canary yellow dress) and she symbolically exchanges her bottle green wool overcoat for a green cotton swimsuit. In lingering close-up reaction shots, Ronan expertly conveys an acute sense of culture shock through minimal changes of expression.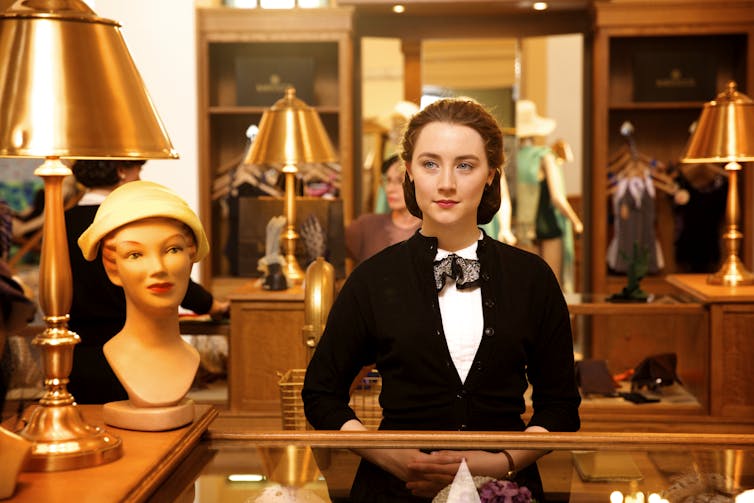 Nick Hornby's excellent script pares back the Bildungsroman plot and amplifies the novel's humorous dialogue. The mealtime repartee in Eilis's boarding house is laugh-out-loud funny. Politics and religion are off the conversational menu, leading to a farcical debate about whether a discussion of Éamon de Valera's deteriorating eyesight breaks this etiquette.
The focus is on the friendships and rivalries of the young women, the aesthetic integrity of which is a consummate riposte to an industry that so often views female experiences as peripheral. Ronan's intense, watchful stillness during these exchanges also affords Julie Walters space to shine as the caustic but kindly landlady Mrs Kehoe. As the girls' teasing talk crackles with desire, she exasperatedly proclaims that their "giddiness is the eighth deadly sin".
Even more giddiness ensues once Eilis meets Tony Fiorello, a boyish Italian-American plumber charmingly played by Emory Cohen. Eilis needs supervised training in the art of spaghetti-eating before her nerve-wracking first dinner with the Fiorello family, featuring a scene-stealing turn by James DiGiacomo as the wisecracking little brother who revels in pointing out awkward truths about Irish-Italian relations.
Tony is a good egg, but his vision of a shared future is put on hold by Eilis's unexpected return to Wexford. The subsequent love triangle, following her romance with Jim Farrell (Domhnall Gleeson), adds piquancy to the tension between adopted country and motherland. Eilis's initial pangs of homesickness are superseded by a disturbing insight: "I'm not sure I have a home anymore." Ronan's mesmerising performance expresses the immigrant's riven subjectivity, torn between two places and two possible lives.
Where to call home
From Joyce's Portrait of the Artist to Anne Enright's The Green Road, Irish fiction has returned obsessively to notions of home and exile. The same is true of Irish film; there are clear resemblances between Brooklyn and Jim Sheridan's In America, for example.
It's therefore no surprise that there's a conversation about John Ford's film The Quiet Man, perhaps the quintessential expression of Irish-American romanticism. Eilis also sees the joyfully self-reflexive musical Singin' in the Rain. These allusions don't just pin down the date (1952): they also seem to warn that nostalgic stereotypes and escapist fantasies are suspect.
As Walker Percy's 1961 novel The Moviegoer puts it, the silver screen is the only place "Where Happiness Costs So Little". Outside the cinema, Eilis finds contentment harder to come by.
One of the affective peaks is a set-piece scene where Eilis helps Father Flood serve Christmas dinner to his less fortunate parishioners, in which Iarla Ó Lionáird delivers a Sean-nós rendition of Casadh an tSúgáin, a traditional Irish language song about the snares that love weaves. The lonely voice and shadowed faces express the emotional, geographical, and linguistic displacement of those listening – these now remaindered men who, as the priest notes, once built America's "bridges, tunnels, and highways".
Yet this is not only an account of the Irish diaspora. The film speaks more broadly to global displacement. Cinematographer Yves Bélanger bathes Ronan in non-naturalistic light after Eilis's border crossing. Letter-writing emerges as a key trope of immigrant experience and a phone call exposes the heart-breaking dislocation of the migrant in mourning. Indeed, Ronan has expressed the hope that Eilis's journey might increase sympathy for the current plight of refugees.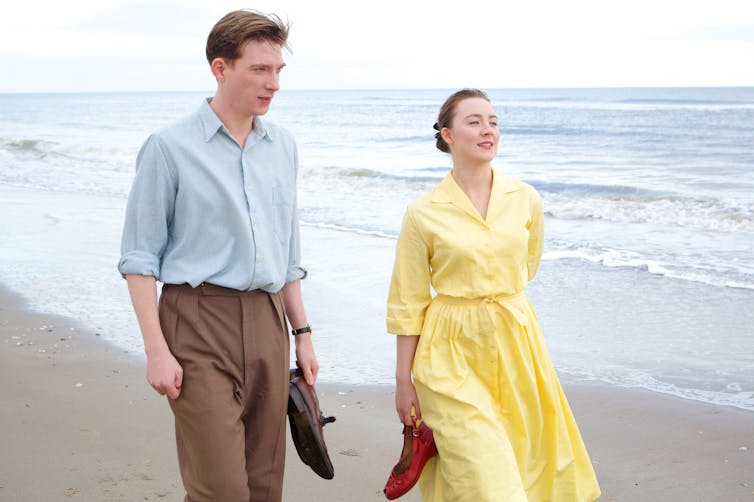 That being said, Brooklyn offers a thin account of Irish social conditions. The novel is edgier and more acerbic, with a nuanced sense of class. In the film, the shortcomings of an entire society are displaced onto one mean shopkeeper, "Nettles" Kelly.
This scapegoating is problematic in gender terms. Kelly may be a vicious gossip and snob, but the paralysing claustrophobia of small-town life had deeper roots: the novel insinuates that it was the myopic paternalism of church and state that fostered the insularity and economic stagnation of the post-war years. The film is a genuinely affecting period piece, but ultimately you feel that there was more at stake in Eilis's final choice on the page.
Despite choosing gloss over grit, Brooklyn remains a triumph. Sentimental without being maudlin, Crowley's film deserves a wide audience. It's inconceivable that Ronan won't receive a second Academy Award nomination for the psychological acuity of her performance, despite stiff competition from the likes of Cate Blanchett (Carol), Brie Larson (Room), and Jennifer Lawrence (Joy). Brooklyn marks a significant milestone in the career of this rising star.