Pierre Nkurunziza has been inaugurated as the president of Burundi for a much-contested third term. His re-election campaign was dogged by controversy from the start, and precipitated a political crisis that the African Union warned could have "catastrophic consequences" if not resolved peacefully.
The violence that erupted as politicians and their supporters fought for political power and position has already had tragic results for many ordinary Burundians. More than 100 people have been killed, and more than 185,000 have fled the country.
And now the elections are over, no end to the violence is in sight.
Shutdown
The April 2015 announcement that Nkurunziza would seek a third term sparked widespread protests across the capital, Bujumbura, as thousands took to the streets to oppose his candidacy. Protesters argued that Nkurunziza's decision to stand again violated the constitution and the Arusha peace agreement, which had helped bring an end to the civil war and laid the foundations for a post-conflict Burundian state.
The demonstrations led to deadly clashes between protesters and police, who were accused of using excessive force to disperse protests. Two weeks after the demonstrations began, a coup attempt was mounted by a group of army officers, and then crushed by forces loyal to Nkurunziza.
In the days following the coup, all independent media outlets in the country were closed. Radio Publique Africaine, the largest independent radio station in Burundi, which broadcast the coup announcement, was burned to the ground.
The closure of independent radio meant social media became a vital space for sharing news and information. But it was also used to spread rumours, which greatly contributed to the climate of fear and mistrust that descended on the capital.
Presidential and parliamentary elections went ahead with a short delay, despite international calls for them to be "indefinitely" postponed, and on July 21, Nkurunziza was re-elected with 69.4% of the vote. The UN Electoral Mission in Burundi concluded that although the election itself passed relatively peacefully, "the overall environment was not conducive to an inclusive, free and fair electoral process".
Assassinated
Burundians hoped that once the presidential election was over, the violence would be too. A week after the vote, I received a message from a contact saying, "We have just concluded the election and political normalcy is returning! When are you coming back to Burundi?"
But the next day General Adolphe Nshimirimana, the controversial head of the national intelligence service, was assassinated – and a fresh wave of violence quickly followed. A day later, the leader of a prominent human rights group, Pierre Claver Mbonimpa, was shot and seriously wounded. And on August 15 Colonel Jean Bikumagu, the former head of the army during the civil war, was assassinated.
These attacks on high-profile people may have grabbed headlines, but it's ordinary Burundians who are still bearing the brunt of the violence. Every day, fresh reports emerge of grenade attacks, arrests, extrajudicial killings, and torture.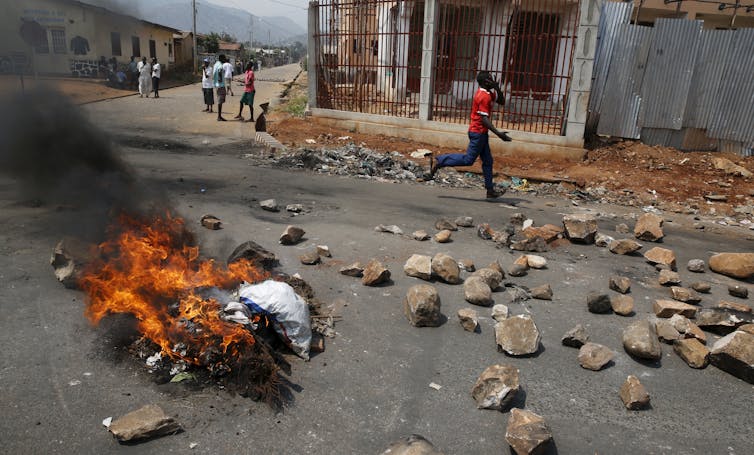 Reports gathered by human rights groups show that the violence appears to be targeting individuals believed to oppose Nkuruziza's third term. While some members of the police and government supporters have also been killed, the victims are predominantly supporters of opposition parties, members of civil society, or individuals thought to have participated in the protests.
Others just happened to live in neighbourhoods where protests took place, or were passers-by caught up in the violence.
An Amnesty International report found that police have used "excessive force" against protesters, including extrajudicial executions and arrests. Critically, it argued that the aim of the police violence "was not to disperse demonstrations, but rather to punish protesters for their political views." Attacks committed by the notorious Imbonerakure, the youth wing of the ruling CNDD-FDD party, also appear to be politically motivated.
Us against them
On the face of it, it might seem like a small consolation that the violence is taking place along political lines rather than ethnic ones, as it has done in the past. But we should not be so complacent.
While Burundian society used to be viewed principally in terms of Hutu and Tutsi, today's political entrepreneurs have split it into pro- and anti-Nkurunziza factions. Those deemed to be against the president are labelled as "political opponents" and "insurgents" – terms used to delegitimise these people and make violence against them permissible.
Whether ethnic or political, discourses such as these divide societies and are used to justify oppression and lethal violence against particular groups. The terms of discrimination may have changed, but it doesn't make the killings any more acceptable.
The elections may be over in Burundi, but as long as these discourses circulate, those seeking power and position (or trying to cling to it) are clearly still prepared to use any means at their disposal.