Wang Jianlin of Wanda Dalian. Jack Ma of Alibaba. Heard of them? Not many people outside of China have, but they are the modern-day moguls powering China's entrepreneurial sprint towards economic supremacy. They are also largely responsible for the surge of interest in Chinese sport, at home and abroad.
Until his early 40s Ma was a high school teacher, now he is the founder of e-commerce giant Alibaba, an organisation that dwarfs the likes of Amazon and eBay in both scale and scope of operations. Wang, founder of the Wanda Dalian group, monopolises Chinese retail and entertainment and in 2012 acquired the US cinema chain AMC for US$2.6 billion to aid his global ambitions. Some might argue that Wang has been raised with a "red spoon in his mouth" given his father's role alongside Chairman Mao in the cultural revolution, but his desire to see China rival the West on every level is undisputed.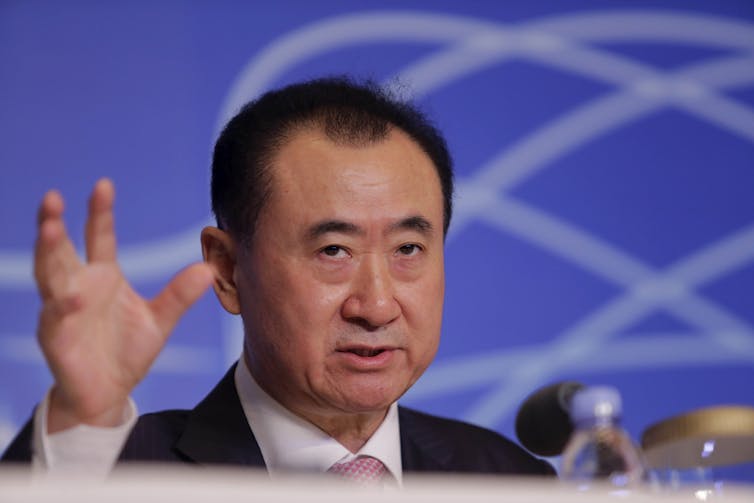 Traditional views of markets tend to focus on supply and demand. This leads us to overlook the intermediaries that help shape, craft and bring supply and demand together in markets. Chinese sports market could be viewed as a blend of suppliers (manufacturers, club teams, and athletes) and demand (customers, consumers, and sports fans). But what draws them together? This is where Ma and Wang come in – they, and their firms, are the intermediaries driving investment, development and interest. So how have they done it?
Alisport
One route was created by premier Xi Jinping's relaxation of barriers to entry in the Chinese sports market.
One man to take advantage was Ma. In September 2005, Alibaba launched AliSport. The aim is to revolutionise sports media events, ticketing, coaching, fan experience, and access to sports services using Alibaba's e-commerce, digital marketing, and cloud computing network. Alibaba's technology arsenal is seen as the tool which will connect Chinese consumers to the sports industry.
Through Alipsort, Chinese sport consumers have a gateway into this new sector. From live events and streamed content to next-day delivery of sporting goods, memorabilia and risk-free ticket purchases, Alisport is trying to immerse people in their favourite sports.
Alisport CEO Zhang Dazhong cited the ability of sport to create and share "happiness", and "encourage healthy lifestyles". He argued that by surrounding the the Chinese sports industry with a constant online feed of access and content, people will get better products and services. From an economics perspective, these could be seen as the positive cultural effects that will build demand and help sustain the Chinese economy in the long term. From a sporting perspective, future investment and sustainability hinges on strong, resilient consumer activity.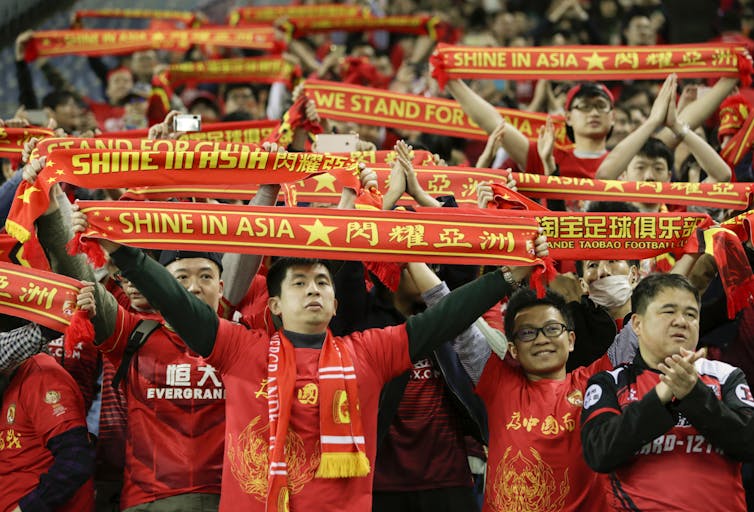 Alibaba's horizons extend beyond this domestic intermediary network. As well as owning half of China's most successful football club, Guangzhou Evergrande Taobao FC, Alisport recently agreed a multi-million dollar deal with World Rugby for development and sponsorship. China is not a rugby hotbed, at least for now. But the deal helps give Alibaba a foothold in more global markets. The sight of a major Chinese organisation associating with an international sporting body ultimately reflects on Chinese sport, raising the profile of an infant domestic industry and sowing the seeds of future growth in the brand power of sport in China.
The Magic Wanda
While Alisport mediates the operational rise of China's sport industry, Wang and his Wanda Dalian group are taking the media and entertainment route – most recently in the spotlight for a bold swipe at Disney as Wang launched his own theme-park. In January 2015 he purchased a 20% stake in Spanish soccer giant Atletico Madrid, and quickly followed that up with a sponsorship deal with FIFA.
It is yet more evidence of the drive to position China as a global player in sports business. Deals like Wang's may not deliver cash directly into the country's sporting infrastructure but they substantiate China's rise in the industry. Over the longer-term, the diversification into international sport could significantly aid the sponsorship potentiality and investment within Chinese sport.
Beyond performance
Wang and Ma undoubtedly have personal motivation to see Chinese sport develop. Helping their president in his quest to bring the World Cup and co to China would likely have profound long-term benefits for them and their respective firms. More than this however, they see sport as the language in which to communicate with China's consumers.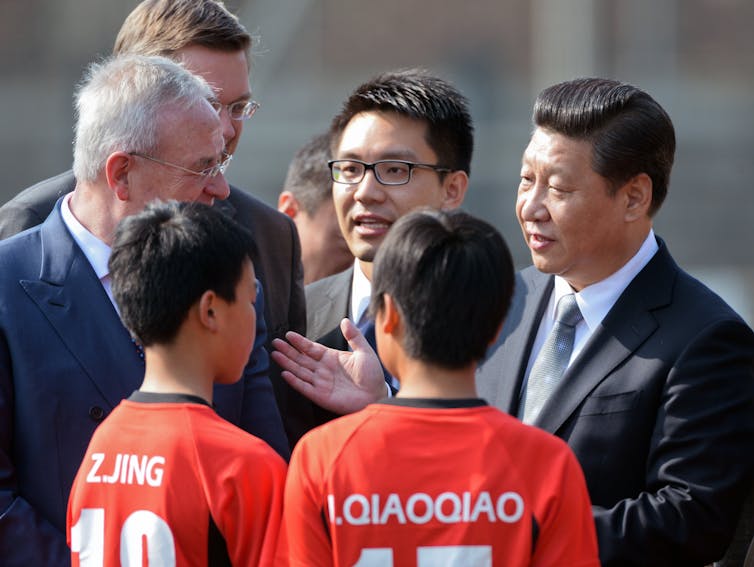 The rising wealth of the middle classes (largely through a booming real-estate sector) is fertile ground for companies. In practical terms, people simply have more cash to spend on leisure activities and sporting enthusiasms than they ever had before. Wanda's desire for Chinese enterprise, and Alibaba's market innovation enables this – but is it just the moguls behind this market revolution that stand to benefit?
The beautiful thing about intermediaries is that the value they create (initially for themselves) often spills over elsewhere. Investment in sport can be beneficial on numerous levels. Better facilities, safer environments to play and train, more qualified coaches, and improved sporting education can create memorable shared experiences, and foster greater social cohesion. It's not just about deep pockets, it is about building something that has, for want of a better word, a heart.
Intermediary moguls like Ma and Wang understand the potential riches of the Chinese consumer market, and sport is one way of accessing this. They also highlight the opportunity for others to invest in an industry that has huge potential.