If Labor was surprised by its re-election in March 1993 – the "sweetest victory of them all", as Paul Keating claimed – there was, for months before the 1996 election was called, much less confidence in government ranks that it could hang on.
They were right. A 6.17% first-preference swing against Labor in 1996 confirmed the momentum John Howard's Coalition leadership had built over the previous year. The political mood was shifting decisively.
Howard pitched to the values of the "battlers", affirming "the Australia I believe in". In contrast, Don Watson, Keating's speechwriter, recalls that the "big picture" reforms of Keating's prime ministership "never found a place for the people" in testing those values.
Political scientists Paul Strangio, Paul t'Hart and James Walter add that, after 1993, Keating became ever-more dominant in "a small clique of very senior colleagues". He drove a policy agenda that had been rallied after the 1993 victory.
There were big ambitions, like Working Nation, and big symbols, like the republic. These initiatives were part of a push through 1994 and 1995, as revealed in the cabinet papers released today by the National Archives of Australia, to ensure a legacy for the program Labor had crafted since 1983.
---
Further reading: Cabinet papers 1994-95: How the republic was doomed without a directly elected president
Further reading: Keating's Working Nation plan for jobs was hijacked by bureaucracy: cabinet papers 1994-95
---
In that process, the term "benchmarking" figured repeatedly in the cabinet submissions ministers debated. It was time to take stock of what had been achieved, in terms of reform, expectations of it, and principles that could not be undone by their successors.
Changing attitudes to social policy
The measures of such impact included a vital element of attitudinal change.
In social policy, ministers were assured that the past ten years marked a decisive shift for people with disabilities from a welfare approach to a "human-rights-based focus", measured in labour market access. Cabinet called for regular reports to track how effectively this support continued to move from the margins of specialised programs to mainstream provision.
Other measures included a standard pension rate of 25% of male total average weekly earnings, a target of 100 residential care places per 1,000 population aged over 70 by 2001, and a child support system that fostered "a change in the community ethos" with regard to the obligations of separated parents.
In May 1994, cabinet endorsed tackling the more "legally complex or controversial issues" identified in the 1992 Half Way to Equal report on women's rights. Among them was a commitment to target potential pregnancy "as a ground of prohibited discrimination".
As Labor's 1994 national conference adopted a commitment to a 35% quota of safe seats for women candidates by 2002, these issues achieved a clearer place in public debate.
Reforms in public and community housing were aimed at increasing the co-ordination of federal and state governments in delivering stock to meet diverse needs. The beneficiaries of such attention, it was argued, would include people with psychological illness. The minister concerned, Brian Howe, pushed for the principle that rent in such housing should not exceed 30% of income.
Progress on Indigenous Australians
For Indigenous Australians, ministers agreed that "priority be given to social benchmarks" for housing and also health and community support, employment and education. Together they would hold agencies accountable for the delivery of services, rather than simply describing the conditions to those receiving them.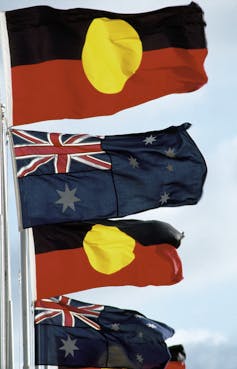 The minister, Robert Tickner, urged that consultation with Indigenous clients must take into account that their "reluctance … to provide information" reflected "a more complex, historical issue". The Aboriginal and Torres Strait Islander Commission's work as a national representative body was seen as integral to overcoming this challenge.
The new National Native Title Tribunal brought sharp focus to these concerns. Keating urged that this body must have sufficient authority to counter the "implacable" opposition of interests and governments such as that in Western Australia.
Cabinet also moved to establish an Indigenous land acquisition program. The May 1995 launch of a National Inquiry into the Separation of Aboriginal and Torres Strait Islander Children from Their Families, followed by the official gazettal of the Aboriginal and Torres Strait Islander flags, further consolidated a network of recognition it would not be easy to unravel.
---
Further reading: Cabinet papers 1992-93: Keating government fights for Indigenous rights on multiple fronts
---
Labour market reform
Indigenous affairs had some of the elements of "compassion" and "justice" Keating spoke of returning to politics. This pushed the boundaries of prevailing values.
Yet, with promising economic forecasts in early 1994, ministers were also keen to ensure there was no backsliding in the stricter discipline of microeconomic reform.
Having recently bedded-down principles of enterprise bargaining, cabinet was advised in March 1994 that the still-fragile foundations of a "productivity culture" were too vulnerable to "unrealistic" expectations developing in workplaces across Australia to risk any further iterations of the Prices and Incomes Accord.
A cabinet submission claimed that "it may be necessary to push the limits of what is acceptable" to the unions, and instead "establish benchmark criteria to assist employers in responding to claims".
---
Further reading: Cabinet papers 1992-93: the rise and fall of enterprise bargaining agreements
---
While sticking to this message, ministers still worried that the people seemed not to be travelling with them. In mid-1994 they decided to appoint an independent consultant to probe the question of why reported poverty levels had not declined, "despite all the measures taken over the last decade".
Cabinet's Social Policy Committee regarded the evidence informing such analysis as a "statistical artefact". The Department of Social Security ventured that the long-term impact of labour market deregulation might help explain such sentiments. Finance countered that an already overgenerous social welfare system acted as "a disincentive to efforts to improve private incomes".
As economic signals wavered through 1994 and 1995 – despite Keating's assurance with the 1995 budget that "this is as good as it gets" – the challenge of inclusion grew.
There were some benchmarks, clearly, that were up for debate within a cabinet still pushing Australian economic as well as social transformation.
Climate change becomes a more pressing concern
There were also some benchmarks that were troubling on a larger scale.
Over 1994 and 1995, the government was briefed on the extent to which global commitments were already proving insufficient to stabilise atmospheric greenhouse gas concentrations:
… at a level that would prevent dangerous human interference with the climate system.
And even within the concessions Australia had won in those formula as an "emissions-intensive economy", it was "only likely to achieve 46–53%" of its target by 2000.
Enhanced support for "greenhouse science" was identified as one option Australia might pursue in preserving its international reputation on these issues. More was required if we were to hold our standing in relation to vulnerable island states of the South Pacific. And more was required at home.
Major decisions were being taken that were "contrary to the terms of the 1992 National Greenhouse Response Strategy". As ministers were told, Western Australia's new Collie Power Station would "provide electricity at a higher cost than gas-powered alternatives". The "extension of the electricity grid to outback areas of NSW ignored the potential for lower cost solar energy".
Decisions to defer minimum energy standards for appliances showed "little more than lip service" to the fundamental issues of climate change. What was the point of such benchmarks if nothing was done to observe them?
If the 1996 vote reflected an electorate wearied of "big picture" reform, it was clear that the Keating government itself was seeking indicators that could affirm and entrench its achievements. Not all were easily found.
But, in retrospect, several do still stand up as enduring principles, and/or as markers around which a good deal of political conflict was to come.