Last week, the first-person military shooter game Call of Duty: Black Ops II hit the shelves. The release marks the fourth year in a row that a game in the Call of Duty series has had the "biggest entertainment launch of the year", grossing more than US$500 million in its first 24 hours on sale.
Its predecessor, Call of Duty: Modern Warfare 3, grossed US$1 billion worldwide within 16 days, beating James Cameron's Avatar, the highest grossing film of all time, by a day. Black Ops II is poised to potentially break that record again.
For many who aren't familiar with these games, though, their popularity can seem somewhat alarming. Are they simply a disturbingly popular product of the military-entertainment complex, or is there more to their popularity?
Although it was always a popular series, Call of Duty didn't rocket into ubiquity until November 2007, when Call of Duty 4: Modern Warfare was released.
Modern Warfare was the videogame equivalent of the first Pirates of the Caribbean film, or the early Harry Potter books – a game that did extremely well critically, that caught on with consumers in a big way, and that ultimately assured the success of future instalments in the franchise.
There have been five Call of Duty games on consoles and PC since Modern Warfare, all of them smash-hits.
The game launched at a time when the term "military shooter" normally meant a game which was set during World War II – a setting that gamers had long since grown tired of.
The solo campaign in Modern Warfare saw the player switching between six different playable characters, but focusing primarily on Seargent John "Soap" MacTavish, a new member of the British Special Air Service.
The game was set in the "near future" of 2011, following a fictionialised conflict that echoed real-world events in numerous ways.
But while the solo campaign was lauded as excellent, Call of Duty's popularity has never been tied to its qualities as a single-player game. In fact, some 30% of people who played Call of Duty 4: Modern Warfare on Xbox 360 while connected to the internet never even completed the first mission in the solo campaign.
In 2007, online multiplayer gaming was still a novel concept for many. Although the Xbox and Playstation 2 consoles had both allowed online play, the next generation of consoles (including the Xbox 360 and the Playstation 3) had launched with a much greater focus on online multiplayer, and ultimately provided much better experiences for consumers who were now far more likely to have broadband internet connections.
Modern Warfare was launched just when many console owners were ready to be wowed by online gaming.
To explain the appeal of Call of Duty's incredibly popular multiplayer to an audience that has never played it is a difficult task. Indeed, to non-gamers, the idea that a game can achieve such popularity by making the act of killing friends and strangers extremely fun may seem somewhat vulgar.
But Call of Duty has always had two major things going for it: the snappy responsiveness at the heart of its ultimately rather simple combat, and a fun reward structure.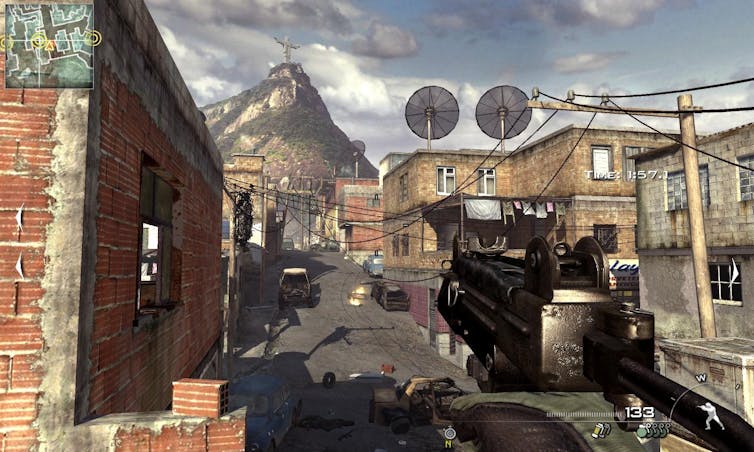 Many of the game's detractors – and there really are a great many of them – have written Call of Duty off for its lack of complication, its singular focus on sprinting around maps, hurling grenades and gunning people down without needing to be strategic.
This is a rather reductive way of looking at what the games achieve, but it's accurate … to a point. The simplicity of the systems that govern Call of Duty's action means it's easy for a player to jump in and start enjoying the game immediately.
The system for connecting to an online game couldn't be easier, and allowing players to pick and choose their own weapons and "perks" (which make your character better at certain tasks such as reloading, sprinting, or surviving being shot) can make for a highly personalised experience.
It's an incredibly responsive game – tapping the left trigger on the controller zooms your gun into iron sights, while at the same time subtly shifting it immediately towards your nearest opponent. This makes the combat, on a moment-by-moment basis, incredibly satisfying … when you're playing well.
The reward structure, which has been copied repeatedly by most online shooters that have followed, is a genius idea.
Using a gun in any of the online modes unlocks, essentially, better versions of that gun – your first ten kills with a weapon may net you a new scope for it, or you may "level up" after a game and unlock a new "perk".
You're constantly being given things while you play Call of Duty, and each new good action you perform – whether it's a kill, completing an objective, or assisting someone else – awards you with experience points.
It's the same model that many of the most popular mobile games operate on. Angry Birds, for instance, works because it constantly rewards you with new levels.
Since Modern Warfare, publisher Activision has made a concerted effort to make sure gamers have the option of upgrading to a new Call of Duty every single year, a model that has always worked well for sports franchises such as EA Sports' FIFA (soccer), Madden (NFL) and PGA Tour (golf) games.
By splitting the efforts between multiple studios – games produced on odd years are headed up by Infinity Ward, while games on an even year, including Black Ops II, are developed primarily by Treyarch – Activision has been able to maintain a strict annual release schedule.
As of right now, Activision has ten developers dedicated to Call of Duty, whether leading their own games, assisting with others, or developing downloadable content maps that are sold after release.
It would be fair to suggest this development model has turned many off the games – which some argue have failed to evolve – but it's a strategy that keeps working.
The popularity of Call of Duty, then, comes down to a combination of smart design, a somewhat cynical (but incredibly effective) publishing cycle, good grace, and the fact Call of Duty 4: Modern Warfare appeared at just the right time to capitalise on the new online multiplayer market.
The success of that game has allowed for a huge marketing budget – one that allows for advertisements filled with celebrities (see video above), lavish review events at Californian resorts, numerous marketing stunts and utter saturation of the Call of Duty brand.
Whether or not this strategy will last indefinitely is questionable – oversaturation eventually forced Activision's Guitar Hero brand into hiatus – but the sales figures for Black Ops II suggest Call of Duty is likely to remain the most popular and powerful franchise in videogames for a while yet.