It should have been a regular, business-as-usual board meeting at the iconic Bombay House, which headquarters the century-old company Tata Sons. But the October 24th gathering turned out to be a shocking event in the history of Indian corporate governance and the Tata group.
The 48-year-old executive chairman of the group, Cyrus Mistry, was ousted by a no-confidence motion, even though there was no such explicit item on the agenda.
As usual, there was an "other items" section on the agenda for the meeting. And replacing the chairman of the board under the guise of "other items" is not illegal, as Mistry initially said. But it is surely improper.
Of the nine-member board, six voted against Mistry and two abstained; the ninth was Mistry himself.
No explanation for the ouster has so far been given, although media speculation suggests a difference of opinion with former executive chairman, 78-year-old Ratan Tata, had been brewing for some time. The board returned Ratan Tata to his former position of executive chairman; although the present arrangement is a four-month interim solution, after which a permanent replacement will be installed.
Incidentally, it was Ratan Tata who handpicked Mistry back in 2011, describing the move as a "far-sighted choice" after his own 21-year innings at the helm of the Tata group.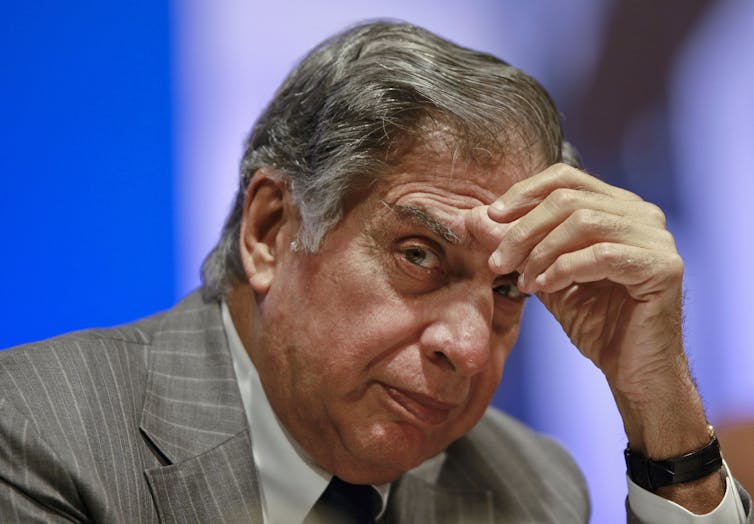 What is Tata Sons?
Tata Sons is the privately held limited holding company that oversees the Tata Group of companies, the largest private business conglomerate in India.
The diversity of the group is so huge – comprising more than 100 companies across eight business segments – that the global media often emphasises its range as "salt to software".
In spite of this diversity, a large amount of the group's profit has lately come from a small number of leading companies, notably from Tata Consultancy Services – India's largest software services exporter – and Jaguar Land Rover (JLR), Ratan Tata's biggest success from a global acquisition spree in 2008.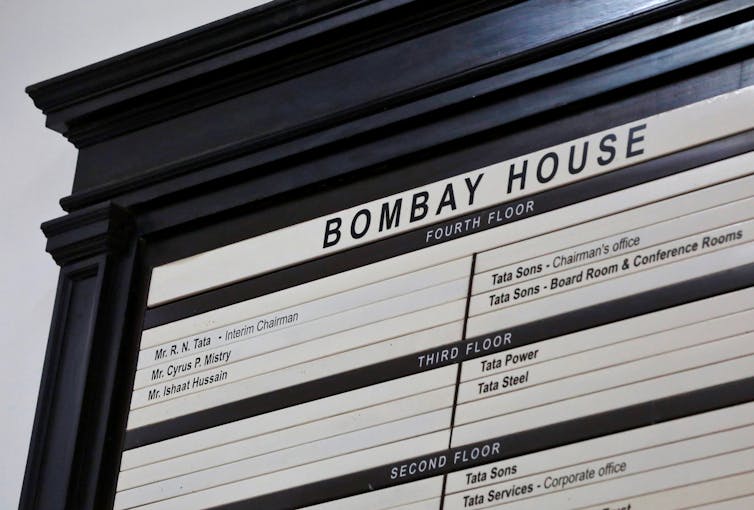 A family affair
By virtue of his father, Pallonji Shapoorji Mistry, who holds an 18% stake in Tata Sons, Cyrus Mistry has been a board member of the company since 2006.
The market value of his family's holding in Tata Sons is estimated to be around US$13.5 billion, and Mistry remains on the board despite his ouster as its executive chair.
Mistry is also still the chairman of many of the 29 listed public companies of the Tata Group. The outcome of the October board meeting has yet to percolate down to the boards of individual Tata companies.
Mistry has family connections to the group as well. His sister is married to Ratan Tata's half-brother, Noel Tata, a contender for the position of chairperson back in 2012, who is being reconsidered now.
Mistry's family has been a significant shareholder of the Tata Sons since the 1930s.
Letting go
So why did the ousting of Mistry become necessary and what now? Allegations and counter allegations have been exchanged about why it happened; but the road ahead is still unclear.
Mark Tully, a former BBC journalist who has a deep understanding of India's social landscape, argues in his book, No Full Stops in India, that "a country like India can never have a full stop, it can at the best have some commas coming and going". Even though, he goes on to say India's Westernized elite, cut off from local traditions, "want to write a full stop in a land where there are no full stops".
It's possible Ratan Tata never successfully let go of his former role. In the world of business, the position of a former chairman of a hundred-billion-dollar-plus group cannot be both out and in, with "some commas coming and going".
Following the rules of the group, Ratan Tata retired at the age of 75 from Tata Sons, but by virtue of his being Chairman Emeritus of the Tata Trusts, the philanthropic arm of the group which hold 66% of Tata Sons, he remains influential in the business arena of Tata Sons too.
In 2012, the articles of association for Tata Sons were changed, making the board of Tata Sons a de facto subordinate body of the Tata Trusts.
Philanthropy and business often do not go together; and the way to support philanthropic activities is to follow what Bill Gates and Warren Buffet have done, without affecting shareholders of their respective business empires.
Any professional manager knows and accepts that some of his or her decisions will be successful, and some not. Ratan Tata is no exception. He may be highly revered by board members of the Tata Sons and the Indian media, but the company had his fair share of successes and failures under his leadership.
If acquisition of the Jaguar Land Rover was his biggest success, in same breadth one should also acknowledge that his acquisition of Corus, a catastrophic failure for Tata. In 2006, that acquisition was touted as "reverse colonisation" in India, because Corus had part of British Steel plc in its formation.
Most importantly, Mistry was picked by the committee where Ratan Tata himself had the most influential voice. Looking at the current affairs of Tata Sons, one may naturally wonder what history will judge to be the worst business decision that Ratan Tata made: acquiring Corus in 2006; selecting Cyrus Mistry as his successor in 2011; or getting rid of Mistry in the way he has done.
It is absolutely wrong to think that the reason for the ouster was that Mistry's style was significantly different from Ratan Tata's – their styles should be different. Each professional manager should be allowed to bring in his or her own style when holding such an important position - without any intervention beyond formal accountability to the board.
By no business or financial measure can it be said that Mistry was a significant failure for the group. Problems at Tata Steel (or Tata Tele), for that matter, were inherited.
Cleaning up
The present incident mirrors the famed differences of opinions that prevailed between Bill Gross and Mohamed El-Erian of investment management firm PIMCO, which resulted in both leaving the company. In a conversation reported by the Wall Street Journal, their differences were made clear.
"I have a 41-year track record of investing excellence," Mr Gross told Mr El-Erian, according to the two witnesses. "What do you have?"

"I'm tired of cleaning up your s***," Mr. El-Erian responded, referring to conduct by Mr. Gross that he felt was hurting PIMCO, these two people recall.
This dispute bears significant resemblance to the Tata case. Mistry, knowing his profile, probably never retorted to Ratan Tata in the same tone as El-Erian did to Gross, although deep in his mind, he might have felt the same.
The house of Tata, with its more than century-old legacy, may overcome this tumultuous period. Institutions have a longer span of life than managers, and get chances at damage control; individuals do not.
The outcome of this dispute has been disastrous for Cyrus Mistry. What it means for the rest of the Tata board remains to be seen.