Five years ago, on April 24, 2013, the Rana Plaza building collapsed in Savar, Bangladesh, killing more than 1,100 garment workers and injuring thousands more. Rana Plaza housed several factories producing clothing for brands such as Joe Fresh, the Children's Place and Walmart. The tragedy — the largest industrial accident in 30 years— sent the global fashion and apparel industry into a panic.
Many workers' rights groups, companies and trade unions agreed to make changes within five years. Their actions make up part of a global movement I call RFA, an umbrella term to reference the global responsible fashion and apparel movement.
The movement includes complex, transnational and diverse groups working to challenge and disrupt conventional systems of fashion and apparel production and consumption, including labour rights and the environment. The government of Canada also made commitments to support change. But have they lived up to these promises?
My research focuses on RFA work and activism in the wake of the Rana Plaza collapse. Responsible fashion and apparel as a concept is quite simple: It takes a "do no harm" approach to clothing. Across every aspect of a product's life, it asks that neither people nor planet be compromised.
But responsible fashion is about more than production. It's also about how an article of clothing is consumed and what happens to that garment when it's reached the end of its life. It includes social, cultural and political issues.
Canadians get motivated
Canadians, it seemed, were outraged that they, through association, might be connected to such a horrific catastrophe. In response, diverse and divergent stakeholders worked together, albeit under great public pressure, to support garment workers in Bangladesh.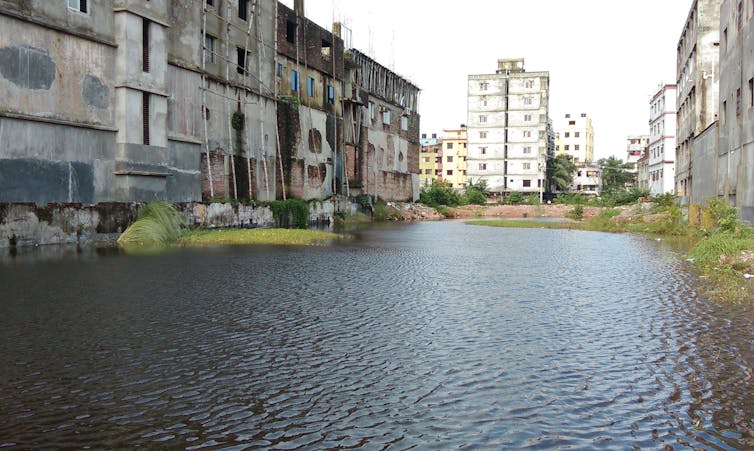 While some focused on building infrastructure and lobbying companies and governments to improve workplace standards, others viewed the collapse as an opportunity to challenge the way in which the entire fashion and apparel industry operates.
Some organized initiatives after the collapse, such as Fashion Revolution; others were already active as organizers within the network before the disaster, such as Maquila Solidarity Network and Fashion Takes Action. One organizer, Myriam Laroche, was motivated to create Vancouver's Eco Fashion Week in 2009.
Eco Fashion Week was designed to showcase and support responsible fashion and apparel in Canada and globally. It provided a supportive, yet critical, platform for designers to present their work, as well as giving opportunity for researchers, activists, businesses and government to come together to promote valuable research and knowledge exchange.
But after eight years as a successful biannual event, Laroche recently announced she would be ending the initiative in its current form. Apparently, she was having difficulty getting financial support from either government funding and or other forms of support.
Throughout its eight-year existence, Eco Fashion Week helped Canadians make these connections and challenged companies to be accountable for their social and environmental footprints.
Canadian government support for human rights
The Canadian government has also made an impact in supporting garment workers' rights in Bangladesh. In January, the government announced the appointment of an Ombudsperson for Responsible Enterprise whose role will be to ensure Canadian companies respect human rights abroad.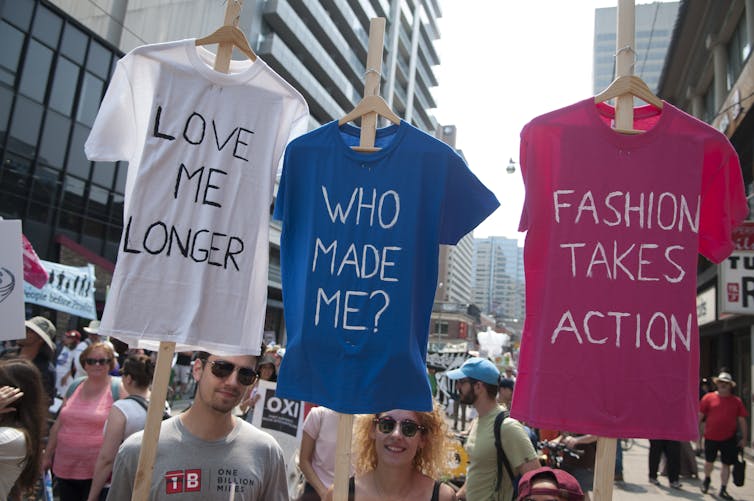 Since October 2013, Canada has been involved with the International Labour Organization (ILO), working alongside the governments of the Netherlands and the United Kingdom in a jointly funded ILO program called "Improving Working Conditions in the Ready-Made Garment Sector."
And in 2016, Canada signed on to the Compact, a joint initiative of the ILO, the European Commission, the government of Bangladesh and the United States to improve labour rights, building safety and business practices in Bangladesh.
But while the federal government is working to better social and environmental challenges associated with garment making in Bangladesh, a lack of government support for initiatives like Eco Fashion Week suggests that responsible fashion and apparel is not on the agenda at home.
Supporting labour rights and environmental security within the billion-dollar global fashion industry is surely a challenge. However, investing in the RFA movement is a necessary step for Canada to affect positive change.
The end of Eco Fashion Week due to a lack of government support sends a strong message to RFA workers across the country.
If Canada wants to make meaningful strides toward improving garment manufacturing in Bangladesh, and workers' rights in Canadian enterprises, it also needs to support grassroots organizations working at home. Events like Eco Fashion Week helped Canadians understand how their actions impact workers.
To be a leader in global efforts that support RFA, the government of Canada needs to also support local initiatives that connect fashion to politics and focuses on environmental issues, cultural concerns and workers' rights.