There is no question there is a worldwide refugee crisis, with global border crossings at an all-time high. According to the UN, we currently have more displaced people than during and after the Second World World War. With recent natural disasters in the Caribbean, this number will only increase: More and more people are entering Canada.
As a midwife working in Toronto for almost 18 years, I have dedicated most of my career to the care of newcomers, refugees and the medically uninsured. As a health-care provider on the ground, I can see the changes on a micro level before they are seen at a macro level. I can see the groundswell of newer immigrants — and I think I can fairly accurately say a storm is coming.
Many believe everyone in Canada has health insurance. But since the advent of medicare, Canada has always had populations that lack health insurance. Historically, this has included a few religious sects, such as Amish and Mennonite, as well as marginalized people dealing with issues like homelessness, drug addiction or mental health challenges.
However, in the past two decades, the categories of people without health insurance has dramatically increased to include more newcomers, immigrants and refugees. The reasons for this are complex and related both to changes in Canada's immigration policies as well as increasing global migration.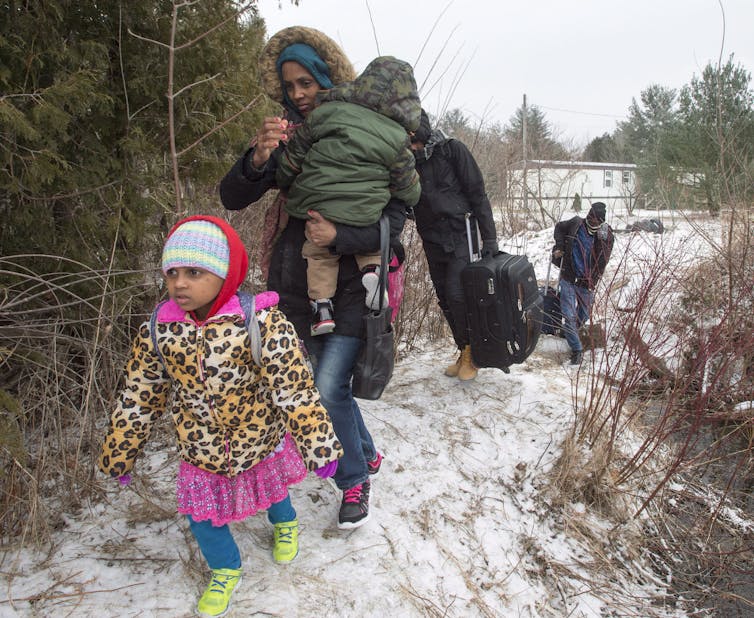 Care for pregnant people involves particular challenges. Without health insurance, people need to pay for physician care, hospital fees and diagnostic tests. In a low-risk pregnancy, this can mean costs close to $10,000; with a higher risk pregnancy these costs can double, triple or more. For most pregnant people, these costs are untenable.
As a result, care is minimal, delayed or even refused. Many women choose to give birth alone, show up late in pregnancy or only seek care at the time of labour. This potentially results in higher risk situations — putting a demand on a health-care system that's already strained for resources.
Even during war, famine and fear, people have sex and get pregnant. In fact, some people argue that refugee populations have more complex needs in pregnancy than the standard population. This is for a variety of reasons. Rape is used as a tool of war and women are particularly targeted during war and genocide. Access to contraception is difficult during war and disaster. And generally, increased life stresses make people less attentive to reproductive health-care needs.
About 20 per cent of all people seeking health care in refugee camps and disaster zones do so for pregnancy-related concerns. As well, clinics in Toronto serving refugees and the uninsured indicate that 20 per cent of all visits are for pregnancy-related issues.
Now add the unanticipated Trump effect
Canada already welcomes a high number of immigrants. But with every anti-immigrant declaration by U.S. President Donald Trump, Canada receives new waves of unanticipated, vulnerable migrants. In the past year, Canada has seen waves of Haitian refugees, Nigerians and others crossing a small-town borders, mostly in Québec.
Anecdotal evidence from my clinic visits tells me that people of colour in the U.S. are terrified of deportation and increased race-related violence. For those fleeing war, economic and political instability, there are few options. Instead of risking being sent back home, many are choosing to enter Canada.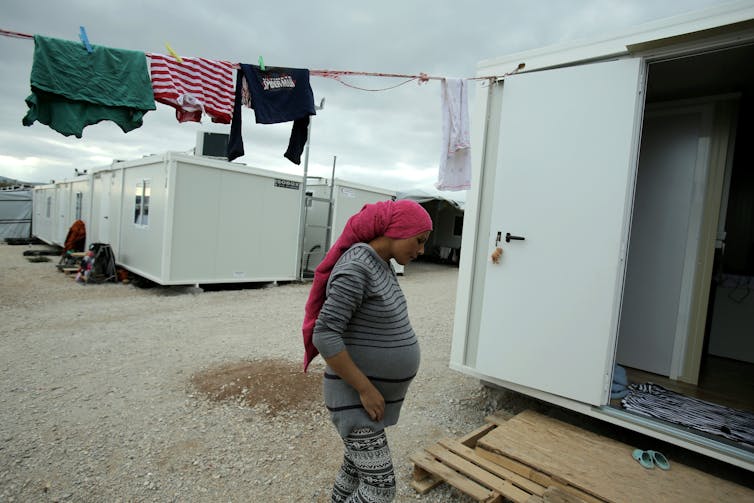 While those entering the country are claiming refugee status, the number of accepted refugees in Canada is minimal compared to the number of claimants. Those whose refugee claim is refused face being sent home or living in Canada illegally. For many, there is no choice — going home would mean facing poverty, incarceration, torture or worse.
Recently, I was sitting in my midwifery clinic and doing a first midwifery visit with a newly arrived Nigerian couple from the United States who had entered Canada through Québec. I asked: "I'm seeing a lot more Nigerians in your situation recently, what's going on in your community?"
They told me everyone was afraid of their immigration status because of Trump. Also, as racialized people, they are increasingly afraid. They had lived in the American Midwest for more than six years and, up until recently, had never experienced the kind of daily, racially motivated violent threats they have since Trump came into office.
The couple had heard of a Nigerian man in a neighbouring state who had been brutally beaten for no apparent reason. They started thinking about fleeing. Getting pregnant was actually the precipitating factor for them to leave.
Two months earlier, I had a Pakistani couple in my clinic who were previously in the U.S. on legal student visas, both attending a southern state university in a small town. They fled because the woman, who wore a hijab, was literally being stoned by people on her way to campus and they were worried about the safety of their two small children. Pregnant with their third child, their fears increased.
After hiding for two weeks in their apartment and running out of food, they fled out of fear for their lives. They travelled along a now well-established line of acquaintances, contacts and safe houses from the southern U.S. to Canada — a makeshift refugee underground railroad for the modern era.
The U.S. has traditionally been seen as a designated "safe country" by Canada — meaning people cannot apply for refugee status while living in the U.S. — but if you are being stoned on the way to school and your president openly supports white supremacist demonstrators, how can we still consider the U.S. a safe country?
Babies still come
A lot of the people crossing the border will be pregnant, and those who choose to stay may get pregnant. Many will be denied a valid refugee claim; many will chose to stay here illegally, without valid immigration status and as a result, without health-care insurance.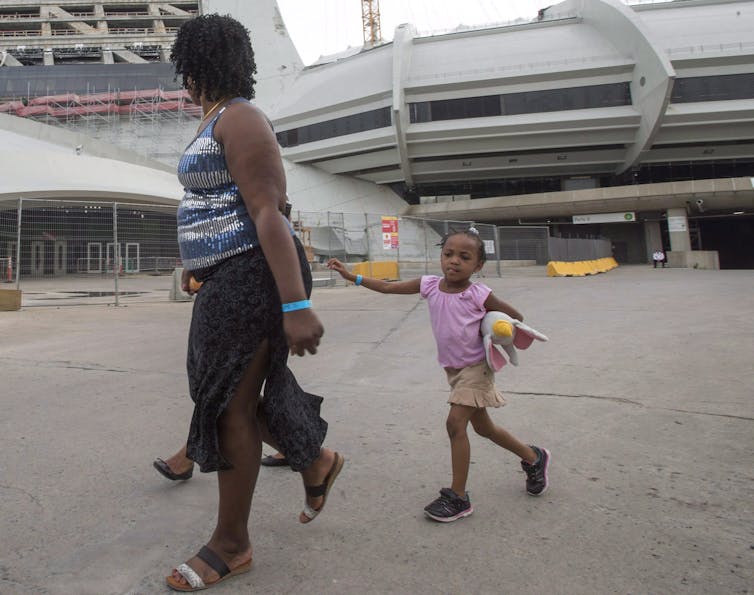 Keeping people out of the health care system creates more problems than it solves. Pregnancy is a perfect example. Unlike many other health-care issues, most pregnancy outcomes can only be put off for so long — for the most part the babies eventually come.
Unfortunately, research shows that women without health insurance in Ontario don't get adequate prenatal care. Adequate prenatal care dramatically decreases low birth weight and premature infants.
This lack of care for refugees and the uninsured will cost us all. One of the top five expenditures in all of health care is for the care of babies born too early and too small. We are likely to have more pregnant people without insurance, having little or no access to care and as a result, babies who are less healthy.
The majority of people fleeing poverty, war and violence don't have the kind of money that health care requires. Some may argue that this is a global problem and not Canada's problem.
However, whether we like it or not, people are still going to enter our country and stay because of a lack of options. And whether we like it or not, we are paying for it. Regardless, like it or not, resist it or not, people are coming and our health-care system is not ready.
In Ontario, midwives have always been funded to care for any resident of the province, regardless of health care or insurance status. This is similar to Ontario's Community Health Centres. In 2015, the province increased funding so that any physician who needed to get involved in higher risk pregnancies would also be paid.
As a result, midwives in Ontario are able to provide relatively seamless care to pregnant people without health-care insurance. Research has shown that women under midwifery care have improved outcomes and as a result cost the system less money. However, this isn't the case in the rest of the country.
Given the wave of refugees coming, and previous experience showing that many of the newcomers will end up lacking health insurance, it only makes sense for other provinces to follow Ontario's lead and provide the funding for midwives to care for this population.
This will take a substantial burden off the health care system, improve outcomes and ultimately cost less.