We are living through an age when increasingly harsh social policy aims to change the behaviour of those most dependent on support from the state. Funding is being cut to local authorities; this in turn has meant that many services providing support to the most vulnerable continue to close.
We are also living through an age of social innovation – although this is constrained in our era of austerity by an emphasis on what works. But this has thrown up new solutions to the challenges faced by some of society's most marginalised people.
There has been particular success in finding solutions to homelessness. In 2011, the Welsh Local Authority Homelessness Network wanted to test a new and innovative solution to long-term homelessness. The network formed a partnership with the Welsh assembly, and worked with a number of local authorities to introduce a scheme of individual budgets targeted at rough sleepers who had proven the most difficult to engage and most entrenched.
In each of the areas, around £20,000 was made available for organisations to help long-term homeless people into sustainable accommodation. It was envisaged that in each area, ten people would be supported by a key worker; each person would have a cash limit of £2,000. The money was to fund expenditure on items that the homeless individuals themselves thought would help them on their way to accessing and retaining secure accommodation.
The funds were held by the local authority and accessed by the key worker when a request for expenditure was made by the client. Items purchased included mobile phones, fishing tackle and televisions. Services included a computer course and driving lessons. Funds were also accessed to clear housing debt. For some people the functional items such as clearing debt or acquiring a phone or food simply made their lives easier or more bearable.
Some of the other items, however, gave people distraction, hope, and responsibility. Fishing tackle was a reason for one person not to spend time with his friendship network of drinkers. For another, a new mattress and furniture were the first new personal items she had owned in more than ten years. With these things came a sense of control over their lives, which many of the clients felt they had lost.
Money well spent
Although it was initially envisaged that around £80,000 would be spent on the scheme, the actual spend was less than half, coming in at £34,317.96. It was also anticipated that this would be spent on around 50 individuals when in practice 79 people benefited. Far from using the £2,000 available, average expenditure per recipient across all pilot areas was £434.40.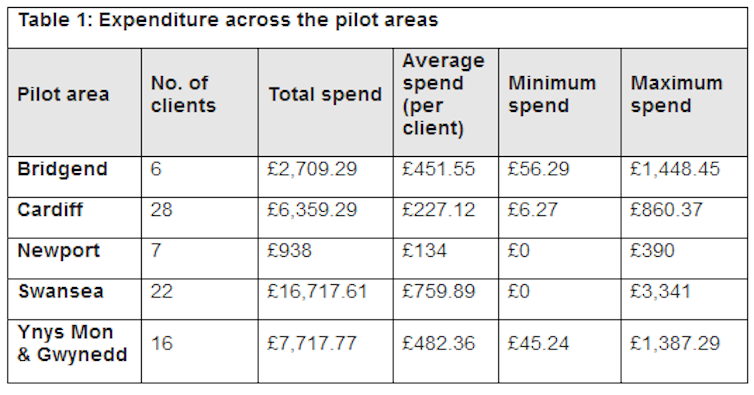 The benefits were also significant – in terms of savings to the public purse as a result of reduced levels of criminality and reduced reliance on accident and emergency services.
Most importantly, of the 79 clients involved in the scheme at least 33 (42%) had relatively stable independent accommodation by the end of the pilot. Of the rest, around 40% were in some form of temporary accommodation. Bearing in mind many people had lived on the streets for months, even years, had high levels of alcohol and substance misuse and had experienced dysfunctional relationships and/or family tragedies, these were massive steps forward.
As well as going some way to solving accommodation issues, we identified related successes: a reduction in alcohol and substance misuse, increased self esteem and self confidence, increased trust and engagement with support services and more appropriate engagement with health and support services.
Evaluation of this scheme showed that funding and the care of key support workers were entirely symbiotic in delivering results. Rather than being reactive this more empowered way of working placed significant demands upon the skills and professionalism of staff. In those areas where there were particular successes, clients were paired with workers who demonstrated patience and creativity, and who had the capacity to remain in contact with individuals in spite of any "speed bumps" or crises.
This sort of scheme is still on the periphery of homelessness services. Commissioners need to become more comfortable with such a "creative" approach. And while projects like this offer crucial tools for helping tackle long-term homelessness, it won't be successful in all cases. A crucial factor was "readiness", in that individuals who had arrived at a point in their lives where they were willing or able to co-operate and make progress appeared to experience the most benefit.
But the pilot opens up opportunities, often closed off by more restrictive policies, for many people to be supported through difficult periods in their lives.
Not all people will be ready to change and this approach can never – and is not designed to – replace existing services which are vital to address the complex range needs many homeless people have. While the scheme obviously offers great potential benefit, innovative approaches like this will flounder if investment is not made in the key areas, such as provision of hostels, accommodation, facilities and staff.
Nevertheless, homelessness organisations are starting to think more about how creative approaches like this can form part of a tool-kit for resolving the crticial problem of homelessness in the UK.