For two hours at Bennelong Point on Tuesday night, the Sydney Opera House rang out with songs of hope, empowerment, and freedom.
The occasion was 1967: Music in the Key of Yes, a concert to mark the 50th anniversary of the 1967 referendum, the culmination of a ten year campaign led by the Federal Council for the Advancement of Aborigines and Torres Strait Islanders.
Fifty years ago this May, Australians went to the polls and in overwhelming numbers, voted Yes to remove two discriminatory references in the constitution. The changes allowed the federal government make laws affecting Aboriginal people and include the count of "aboriginal natives" in the Census.
The Sydney Festival's commemorative concert promised a re-interpretation of the "greatest songs of the civil rights movement" from Indigenous artists including Dan Sultan, Thelma Plum, Radical Son, Leah Flanagan, Emily Wurramara, Yirrmal Marika, Alice Skye as well as former Magic Dirt singer Adalita. What was delivered was far broader in scope.
Yirrmal Marika opened the evening, singing in his language a song the audience soon recognised as My Island Home. A chorus of musicians then picked up the words in English. It was a taste of the musical traditions that would be celebrated.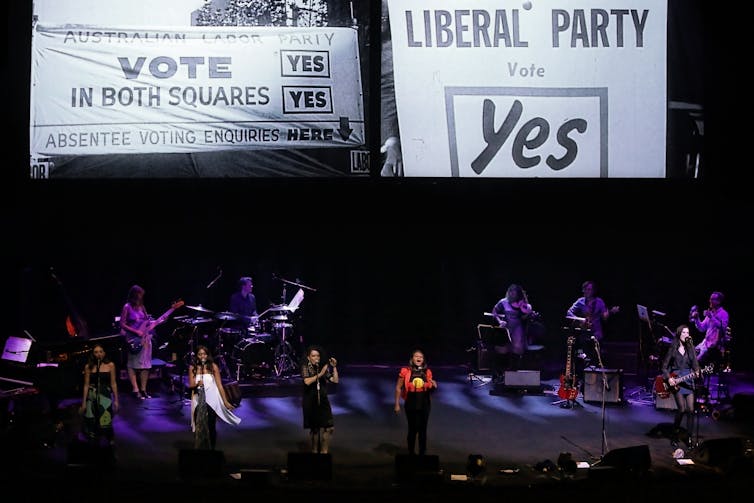 Yirrimal's raspy sweet voice was a reminder of the rich seam of Aboriginal music that remains little known to non-Aboriginal audiences.
Neil Murray's My Island Home was a shining example of Australia's Civil Rights songs – or perhaps Land Rights songs is a better term, since a large portion were written in the 1980s when native title was a hot political issue and historians were first piecing together the scale of the Stolen Generation.
Radical Son's rendition of Archie Roach's They Took The Children Away spoke of the heartbreak of forced separation and the joy of reunion. Adalita's take on Goanna's Solid Rock used trippy arrangements to riff off the Apocalypse Now-inspired reference to a "heart of darkness".
Dan Sultan offered a defiant version of Midnight Oil's The Dead Heart, while the ensemble delivered a rocking version of Yothu Yindi's Treaty. Most refreshing was Alice Skye's slow bluesy soulful take on the Warumpi Band's Blackfella, Whitefella.
Listening to these songs in a curated program brought home the particular political goals of Indigenous people's struggle. Unlike the American civil rights song, Country is an overarching theme. The Australian Land Rights songbook speaks of "salt water people" who stood on "solid rock" and "sacred ground", ready to "stand up and be counted".
Also notable is Indigenous Australia's special love for country music. On Tuesday night, the twang of country rock mixed with the yelps of the didgeridoo and snap of clapping sticks. From here, the band edged into soul, blues and more raucous Aussie stomps.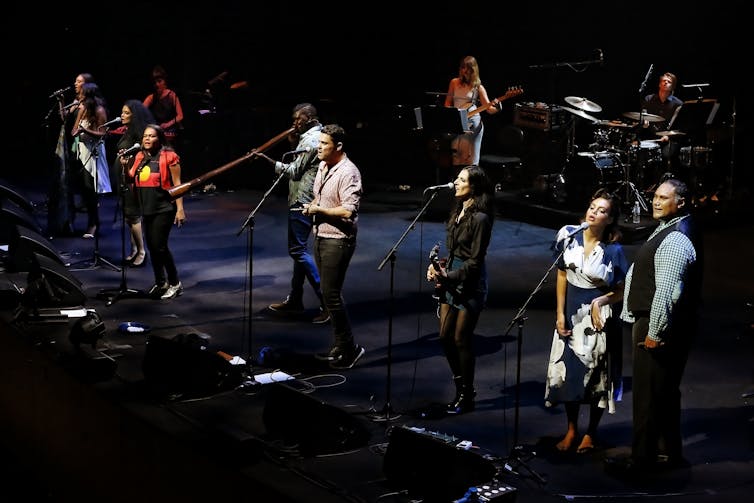 Of course, the concert featured a selection of American Civil Rights songs. Radical Son's heartfelt version of Sam Cooke's A Change A Goin' Come made me wonder if Cooke ever imagined that the momentous wave of change he would sing about would cross oceans.
Ursula Yovich and Thelma Plum both paid tribute to the tempestuous Miss Simone with a bluesy I Wish I Knew How It Would Feel To Be Free and sassy Feelin' Good. As Mt Isa-born writer Alexis Wright noted in the program, the songs of Cooke and Simone song helped give "our spirit back to us".
The vocalists gave new meaning to songs not usually associated with the Civil Rights movement. "I was dreaming in my dreaming" began Adalita in a feisty rendition of Patti Smith's People Have The Power. Dan Sultan led a spine-tingling With A Little Help From My Friends, the arrangement via Joe Cocker and a killer Gospel chorus. While Emily Wurramara finished the night with a delicate take on Paul McCartney's Blackbird: "You were only waiting for this moment to be free".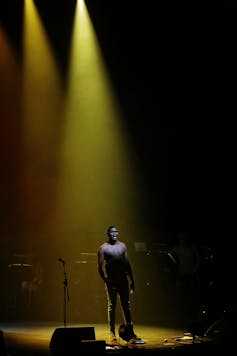 Throughout the concert, a series of visuals that drew on the poetry of Oodgeroo Noonuccal (previously known as Kath Walker) were projected onto screens above the performers. Historical footage underscored the depth of racism in White Australia and hinted at the internal divisions within the Aboriginal Civil Rights movement.
Members of the Federal Council of Advancement of Aborigines and Torres Strait Islanders tended to be buttoned-down, middle aged and, above all, respectable people who furthered racial advancement through petitions and lobbying. Former General Secretary Faith Bandler exuded a quiet dignity, an unlikely political champion in her floral dress and starched curled hair.
Images of orderly Council meetings contrasted with the confrontational demonstrations staged by the Aboriginal Black Power movement. They were a noticeably younger, noisier, scruffier lot, who rejected the gradualism of racial "advancement", preferring to take the authorities head on.
Yet 50 years on, these strategic differences were eclipsed by the unity of purpose. Especially so, as the songs are no less poignant than they were 30 or 50 years ago.
As Michelle Obama recently said, "Hope is a necessary concept". Even in the face of monumental struggle, despair is not an option. This songbook, presented by impassioned singers in the "key of yes", was a powerful tonic to chase away cynicism and uplift the human spirit.
1967: Music in the Key of Yes will be performed at the Adelaide Festival on March 15.
This article was updated on Thursday 19 January.