The Australian press has long been fascinated by the opinion that visiting celebrities hold about Australia. This obsession was excited by the written observations of Mark Twain, who visited in 1896, and wrote all about us, not always in flattering terms.
D.H. Lawrence lived in Sydney in 1922 and wrote Kangaroo, a book that many felt cast Australians in a poor light. Ava Gardner's verdict (actually invented by a journalist) that Melbourne was the ideal place for a film about the end of the world made her no friends in the media, nor did Frank Sinatra's unflattering view of Australia's female press corps.
In the old airport and shipping terminal rounds of the 1950s and 1960s, the standard list of questions included the feeble enquiry: "What do you think of Australia?" To which, it is said, apocryphally perhaps, that the song-and-dance man Sammy Davis Jr replied: "Well, you've got great rooftops".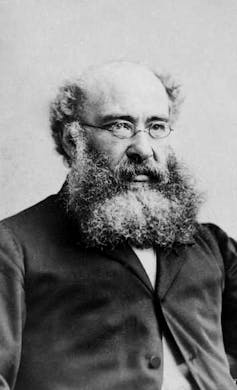 Australia's first visiting celebrity in popular culture was Anthony Trollope, author of 47 novels and – as a post office official – the man who introduced the pillar box to the British Empire.
In 1871–72, having lodged the manuscript of a 28th novel (The Eustace Diamonds) at his London publishing house, he spent a year and two days touring the six Australian colonies. His arrival excited sentiments of welcome, leavened by the odd note of wariness, in the newspapers.
Trollope's subsequent two-volume memoir, Australia and New Zealand (Chapman and Hall 1873), offered overall a warm and sympathetic portrait. The colonial press responded by censuring the accuracy of his reporting, castigating his manners, and disparaging his facility as a writer.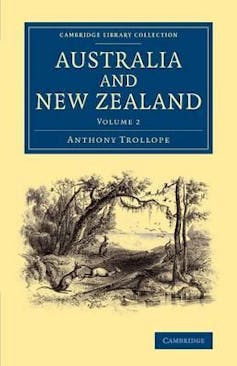 This hostility in the review columns was prompted in particular by two factors. In the 815-page Australian section of the book, he occasionally muddled the minutiae of his statistics. Worse, he had twice within the narrative branded Australians as braggarts.
The consequent press attack was so pronounced that a mood of disquiet lingered when Trollope made a second visit in 1875. It was an early, and notably sustained, instance of trial by media.
The bicentenary of Trollope's birth will be celebrated in 2015. Authors are lining up to re-appraise his literary legacy, including me. (My forthcoming book, The First Celebrity: Anthony Trollope's Australasian odyssey, is in the vanguard of this production line.)
Trollope found Australian pride could easily be hurt. As far back as 1938, Walter Murdoch, essayist, broadcaster, and foundation professor of English at the University of Western Australia, divined this trait in his essay Home Truths for Australia, republished in On Rabbits, Morality, etc in 2011:
We Australians are too touchy; as a race, I mean. As individuals, we may be above reproach; I may be as tough of hide as a shark; and you as impenetrable as an armoured car; but collectively we are as sensitive as a cat's whiskers. […] Why should we be so infantile as to want everybody to love and admire us? Why should we resent plain speaking?
In Trollope's case, much of the touchiness was provoked by an assertion – within his 1873 travel memoir – that Australians were guilty of what he termed "blowing". He complained to his readers:
You are told constantly that colonial meat and colonial wine, colonial fruit and colonial flour, colonial horses and colonial sport, are better than any meat, wine, fruit, flour, horses, or sport to be found elsewhere … Now if I was sending a young man to the Australian colonies, the last word of advice I should give him would be against this practice. "Don't blow," – I should say to him.
Victoria, he said, was the worst offender, and "the Melbourne blast beats all the other blowing of that proud colony". The colonial press, which had at first welcomed (albeit cautiously) his tour, responded now in a mood of acrimony and pique.
From the NSW goldfields, the Gulgong Guardian suddenly remembered that when Trollope was entertained to lunch there in 1871 he had delivered an unimpressive speech, appeared to be drunk, and generally conducted himself "in a manner that did not impress one with his perfect knowledge of table etiquette".
The Adelaide Observer was similarly scornful, finding Trollope's book "very dreary reading" and "not to be trusted". The eminent novelist, according to the Observer, lacked "the mental qualifications" for a work of this nature.
Melbourne's Argus, responding to those slights concerning Victorian aggrandisement, employed sarcasm in a three-column review on the front page of its Saturday supplement. The celebrated author, it suggested, was not averse to some bragging of his own:
[He] may entertain a very disparaging opinion of the things and persons he encounters in his travels, but he manifestly entertains the highest respect for Mr Anthony Trollope.
This judgement, delivered in such hostility of voice, represented an extraordinary shift in attitude by the newspaper: just 18 months earlier the Argus had welcomed the presence of Anthony Trollope's "transfiguring power" at a public lecture in Melbourne.
When Trollope died, in 1882, the colonial obituary columns were flavoured with faint praise. His works were below those of "the first rank of novelists", said the Argus.
"He had no place in the front rank of the great English writers of fiction," declared the Sydney Morning Herald, adding that the "now historical injunction 'Don't blow' provoked some adverse criticism".
Beset by Australian touchiness in life, Anthony Trollope found absolution elusive in death.