Chanel has released its first new feminine fragrance for 14 years. The perfume, "Gabrielle", is named after the eponymous founder before she was known as Coco. It is a reference to the company's youth, when an inexperienced entrepreneur willing to take risks set a course that should inspire modern-day women in business to do the same.
In the 100 years since Chanel set up shop, her brand has become a distinct, trusted, exclusive, and globally recognised marque. It is a heritage brand that has somehow retained a place as an expression of modernity. The promotion of the new fragrance makes reference to Chanel's rebellious nature in a bid to attract new millennial devotees. The hope is that it will also reinforce Chanel's luxury status and retain the core 24-35-year-old consumers in challenging market conditions.
Coco Chanel's life and personal qualities have been front and centre of the story. Movies have tried to combine products and personal identity in tales where Chanel the business person is never detached from her life story or love life. Her abandonment in childhood suggests a motivation to escape poverty and seek a work identity, to make something of herself.
But the dramatic narrative can detract from seeing her contribution as a straightforward business entrepreneur and style innovator. The company was built on her ability to spot market opportunities and then align fashion and fragrances with emerging lifestyle trends, not on her intriguing back story. Her complicated relationships – where friends and lovers were business partners, creative mentors and the means to market – in fact stress the importance of building a network.
Little black dress
As with many good start-ups, it began with a key insight. Chanel, who died in 1971, could see the desire for a new self expression that emerged from the first world war. She combined jersey wear, the sailor's blouse, the trouser suit, tweed and the little black dress in her collections. She blended masculine and feminine, work and leisure identities with affordable fabrics in a new system of style.
Her innovations were creative disruptions of which tech innovators today would be proud. She enabled a new way of being fashionable and changed industry norms. She had a sense of how clothing should feel, paying particular attention to the selection and use of fabrics. For example, jersey was affordable but not best suited to highly structured clothing. Chanel embraced the fluidity of the fabric by designing looser clothing with a dropped waistline. The little black dress was the consummation of efforts to achieve elegance through simplicity.
Chanel's fashion innovations demonstrated her talent for creativity within constraints. She dealt with limited resources in the early days, working from an apartment to remodel and sell on hats bought from department stores. Later, she contended with skills gaps in production and distribution as the business matured. Modern-day entrepreneurs will have run into similar issues acquiring and accessing resources while in start up mode.
Chanel the business grew from that small millinery operation founded in 1910 to a diversified fashion and fragrance conglomerate. Created in 1921, Chanel No.5 remains one of the bestselling fragrances in the world.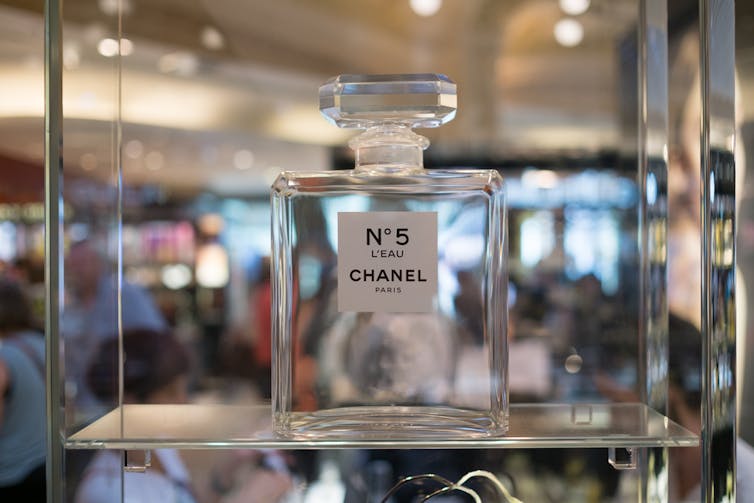 Working with parfumer, Ernest Beaux, the scent was pioneering. It used higher levels of aldehydes to create a richer scent, which Chanel hoped would be difficult to copy. The bottle design was based on one from a men's toiletry travel set. Again, Chanel challenged convention through design; redefining luxury through simplicity in a subtle rebellion against prevailing norms.
Behind the scenes, Chanel used her social network to good effect. When demand for No.5 increased, she formed a business relationship with the Wertheimer brothers for the production and distribution of the scent. Where she did not have the skills or business capacity she accepted the need to outsource.
If entrepreneurship is a matter of seeing and exploiting opportunities for business with scalable market appeal then Chanel fits the bill. She was also able to diversify the business from fashion to fragrance, seeing that one could support the other if the brand and brand values could be shared. The use of her name was both a risk and a means of self-verification, an expression of self-belief in her and her business.
Taking chances
Among her fellow female entrepreneurs, both then and now, it is often issues of risk and self belief that prevent the move into business. It is a complex issue to explore, but it is generally assumed the females have a less positive attitude towards risk and this can dampen the motivation to drive new ventures. The research is not conclusive; it may be that studies struggle to distinguish between financial, context-specific and personal risk.
Women may also maintain different life and work-related values to men, in some cases constrained by wider societal and cultural values. Does society expect women to pursue secure and stable employment, rather than follow Chanel's rebellious path? The gender gap in start ups suggests that fewer businesses are initiated by women, and that a lack of self-belief has a part to play in limiting intentions.
Perhaps Chanel's early life experiences and the poverty that followed did help forge her business identity. It was a combination of push and pull that allowed her to challenge social attitudes towards women in business and about how women do business. Research is inconclusive as to why there are still fewer female entrepreneurs, but there is some accord in the need for targeted support mechanisms, for improving access to finance and exploring alternative approaches to entrepreneurship education.
By exploiting opportunities that arose from economic, social and technological change, by acknowledging and managing risk, and by the use of social and financial networks, Chanel challenged the conventions of fashion and beauty. If the new fragrance is meant to be an expression of rebellion, then this should also be the message from Coco to a modern generation of entrepreneurs.