Prime Minister Tony Abbott made a bold move in September when he ran the country for four days from a tent at Gulkula in far northeast Arnhem Land in remote Australia. While there, he observed that although he was full of good intentions – "like the rest have been" – he hadn't delivered much.
It might be said that the Abbott government's decision two months on to stop funding essential services in remote communities was one of the first real policy deliveries since that visit. This would be potentially disastrous for these communities, forcing them off country, escalating dislocation and exacerbating problems of health and well-being in communities already under significant threat.
It also has a flow-on effect as without Commonwealth financial support, the states would have to close the communities.
This is not only cheap policy, but it is deeply grounded in history. It rehearses a profoundly entrenched view in some channels of government that these communities cannot continue and are unviable in the long-term. In this sense, pouring in money is wasting resources better spent elsewhere. In an otherwise fraught policy landscape, cheapness has been one of the cold hard facts of Indigenous affairs.
This is not what Abbott meant when he defended his visit as an attempt to avoid being cheap in the deep sense. Justifying the entourage he took with him – half-a-dozen ministers, the same number of bureaucrats and a plethora of advisers – he explained that had it been a simpler, lighter, affair, it would have been cheaper in the deep sense as well as less expensive.
The government's decision to cut funding to remote communities came as the Productivity Commission released a report entitled Overcoming Indigenous Disadvantage. While rates of incarceration and self-harm are growing, there is some improvement across a range of economic indicators. Yet problems remain and nowhere more so than in remote communities where the gaps are wider and the outcomes poorer.
In referring to the gap between the good intentions of successive governments in this area and their practice, Abbott referred to "reasons why this has been difficult". What did he mean?
A historical lens helps answer this question. Commonwealth expenditure in Aboriginal affairs has historically been very poor when compared to the states and when compared to governments around the world who are similarly placed, like those of North America. The lowest levels of expenditure for much of the 20th century was by governments with the largest nomadic populations – that is, remote communities.
When government bureaucrats in Aboriginal affairs came together to discuss policy for the very first time in 1937, they argued that all of their reforms were contingent on federal government financial support. This was particularly for those states with the largest Indigenous populations.
AO Neville, the chief protector of Aborigines in Western Australia and a leading architect of biological absorption and the systematic removal of Aboriginal children even went so far as to suggest that there was no Aboriginal problem – only a financial one.
The discussion at that 1937 conference was quite explicit in relation to the remaining "full-blood" people who, at that stage, were still the majority Indigenous population. The very strong inference was that we couldn't afford them.
The direction of policy after the Second World War was to concentrate on assimilating those classified as "half-caste". Most of the bureaucrats held the view that, if left to themselves, the "full-blood" Aborigines would simply die out.
Twenty years later, sensational claims were made regarding the condition of the remote community in the Warburton Ranges. In a major government inquiry into their condition, one witness pointed out that to June 1957, Australia had spent 66.5 million pounds to help so-called "backward" people of other countries as well as the cost of educating Asian students under the Colombo Plan. And yet, governments claimed that reforms being promoted for Aborigines were unaffordable.
This suggests a history of extraordinary parsimony in this policy arena, particularly for remote communities. It also puts the Closing the Gap initiatives of the former Labor government into perspective. In 2008, the Labor government invested A$3.4 billion in Indigenous affairs in the Northern Territory across ten years to address chronic underfunding. Much of this was directed to remote communities.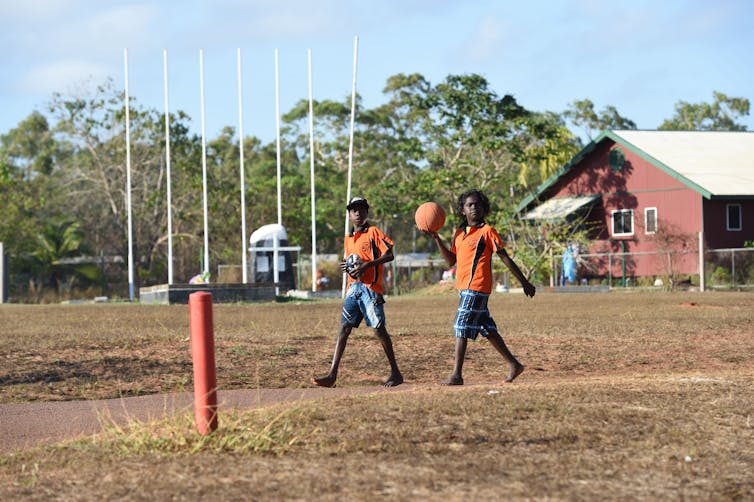 Since the change of government, and despite being part of COAG's national Aboriginal and Torres Strait Islander health plan, the Coalition government has reduced funding significantly. It has rationalised 150 programs to five.
Back in September, Abbott said that he would see what he could do to better realise the noble aspirations that millions of Australians have had for a better outcome in this area.
One of the aspirations that drove many across the 20th-century was the desire to save the Aboriginal people from extinction. In particular, they hoped to see remote communities thrive on healthy, viable, land of their own, communities intact, languages maintained, with the provision of food, education and health services. As one among them said in 1935:
Parliament will have to raise vast sums for rations to avoid the frightful reproach of starving the natives to death in their own country or restore land, where, safe from molestation by whites, and safe from official deportations, for no fault, our natives can settle in homes and earn their own living and develop what is morally their country as well as ours.
Accompanying this noble aspiration was the related one that the federal government would take the reins and provide leadership – and money – to achieve such an outcome.
If he really wants to avoid the failures of his predecessors and of being cheap in the deep sense, Abbott will need to restore funding and respect to remote communities. When in Gulkula in September, he was sitting with representatives of one of the oldest living cultures on earth. In the long-term, ensuring its health and survival might well be less expensive – for us all.