Chile won both the men's and women's Homeless World Cups (HWC) last Sunday, with the men defeating Bosnia and Herzegovina by more than five goals and the women defeating Mexico by a solitary goal in a tense, physical encounter. But those on-pitch results are less significant than the wider HWC goal of using football to address homelessness and marginalisation.
A number of former players returned to the 2014 event, but one particularly stood out. Chilean star striker Camilo Gonzalez was outstanding during the 2010 HWC in Rio de Janeiro, earning a standing ovation when he was named player of the tournament.
The kind of player you wonder about long after the tournament ends, Gonzalez's post-HWC experience has been both tough and triumphant. Scouted by professional clubs, Gonzalez looked set to realise his dream of becoming a professional footballer – until he sustained a career-ending knee injury.
For someone whose unmitigated goal in life was to play football – so much so that it saw him run away from home aged 14 to pursue this dream when his family wanted him to concentrate on his schooling instead — this was devastating.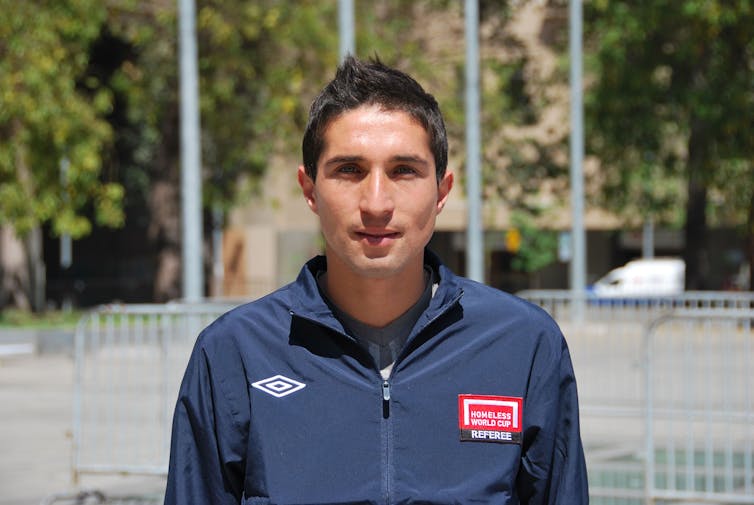 He can still play, apparently, but his rehabilitated knee prevents him from being a pro. He considered walking away from football altogether, but even that proved too excruciating.
Instead, he returned to the HWC as a referee — an experience that on one level caused physical pain, but on another enabled him to both participate in the sport he loves and to give back to the event that facilitated a turning point in his life.
While Gonzalez's story continues across multiple HWC's, stories of the players experiencing their first — and its significance — also emerged. The baby-faced 18-year-old Dutch goalkeeper, for instance, was just a few months ago almost catatonic through drug addiction.
Now clean, his reaction time has improved so significantly he single-handedly delivered his team a crucial, progression-stage victory by saving not one but three penalties.
One of the players from the Swedish women's team was in the early stage grips of multiple sclerosis. She was dizzy the first time she tried playing and her illness continued to hamper her abilities on court. Yet she relished the challenge and the camaraderie.
"It's the first time I've done something I'm not good at," she told me. "But it doesn't matter. I just keep coming back."
This was also the longest she's stayed clean because football has helped her make new friends away from the drug scene.
"I've found my people," she said to me.
For some of the players, the hardship is extremely recent. One player from Argentina lost his daughter just weeks ago. He attended the event only because his other daughter encouraged him to.
The run to the final
Chile was one of the few teams that failed to grasp the it's-about-more-than-winning-football-matches HWC sentiment, with its well-drilled players adopting a win-at-all-costs approach. But even they softened when they encountered Greece, a team comprising of street paper vendors for whom a weekly kick around is a salve in an otherwise toughly eked out existence.
The Greek players congratulated Chile with every goal they scored. The score was easily double figures to nought at the final whistle, a training exercise for the apparently unmoved Chileans. Yet they did something surprising: they formed a guard of honour for the Greek players to run through leaving the pitch.
One player from Greece told me he was 857 days clean, a figure so large and so significant it demonstrates it's clearly a front-of-mind struggle and celebration.
The team from Bosnia and Herzegovina beat all odds to make it to the final. Their street soccer program has been running just two years, the players are haunted by war-related trauma, and the team had to beg and scrape money together to get to the tournament at all. Though they never really troubled the Chileans in the match, their underdog status and their quiet playing tenacity earned them the crowd's respect.
A celebration of nations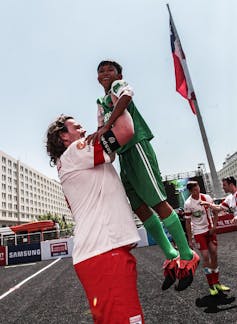 One of the Irish goalkeepers danced out his nerves pre-match with a one-man dance party. He'd celebrated his HWC selection with a backflip and cartwheels. The team's pre-match mantra, which dates back to a previous HWC quip misunderstood, was: "I'm a colossus. Nothing gets by me."
The Scottish players regularly belted out "I would walk 500 miles" while the Welsh's hilarious songs included the lyrics "Oh fluffy sheep, oh fluffy sheep are wonderful".
Ghana had numbers handwritten on their jerseys, an emblazoned reminder of just how limited their resources were and how momentous it was that they made it to the HWC at all.
The Indian women's team goalkeeper sustained a soft tissue injury to one of her fingers, but had it splinted up and refused to sit out. She grimaced each time the ball hit her gloved hands and occasionally required some cold-spray treatment, but nothing stopped her from blocking shots.
Off the pitch, physiotherapy students came from Denmark and Norway to volunteer their time and gathering expertise treating the players. This was in addition to their studies — it didn't count as credit for their practical component.
So while statistics bear out the power of the HWC to inspire social change — approximately 80% of participants surveyed said it was a solid foothold out of homelessness — it's the stories that more effectively convey the HWC's power.
---
Further reading:
Homeless, but not hopeless: the other football World Cup
The Homeless World Cup isn't immune to Ebola fear-mongering