The sudden dismissal of Australia's National Housing Supply Council last month suggests we may be entering a new housing policy vacuum. This is bad news for aspiring first home buyers, whose numbers have slipped to record lows (now just 12.5% of all buyers).
At a time when major intervention will be needed to correct Australia's systemic housing affordability problems, how are other nations addressing this issue?
We could do worse than look to China, where the government has committed to deliver an extraordinary 36 million affordable homes between 2011- 2015.
This target is being addressed through an eclectic range of projects run by local government authorities, such as the City of Beijing.
Beijing's population is growing rapidly, nearly doubling from 10.8 million people in 1990 to 19.6 million in 2010, plus a mobile population of a few million more.
This massive population growth had been fuelled by an internal migration of 7 million people from other parts of the country to Beijing, inevitably leading to housing shortage and affordability problems, with house prices climbing at an alarming rate. The worst affordability problems have been felt by the migrant population moving to Beijing from other urban and rural parts of China, and has affected both skilled and unskilled migrants alike.
Due to cultural factors and the government's policy of eliminating visible homelessness, the affordability problem is somewhat hidden within overcrowded and substandard housing in "urban villages", where low income migrant workers seek accommodation. Unlike the fashionable "urban villages" of Sydney or Manhattan, China's urban villages are the new slums.
These villages are usually characterised by illegal extension or unregulated infill development to meet demands for low cost accommodation and to create income for rural communities under economic transition.
Housing affordability a middle class problem
Housing affordability problems for the upwardly mobile middle class is a relatively new phenomenon in China, as it is in Australia.
Prior to 2000, housing reforms implemented by the Chinese government enabled occupants of state rental housing to purchase their homes at very low prices. But at the conclusion of the reform, all employees had been expected to rent or buy housing from the market directly until the change in housing policy in 2011.
When house prices escalated in the major cities it stifled the housing aspirations of educated young entrants to the workforce, and brewed social discontent. The high housing price also weakened the competitiveness of large Chinese cities such as Beijing to attract skilled and experienced workers.
This led to the announcement in 2011 of a bold target for providing 36 million affordable homes over the next five years.
The target is to be achieved through a combination of direct and indirect government subsidy, new regulatory controls on housing provision, as well as increased redevelopment efforts. Municipal governments – such as the City of Beijing – are charged with designing their own schemes under the general directives mandated by the central government.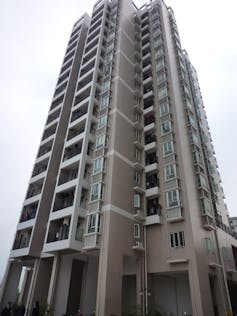 In Beijing alone, the target is to produce 200,000 affordable units annually. Half of these are to be subsidised housing for sale or rent, and private housing under price or size control for sale, to middle and low income workers and their families.
Beyond new housing
There are three specific affordable housing initiatives of note in Beijing. The government directly funds a modest Low Rent Housing Scheme that targets low-income families. The remaining two schemes that are of greater scale - the Public Rental Housing Scheme and the Economical and Suitable Housing Scheme - rely mainly on private sector resources.
Under the Public Rental Housing Scheme, the government acquires private housing at market rates and to re-let at lower prices to eligible households which are usually moderate income skilled workers.
Under the Economic and Suitable Housing Scheme, all housing projects are tendered out to developers. To ensure that prices are affordable, the government provides free land and tax exemption but stipulates a gross profit cap of 3% for all projects. Crucially, access to government land combined with tax exemptions reduces the financial burden for construction firms, overcoming a significant barrier to housing development.
All housing units are subject to size control. Eligibility to purchase one of these homes is defined by income and asset levels and residency status, restricted to registered permanent residents of the City of Beijing.
A five year resale restriction is mandatory, with local governments having the option of being the first buyer after this period. This allows for the government to "recycle" the dwellings through the affordable housing sector.
The subsidised housing projects are usually high rise blocks of five to 20 storeys, clustered into fenced housing estates of 1000 to 4000 dwelling units. Their appearance is not significantly different from that of lower-end market housing, but their sizes are smaller. Rental units range between 35 to 60 square metres, and the sale units hover around 60 square metres, capped at 90 square metres for larger families. There is a mix of internal layouts to suit different family sizes and needs.
Most affordable housing projects are situated in newly developed, outer urban areas of Beijing. Recreation space and facilities are generally better provided than other daily necessities such as shops, services and transport.
What can Australia learn?
Following the axing of the National Housing Supply Council, Australia's housing policy appears to rest on the hope that urban planning reform by the states and territories will prompt a surge in new housing production, ultimately correcting the shortage of homes affordable to low and moderate income earners.
Yet the experience of China shows that significant overall housing construction is not sufficient to deliver affordable homes for low and moderate income earners. Rather, specific intervention has been needed to secure affordable outcomes within the wider housing development process.
No schemes are perfect and there are concerns about the location and quality of some affordable housing projects in Beijing.
Nevertheless, with housing affordability regarded to be of national economic and societal importance in China, the range of hybrid solutions for enabling and supporting new housing supply could offer important lessons for Australia.