A frail risk analyst rediscovers his inner frontiersman in a devastating flood that hits Manhattan; an insightful rural woman glimpses the grace of god in the revelations of biological science; genetically engineered hominids who purr themselves to wellness inherit a devastated Earth.
All of these plots belong to the genre of "cli-fi". Which is to say that climate fiction is anything but predictable – which makes sense, given the unprecedented changes it attempts to address.
Cli-fi is the latest literary genre – and it's growing so fast in popularity that there have been several university courses established this year which study it. But what exactly is Cli-Fi and who is writing it?
Climate fiction has been described as a close cousin of science fiction, as they both engage with controversial political problems, making use of fiction's ability to conjure possible worlds. Sci-fi grew to maturity in the shadow of the hydrogen bomb and like climate fiction, it faced an unknown, catastrophic future.
But the topic of climate change demands more scientific subtlety and moral nuance than the problems presented by technologies intended to destroy the world. Now the gas-fuelled car, rather than the bomb, is the centre of impending disaster.
The science fiction writer Ursula LeGuin has noted the relationship of sci-fi to realism, in that both genres are based in an empirical understanding of how we know the world. Realism, like sci-fi, is based on a common belief that science shows us what is real. This is also the case with climate fiction. Some say cli-fi is a new literary genre that will help us prepare, psychologically, for global climate change. It is a new form of literature which truly faces the unknown.
Barbara Kingsolver's Flight Behavior offers a prime example of this symbiosis between science and storytelling. By the end of the novel the central character, Dellarobia Turnbow, recognises herself as a principle actor in the worldwide crisis of our Sixth Extinction through the particular instance of the collapse of the North American monarch butterfly. She is guided by the novel's anti-hero, Ovid Byron, who enters her rural community of climate change deniers to record the butterfly's disappearance. Dellarobia measures her community's evangelical preference for the immaterial and otherworldly against an increasingly persuasive scientific, realist point of view.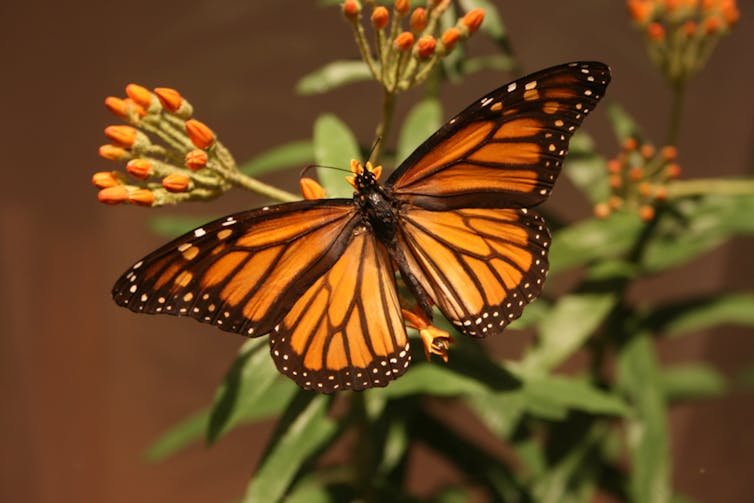 Kingsolver's novel suggests that literature is necessary to make the scientific facts of climate change believable to the general public. Ovid Byron, a scientist named after two great writers, functions as a powerful storyteller. And where science typically plays the role of a superior and "real" form of knowledge, cli-fi suggests that science only becomes knowledge through storytelling and image-making.
But for other authors, fiction, like climate change, shows up human failings.
For example, in Nathaniel Rich's Odds Against Tomorrow, the protagonist Mitchell Zukor works as a risk analyst. His job is much like that of a cli-fi writer: he creates scenarios and characters to enliven the almost unthinkable ecological crises that pose insurance risks for his company's clients. His practice is based on mathematical calculation, but his sales pitch employs storytelling. But by the end of the novel, the limits of such a function are made clear. Zukor ends up alone in a devastated wetland where his ability to plant a garden proves more important than his ability to sketch possible futures.
Referendum on humanity
Ian McEwan's Solar, the first serious novel about climate change by a recognised author, also betrays the modern novel as inadequate to the task of conceiving change at the scale of climate. McEwan's anti-hero, physicist Michael Beard, uses climate change for his own gain in his attempts to capitalise on a dead colleague's innovation in solar technology.
Through Beard, a scientist and salesman-storyteller, McEwan implies that knowledge and creativity are bound up with the basest of human desires, namely greed. As McEwan makes the reader think about planetary ecology through the mind of a flawed character, we begin to wonder if the novel itself, with its traditional focus on human psychology, is not demonstrating part of the problem. Even in our most imaginative ventures, we are too self-centered to make a sustainable world.
Similarly, Canadian novelist Margaret Atwood's MaddAddam Trilogy satirises the excesses of human nature and its expression in late capitalism by depicting a post-apocalyptic earth suited only to genetically modified humanoids. Atwood's Crakers, who can subsist on their own dung, are the ulimate no-impact men. Paolo Bacigalupi's The Windup Girl also offers a savvy fable of the externalities of global capitalism and greed, imagining the future as the province of modified humanoids. Like sci-fi, which so often imagines alien cultures in outer space, cli-fi can figure as a referendum upon humanity itself.
Climate fiction is important not because it provides solutions, but because it allows readers to imagine and experience the complexity of climate change. To enter a fiction is to enter a commitment to shared imagination, to the social action of claiming a point of view. "Humans are hardwired for social community," Kingsolver's Ovid Byron declares.
The novel, all literature, certainly cli-fi, are social forms of knowing and sharing what we know. With the help of climate fiction, the conversation might become large enough to meet the challenge of climate change itself.