The National Health and Medical Research Council (NHMRC) is currently revising the Australian Dietary Guidelines. Yet, despite expert advice from public health and environmental sustainability groups, the current draft of the new guidelines does not explicitly take into account the environmental sustainability of the foods we eat.
While it may not seem obvious at first, there are strong links between climate change, obesity and chronic disease. Fortunately, there is a dual benefit from eating a healthy diet and one that's good for the planet – and there's rarely a trade-off between the two.
What's more, strategies to reduce food consumption can have benefits for both environmental and population health.
Drivers of worldwide obesity
Obesity rates are steadily increasing in almost all countries, including the United States and United Kingdom, where more than one in four children are already overweight or obese. In Australia, around two-thirds of adults are overweight. This has very serious health consequences for the risk of developing diabetes, heart disease and cancers.
Many factors have contributed to the rise in obesity rates, including changes in transport and urbanisation. But the main driver is changes to the food system, which has led to a population-wide over-consumption of calories. This started in the 1970s and 1980s when the population – that was already very physically inactive – started eating more.
The large-scale population changes in obesity across the globe are a sign of an environment that increasingly nudges everyone towards over-consumption of calories. As a population, Australians now consume roughly 10,000 kJ per person per day.
In order to return to obesity levels of the 1970s, we'd all, on average, need to consume about 800 kJ less per day – this works out to about one less can of soft drink and one less serving of chips per day.
Common causes of obesity and climate change
Our whole economy is focused on economic growth and increasing the gross domestic product (GDP). In addition, companies strive for continuous growth to satisfy shareholders. While there are many benefits to this consumption-based economy, it has also contributed to two global crises of overconsumption: climate change and obesity.
In the food system, the drive towards ever-increasing consumption has led to the oversupply of cheap, tasty, high-calorie foods that companies relentlessly push at us. The same drivers of over-consumption have led to the over-supply of fossil fuels, and rising greenhouse gases and climate change.
Food production and distribution has an enormous impact on the environment. The food system accounts for more than 30% of Australia's ecological footprint, and more than 10% of Australia's greenhouse gas emissions are from methane produced by livestock, such as cows and sheep. This is our third largest source of emissions.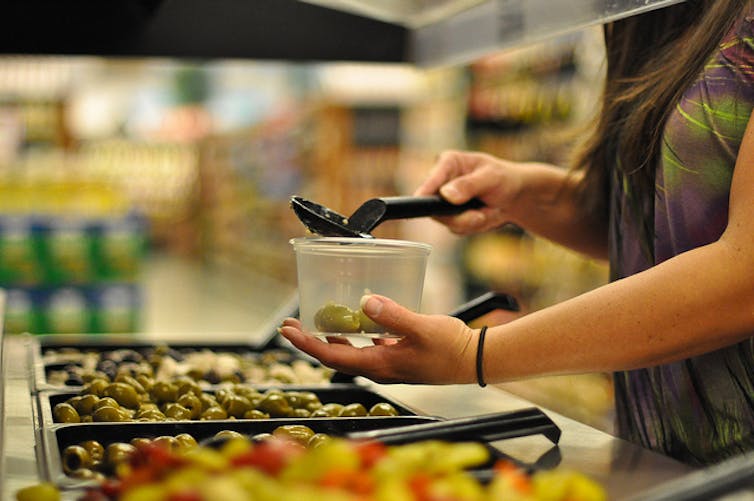 Practical dietary solutions
At the most simplistic level, the solution to both problems is that we need to purchase fewer products and services – and that means eating less too.
The government is currently going through a process to revise the Australian Dietary Guidelines, and there's a strong push to factor the environment and sustainability into those guidelines. The Public Health Association of Australia recently published a report recommending we reduce our meat consumption and put a preference on non-methane producing animals, such as kangaroo and poultry.
The link between the health and environmental benefits is clear. A less animal-based and more plant-based diet is associated with lower risks of heart disease. And these types of diets generally result in lower methane emissions and, typically, less water is used in their production.
We also know that most of the excess calories we consume come from highly processed foods, such as soft drinks, and other unhealthy snack foods that have very little nutritional value. From an environmental perspective, the production of processed food typically uses high amounts of fossil fuels, and needs lots of packaging which generates more waste. Once again, the co-benefits to health and the environment of reducing our consumption of highly processed, unhealthy foods are clear.
Fish consumption is a bit more controversial. There are health benefits from eating fish, but our current level of consumption is causing environmental harm. Here, perhaps the risks can be balanced by reducing the amount of fish we eat, without eliminating it from our diets altogether.
Environmental solutions are healthy too
Most of the interventions designed to help the planet – such as transport policies to reduce congestion and carbon emissions, urban design changes to improve liveability and sustainability, and the carbon tax – are all likely to have major health benefits by helping us to be more physically active and eat more healthily.
As a population, we could make an enormous difference to the environment and our health simply by eating less. What's more, we can be confident that by looking after the planet, we're also looking after our health. I hope the NHMRC will take this into consideration when finalising the updated dietary guidelines, due for release later this year.