Whether at the supermarket or the local fisho, most people find it difficult to know what seafood is sustainable. To help consumers make more informed choices, conservation organisations have been busy with sustainable seafood campaigns.
In Australia, the Australian Marine Conservation Society (AMCS) recently released a comprehensive Sustainable Seafood Guide, including a free smart phone application, to choosing seafood wisely. They label each type of seafood as "better", "think", or "no".
The World Wildlife Fund has partnered with Coles to help the supermarket sell and label sustainable seafood.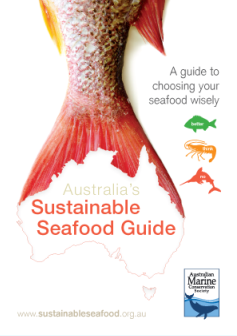 These are both significant efforts intended to answer consumers' question: "What seafood is sustainable?"
Armed with my AMCS application, I recently went to Coles to buy some sustainable seafood. Coles clearly labels their seafood, indicating which is "a better choice for sustainable seafood".
I was struck by some inconsistencies between the AMCS and Coles sustainable seafood guidelines. Tasmanian Atlantic Salmon and farmed Rainbow Trout, for example, are labelled as "a better choice" at Coles but categorised as a "no" by the AMCS seafood guide. In fact, I was sure it was a simple mistake made by the Coles employee and asked if they mislabelled the seafood. Unfortunately, the labels were correct.
Would you trust a politician or a doctor if they provided inconsistent information? It's unlikely. Marine conservationists cannot expect the general public to trust us if we provide inconsistent information.
We suggest that this inconsistent information may contribute to a type of seafood stewardship crisis, one that the ocean cannot afford to battle. Consistent guidelines are essential if we want consumers to take sustainable seafood and marine conservation seriously.
Perhaps Australia needs a certification program. This program could work with the marine conservation organisations and marine scientists to develop consistent and transparent criteria for labelling seafood in Australia.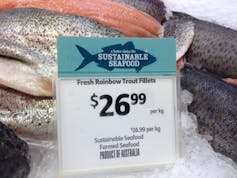 The inconsistencies between two of Australia's leading conservation organisations highlight the issue that determining what is sustainable - seafood or any food - is not always straightforward. Determining whether or not seafood is sustainable requires a great deal of information. One needs to know the species fished, the fishing gear used, the place caught or the farming method used. All of this is information that Coles and AMCS consider.
Prawns are an Aussie favourite. They're also a great example of how confusing shopping for sustainable seafood can be. Prawns can be a bad choice; for example, if they're black tiger prawns farmed and imported. They can be a "think" choice, if they're king prawns that have been trawl caught. Or they can be a "better" choice, particularly if they're greentail prawns that have been haul caught in NSW.
Given this complexity, it is important that the origin and fishing/farming method be labelled at any seafood vendor. If prawns are just labelled "prawns", how can a consumer know what they're getting?
Australia needs laws that require more stringent labels on seafood sold at any vender. Together with consistent sustainable seafood guidelines, labelling laws could help make the consumption of sustainable seafood commonplace.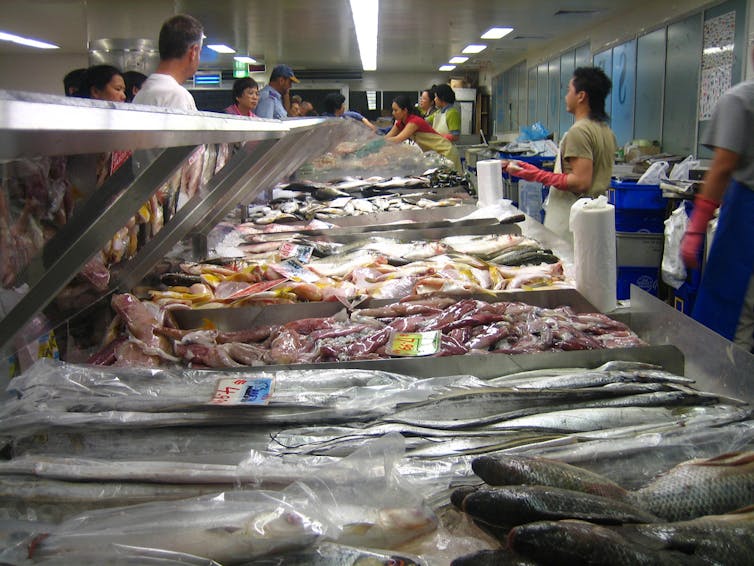 In some cases, however, it is straightforward. For example, both guides discussed here consider orange roughy unsustainable. In fact, as part of the WWF-Coles Sustainable Seafood partnership, Coles has taken orange roughy off the shelves of all their stores. This action that could make a big impact on the population of this species in Australia.
Globally, the health of our oceans is rapidly declining and is due, in part, to the consumption of seafood. A majority of the world's marine stocks are over fished. To counter this, some seafood production has moved to farms. These can harm the ocean as well though, through pollution spreading of disease, and reliance on wild fish for feed.
The state of the ocean is problematic, not only from an environmental perspective, but also from a health perspective. Over a billion people rely upon seafood as their main source of protein and many others consume it for its unparallelled health benefits. The conservation of our ocean requires actions at many levels. Given consistent guidelines and clear labels, consumers have the power to improve the state of the ocean by choosing sustainable seafood.